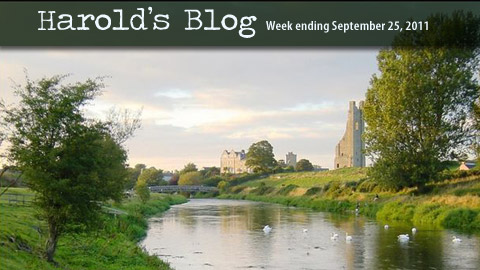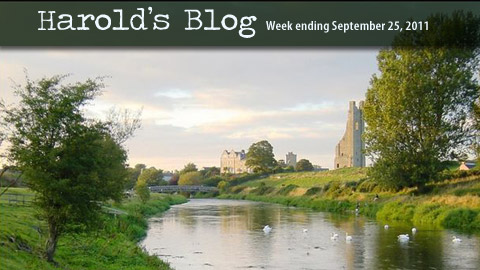 From the blog of Cary Mayor Harold Weinbrecht, covering the week through September 25, 2011. In compliance with North Carolina election law, CaryCitizen has edited Harold's Blog this week if necessary to omit any campaign-related references. You can read Harold's Blog in its complete form at http://haroldweinbrecht.com. Pictured above, The River Boyne just outside Trim in County Meath, Ireland. Photo from WikiMedia.
Cary, NC – This week was spent in County Meath, Ireland which is a sister city of Cary. I was part of a delegation of 18 that traveled from Cary to participate in several meetings and events and to enjoy their hospitality.
Unlike all the other members of my family, I have never traveled out of the country with the exception of Canada and the Bahamas. And the time I traveled to those countries passports weren't even required. So as you can imagine it was a unique experience for me.
Ireland is beautiful and clean and its people are very proud. They are an educated population and have huge potential. They understand and value the environment, morality, religion, and respect. They are unbelievably kind and gracious hosts.
County Meath
Here are some of the things I thought were interesting: The roads are very narrow with tall hedges and people travel on them at unbelievable speeds. Their drivers have to be more skilled than ours because I never saw any wrecks (they call them crashes). There was no litter on the side of the roads. Where we traveled in County Meath, there are many farms and livestock everywhere. Their houses tend to be cluster homes in little villages. It was very rare for me to see a large lot single family home and if I did it was a farm manor. There are historic structures everywhere including Newgrange which is older than the pyramids. Random towers could be found in the strangest places such as the one I was able to be close to on a golf course. I was told that Lords used to have these built so that they could overlook their property. I am sure there are many more things that I will remember as I reflect on this trip.
Monday and Tuesday
My trip to Ireland began on Monday afternoon at RDU airport and we arrived at the hotel in County Meath around 5:30 AM on Tuesday.
After sleeping for about 5 hours I was up and meeting with elected officials from County Meath in the lobby of the hotel while we waited for the rest of the guests in our party to arrive. Once everyone had arrived a few of us adjourned to a meeting room to discuss the presentations we would be giving to about 100 business interests the following morning on the subject of science parks.
After the meeting we had dinner as a group in the hotel which was owned by several brothers interested in building a science park. Then we boarded a bus to the Solstice Arts Center and Theater in Navan which is in the center of the county.
When we arrived we were greeted with a reception where we met with town officials from all the towns in the county and many other key stakeholders in the county.
At the reception we were treated with the best of local Irish produce including cheeses and deserts. I even tried blood pudding.
After the reception we were ushered into the theater where we enjoyed hearing top classical Irish musician Frankie Gavin and De Dannan, Kila and special guest Brian Kennedy. They honored us by recognizing me and the rest of the delegation.
In introducing their music, they said that they strive for "pride of place" which was certainly evident just by looking at their faces. The performance was fantastic. I believe I might have enjoyed it more than my American counterparts because of my exposure to Irish Dance and classical Irish music through my youngest daughter who was an Irish Dancer for years. It was a great evening of networking and entertainment.
When we arrived back at the hotel I was exhausted due to lack of sleep and the long day so I had no problem falling asleep at least for a few hours before we started again on Wednesday morning.
An Irish RTP
Wednesday morning several of us boarded a bus to Carton House which is a beautifully restored castle.We had a presentation from prominent local business leaders, Cary Chamber members, council member Smith, and me. As I mentioned earlier, the focus was on science parks.
Ireland is in the midst of an economic emergency and urgently needs new jobs and sustainable economic growth. While a strong R&D system and culture has been developed over the last decade, it has not delivered an adequate economic return to society. It is a belief by the local business owners and the Cary delegation that science parks would be a good solution to their problems.
They have studied science parks around the world including RTP and want to begin an Irish version of RTP.
Golf and a Cookout
After the meeting we had a brief tour of the castle and then were treated to a round of golf. The golf course was a links course designed by Colin Montgomery. I think Colin must have been in a bad mood the day he designed this course. It consisted of 140 bunkers in addition to the tall grasses. Needless to say the club I held the most was a rake. In true Irish form the weather added to the challenge. Winds ranged from 15 to 30 mph with heavy to light rain. I had the privilege of playing with the owner of the Carton House. It was quite an adventure.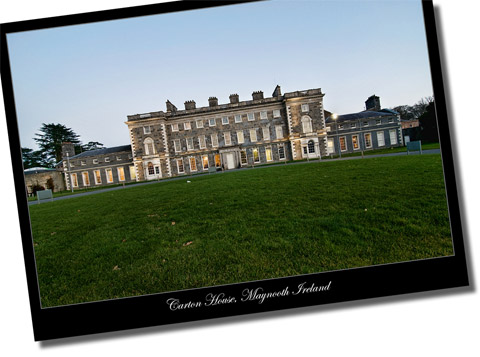 After golf all of the Cary delegation met up for the Irish version of a cookout/BBQ at the Carton House. We were treated with traditional American hamburgers, sausage, potato salad, etc. It was a lot of fun.
We were up again bright and early Thursday and went back to the Carton House for a round of golf on the Mark O'Meara course. This course was traditional American with much less tall grass and bunkers. Even the weather was more American with lighter winds and almost no rain. I had a great round of golf including my first ever eagle on a par five.
After golf we showered and put on business attire to attend the opening ceremonies of the Solheim Cup. This is the women's version of the Ryder Cup and will be a huge economic boost to the region. I was fortunate enough to be in reserved seating and had a good view of the President of Ireland and several other Parliamentary figures. I was amazed at the lack of security and love for the President. She apparently is loved by everyone. While I didn't meet the President I did meet and do photo ops with several elected officials. One interesting note about elected officials, they are easily recognized because they wear chains around their necks.
Tara Days: Women in Business
After the opening ceremonies we boarded a bus for Trim, County Meath. There we attended "Tara Days" which was a prestigious networking event for women in business from Meath, Europe, and the US. I estimate there were about 300 to 400 in attendance. I was recognized by the County Meath manager which was quite an honor.
In addition to hearing from several keynote speakers promoting business for women, we were treated to Irish Dance and a fashion show. A great time was had by all.
Friday
Friday the entire delegation was treated to the first round of the Solheim Cup at Killeen Castle. We were able to see the best golfers in the world compete in a team format. The delegation was given access to the Ping pavilion and treated to a fantastic lunch.
For dinner we headed to Dunshaughlin, Ireland. It was a pub like atmosphere and they had many traditional American favorites. One unique dish allowed us to cook a filet on a lava stone at the table. So of course the majority of us had to try it. We filled the room with smoke and they had to open a window. It was a real treat. Too bad we don't have this sort of thing in the America.
Jogging Through Ireland, and Dublin's Fair City
Saturday was a free day so after a four mile run through fields and a small town, my wife and I caught a bus to Dublin. I was told Dublin was similar to a lot of European cities so my wife and I spent a lot of time going around Dublin on the Hop on Hop off buses to see the historic sites. Of course we had to stock up on souvenirs.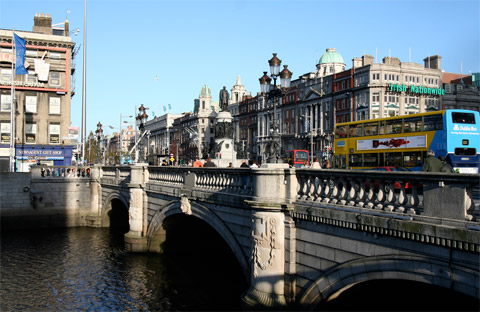 Ten Year Celebration
Saturday night the Cary delegation joined the Irish business delegation in a formal dinner to sum up the week and hand out gifts. I along with others from Cary expressed our gratitude for the outstanding hospitality. We offered to work with them and help them in their quest for science parks and I renewed our ten year relationship by honoring them with a proclamation.
Sister City Relationship
This trip was very important for Cary. A true sister city relationship, or twinning as they call it in Ireland, creates a relationship where business interests can expand and where the two governments can learn from each other.
County Meath is like Cary is so many ways including proximity to major universities, natural beauty, a high quality of life, and a well educated population. They are trying to learn from us about how to jump start a business technology park. Cary's prime location to RTP and universities has made it attractive to several international businesses such as Deutsche Bank, Siemens, ABB, etc..
Our relationship with our sister cities has provided us with knowledge and opportunities as we continue to attract businesses to Cary.
Email
Even though I was in Ireland I was still able to answer emails. Emails this week included requests for interviews and special recognition of certain Cary citizens. It also included a few emails related to the new automated water meters. Unfortunately, a group of individuals has made it their mission to spread misinformation about our water meters in advertisements in the Cary. I, along with staff and other council members, continue to address each and every concern.
Walk Friendly
Information from staff this week included a notification that Cary was one of the ten cities in the US recognized for being a walk friendly community. The "Walk Friendly" title means a city or town is being recognized for their success in working to improve a wide range of conditions related to walking, including safety, mobility, access, and comfort.
Next week will be jammed pack for me. It includes a council meeting, three forums, and the SAS Championship.
Well that is all for this week. My next post will be on Sunday, October 2nd. Please feel free to email me with a comment. Email all Town of Cary questions or comments to Harold.Weinbrecht@townofcary.org. Email personal comments to augustanat@mindspring.com.
https://carycitizenarchive.com/wp-content/uploads/2011/09/harold-0925.jpg
270
480
Harold Weinbrecht
https://carycitizenarchive.com/wp-content/uploads/2020/03/cc-archive-logo-450-v3.png
Harold Weinbrecht
2011-09-26 17:33:43
2016-01-09 11:58:27
Harold's Blog: Cary's Irish Sister City: "Twinning"