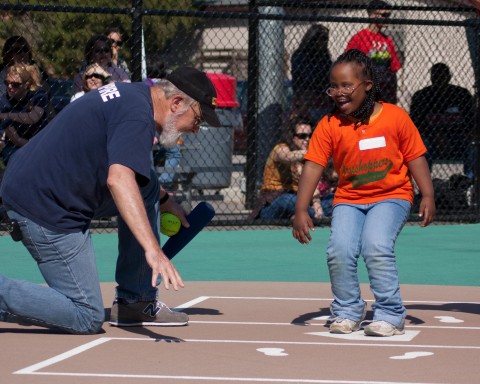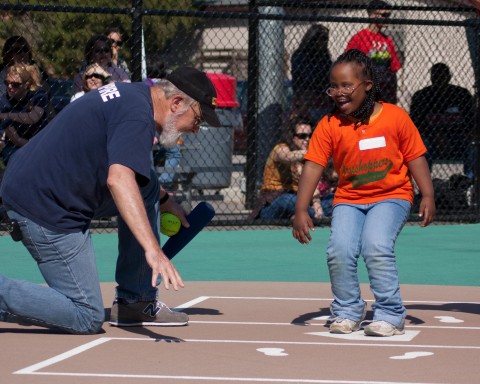 Story by Lindsey Chester, photos courtesy of the Miracle League
Cary, NC- The Miracle League of the Triangle has been helping kids with disabilities enjoy the game of baseball for 5 years. They provide a service not just for those youngsters, but for all the volunteers in the organization who come together to make the league possible.
Traci Brown, the Miracle League's Executive Director told me that this fall 301 athletes have registered to participate in what is usually their smaller season. Two new teams were added to bring the total number to 22. This past spring the league topped out at 285 kids. This growth has the organization laying the ground work for an additional ball field.
4000 Volunteers Make the Difference
The Miracle League is an inclusive league where all levels of ability are welcome.  Volunteers are always needed. Each team has a head coach and at least 3 assistant coaches. Teens as young as 14 can assistant coach, and player Buddies can be aged twelve and up. Head coaches are typically adults, many have children on a team. Each team has 15 players, and each player is matched up with their own Buddy who helps them catch, or hit, or stay connected to the game. That's a lot of volunteers! Traci told me over 4000 people volunteer in a year!
Most people hear about the league through word of mouth. There are many great opportunities to volunteer with civic organizations and church youth groups, and many sports teams buddy up with the Miracle League to help other athletes with disabilities.

Inclusive League
As an inclusive league, there are no losers, everyone is a winner. Each game is 2 innings, and the scores always end in a tie. There are no "outs" or "foul balls". Why is that important? Because for many of these young people the whole point is the participation. For them, being included, putting on the uniform and getting out on the field and being accepted is what this league is about. The Big Win is the progress they make from game to game and year to year from participating.
Traci said: "For many of these kids, it's really not about baseball its more than that" and she added that "this may be the only recreational league that some of these children have."
Players range in age from 5-26, but are grouped by age and ability. Four divisions (Minor, Junior, Major and Senior) means a 5 year old won't be on the team with a 26 year old. Coaches are sensitive to cognitive and physical abilities of each child both for team placement and volunteer buddy match-up.
The field is a special level rubberized playing surface which allows for wheel chairs. Some of the balls are equiped with sound for the hearing impaired, and hitters can hit from a T-stand or have a ball pitched to them. Yes, there are home runs. Traci told me about Jack, who is well known for routinely hitting the ball over the fence to the roaring cheers of the crowd.
The Season
The league holds two 8 week seasons: Spring which runs from March- May and Fall running September through early November. Registration is just about done for this Fall, and Spring sign up takes place in February.
Two games are held on Friday nights and three on Saturdays, and soon Sundays will be added.  Games  last about 1 hour, and there are no practices. The point for these team mates is to get out and play! Volunteers are asked to volunteer for a three hour shift including the transitions between the games where they buddy.
Many young volunteers stay with the group for years, even coming back to help from college. And parents that get involved have been known to start as a coach, and later become board members.
In addition to coaches and team budies other volunteer opportunities include announcing games. Great announcers can't be stressed enough, because they set the tone for the whole event. So if you like to put a mike in your hand and ham it up, there's an opening for you!
A Little History
In late in 2004, after seeing a program about the Miracle League on television, local businessmen Robin Rose and Tony Withers were inspired to establish the Miracle League of the Triangle. The principle was simple:  to provide children with special needs the opportunity to play America's Favorite past-time…. the game of Baseball.  The League constructed the Triangle's first "Field of Dreams" in Cary at Henry Adams Elementary School in partnership with the Wake County Public School System.
The hope was to have 40 children (4 teams) and over 100 volunteers for Opening Day. On September 16, 2006 The Miracle League of the Triangle opened its first season with over 100 players (8 teams) and over 200 volunteers from throughout the Triangle. Every season it continues to grow.
Expansion
The league wants to have a second state-of-the-art handicapped accessible field location open in 2013. With all the growth they are experiencing, Traci said one goal is to eliminate the waiting list. Founders Robin Rose and Tony withers want to "Make sure that every kid gets the opportunity to play". Families travel with their special needs kids from as far away as Fayetteville and Southern Pines to participate.
How You Can Help
Every year the organization holds 2 events.
On October 20,  the Matthews House in Downtown Cary will host a Gala sponsored by the Cary Page Rotary. There will be a silent auction beginning at 6:30pm and a  live auction  starts at 8pm to raise funds for their operations. Complimentary hors d'oeuvres and beverages will be served through out the evening.  Admission for this event is $50.
On December 31st at midnight, is the 3rd annual Run in the New Year (RITNY). This 5 K and 1 mile Fun Run can be a cool way for the whole family to celebrate the New Year and help a great cause.
Watch the volunteer video if you think you might want to participate in this wonderful organization. Or attend one of their fundraising events.
The Miracle League  is truly in the business of making miracles happen.
Watch the "How to be a Buddy" video on YouTube:
https://carycitizenarchive.com/wp-content/uploads/2011/09/Happy-at-home-plate-e1317148255685.jpg
384
480
Lindsey Chester
https://carycitizenarchive.com/wp-content/uploads/2020/03/cc-archive-logo-450-v3.png
Lindsey Chester
2011-09-30 11:14:21
2019-12-07 16:59:22
Truly a Miracle! The Miracle League of the Triangle