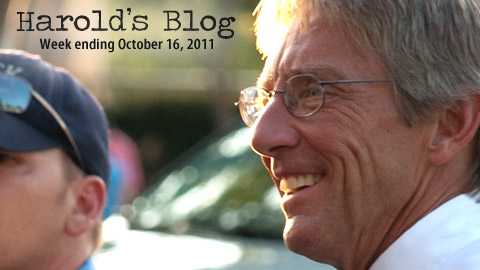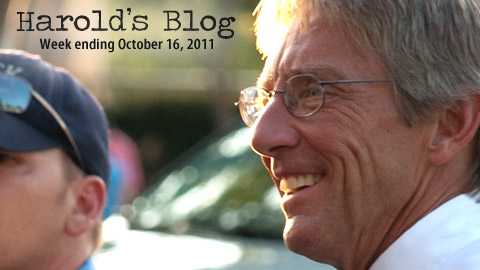 From the blog of Cary Mayor Harold Weinbrecht, covering the week through October 16, 2011. 
Cary, NC – This was a big week for me with Election Day on Tuesday.
WARNING: This post, unlike previous posts, will contain thoughts and reflections that might not be relevant to my service as mayor.
It Started Like Any Other Week…
The week started with typical mayoral duties. I called council members Monday to check for questions or concerns about Thursday's regularly scheduled council meeting. Council members did not bring up any issues. When I met with staff later in the day we went over the Western Wake Farmers Market recommendation, the Booth amphitheater recommendation, and the process for the quasi-judicial hearing for the SRI Venkateswara Temple. While this seemed like a short agenda I estimated that it would take over an hour due to the quasi-judicial hearing.
I Slept Like a Baby Monday Night
Tuesday was Election Day. This was my fourth election. The night before my first election 12 years ago was nerve racking. However, the night before this election I slept like a baby. Being a religious person, my bedtime prayers asked for what was best for Cary. So upon awaking at 4:30 I was at peace with that it would all be good no matter what.
Election Day
I started the day normally with exercise and breakfast. I was at my precinct before it opened at 6:30 and was fourth in line. Once I voted I stayed outside to greet voters until about 8 AM. My opponent also showed up at my precinct shortly after it opened and stayed all day. She was joined by council member Smith who was supporting her. He was there most of the day. At 8 AM my wife arrived and was later joined by our youngest daughter. They stayed all day. After 8 AM I went over to the precinct on Piney Plains Road between Cary Parkway and Tryon. Then I spent the rest of the morning at school board precincts: Oak Grove Elementary and Penny Road. At lunch I went home, showered, ate and went back out to visit precincts. I ended up at Carpenter Elementary around 3 when school was letting out. I left there and headed back to my home precinct for the rush hour crowd. I stayed there until about 6:30 when I went home to refresh once again. My wife and I then drove to the celebration location. I was joined by Gale Adcock, Lori Bush, and about 150 supporters. Shortly after the polls closed at 7:30 the results showed early voting with me having 58% of the vote. Then the first wave of votes came across with 15 of 37 precincts and I still had 58%. A few minutes later the second wave of votes came across with 34 of 37 precincts. I still had 58% of the vote. At this point NBC17 called it and wanted an interview. I had a 2000+ vote lead with three precincts so I thought it was safe to go ahead. I also interviewed with Cary News/News and Observer and with Reese News. I thought Reese News had the best coverage. The victory celebration finally slowed down a little after 11 PM. The management at Rudinos was incredible and even fixed me something to eat after the kitchen had closed. It was a great night.
The Good, the Bad, and the Ugly
Every election has the good, the bad, and the ugly. This election was no different. Here is my take on the good, bad, and ugly.
The Good: Even though the opposition distorted my record and tried to discredit me, the people saw through the lies and recognized what we have accomplished in the last 4 years. They showed up in big numbers on a yucky weather day. I am proud to be given the opportunity to serve such an educated and informed population. I am also amazed by all the volunteers. It is incredible that dozens of people worked weeks to get me elected. Some worked all day every day. God bless each and every one of them.
The Bad: I expected the opposition to be negative and that didn't bother me. It was disappointing that council members were involved in the election and supported my opponent. I will work hard to strengthen our relationships so that we can continue to be a strong council. We can only be effective as a council if we all work together. That has always been my highest priority as leader of the council.
The Ugly: I thought it showed very poor taste for a former town manager to attack me in a letter to the editor. That was very unprofessional and something I am sure our current town manager would NEVER do. Some people actually thought it was slanderous and I should sue. But my campaign remained positive at all times. The PBA ads were also disappointing. Not because they attacked me and told lies but because they spent thousands of dollars that should have been used to help our police officers and their families. Shame on them! I have since had several police officers apologize and say that they felt ashamed for what the PBA had done. I have had citizens tell me that they will never support the PBA again. But the ugliest part of the campaign was the nasty rumors that I and my wife had made racial slurs. That was VERY ugly and below the belt. If you knew me and my stance on diversity you would realize how hurtful that was. Anyway, Ella Williams-Vinson, who is very well respected in one of the older sections of town that is primarily African American, spent two days on the phone letting people know that this was a vicious lie. God Bless Ella! I had the privilege of giving her a big bear hug at the campaign celebration.
Elections are very grueling for candidates and their families. Since both of my girls are now in college the entire burden of my stress and support fell on my wife and of course she was there for me every step of the way. She is truly my better half. Without her I would never have come close to most of achievements in life. She is truly an angel. God has blessed me with her presence and being the biggest part of my life.
I am glad the campaign is over. While it brings out good in some people it brings out the worst in others. It is now my job to piece everything together so that all seven Cary Town Council members can work as effective as possible to serve our citizens.
Marla
Reflecting on this election and my three other elections brings me to the dedication of this victory. When I was elected in 1999 I was very green. In other words I thought every decision was black/white and for/against. A lady that served on the council with me in 1999 showed me that it is OK to have differences in opinion and that working together for a balanced solution to problems is best. Though we differed on many things she is the most honest person I know. She has also been kind and supportive and through her I learned true leadership skills. I dedicate my victory to Marla Dorrel. Thanks for all you do Marla!
Ribbon Cutting at "New" Belk
Wednesday it was back to being mayor. With only a few hours' sleep I was up at 4:30 AM to get my exercise in before doing a live phone interview with NBC17 at 5:55 AM. Then I headed over to the Cary Town Centre to participate in the ribbon cutting for the new Belk store. Even in the height of the recession the Cary Belk did a multi-million dollar renovation. Belk is a great corporate partner and is actively involved in the community. Although I was suffering from lack of sleep I was honored to be a part of the ceremony. There were several hundred people in attendance most of which were trying to win a $500 gift card.
Enterprise Rentals, Youth Recognition, Italian Clubs
Later Wednesday morning I met with the Regional Vice President and Area Regional Manager of Enterprise Rental Car. They were interested in finding ways where they can volunteer in the community. We talked about several opportunities including the town's SPRUCE program. They emphasized that they are working very hard to make the rental car experience a great one.
Wednesday afternoon I met with staff to talk about a request I have made for a Mayor's Youth Recognition Program. This program will focus on youth from K through 12. Our meeting focused on how the award program would work. Our preliminary thoughts are that there would be levels of achievement that would be recognized. Staff will take our brainstorming session and come up with a more concrete recommendation in the near future.
Wednesday night I attended a joint Columbus Day celebration of the Triangle Italian American Women's Club and the Triangle Sons of Italy. I welcomed everyone and thanked them for sharing their heritage and culture. We then heard from an author who has written two books on the Italian American culture and history. He presented tons of interesting facts like the banking system today was first created in Italy. He also talked about why Italian Americans are so family oriented. It was very entertaining and informative.
Hindu Temple on Chapel Hill Road
Thursday the council met for about an hour and forty five minutes. After several presentations we held public hearings that included a quasi-judicial hearing about waivers for the Hindu Temple on Chapel Hill road. Basically, they are taking an existing residential structure and are going to use it for Sunday school classes. In addition, they committed to making improvements to the property. The council granted unanimous approval.
Wake Med Soccer Park
The second most discussed item was funding for the Wake Med Soccer Park. The town will fund improvements that will be paid back by the county's Hotel/Motel/Food & Beverage Tax over several years. The discussion centered on $250,000 being spent on the Trinity Road extension design from Walnut Street. Some council members felt that we should not fund the design when we are not sure if we will do the actual improvements. Others felt that since the design will include environmental permitting that will take up to three years, we need to move forward. The majority approved the entire staff recommendation which included 3000 new seats and new structures at the stadium. The improvements will take about 300 days to complete.
Picture Day
Friday was picture day for me. Since this picture was going to hang in town hall for four years I wanted to make sure I looked by best so I primped the best I could and made sure I didn't have the Opie Taylor look. The session lasted about 15 to 20 minutes and the photographer took about 3 dozen pictures. I guess it takes a lot of attempts to make someone look nice. It will be interesting to see what comes out of that session.
Forbes Kudos to Cary
Cary received additional accolades this week with Forbes Magazine naming Cary as one of the top retirement communities in the US. To read the article go to http://www.forbes.com/sites/williampbarrett/2011/09/26/cities-that-will-help-you-stay-active-in-retirement/.
Sewer Pipes
In news from staff this week they announced that contractors working on behalf of the Town of Cary will begin constructing nearly 20,000 feet of sanitary sewer pipeline to help carry wastewater from the Swift Creek Pump Station to the South Cary Water Reclamation Facility.  About 17,000 feet of the pipeline will be installed near the existing sewer line along Holly Springs Road, Ten Ten Road and Lawdraker Road along with an additional 3,000 feet from Lawdraker Road to an existing interceptor near the Jamison Park subdivision. The projects also includes three ground mounted, landscaped odor control devices along the corridor. The project, which is expected to cost about $8.5 million, should be completed by September 2012.
Email
Emails this week included complaints about speeding on Glade Hill Drive, someone skipping out on a business deal, trash on Kilmayne Drive, and Progress Energy's ugly tree trimming.
I also received many emails congratulating me for my re-election. I am so grateful. I posted the following on my campaign website:
To all the citizens of Cary: Thank You!
I especially want to thank my lovely wife, Belinda, and my beautiful daughters Audrey and Cara for their understanding and support during the campaign and always. I extend my appreciation to my opponent Michelle Muir for exerting all the time and effort that it takes to run for public office. Most of all, I am grateful to all the citizens of Cary who participated in this election
This election showed that, even during these politically divisive times, we can come together to meet the challenges before us. As I begin my second term as Cary Mayor, I pledge to you the same things I promised four years ago: I will avoid partisan politics; I will balance growth and protect the environment; and I will continue to practice transparent government and disciplined fiscal policy. As I have done in the past, I will continue to offer steady, proven leadership to this office. Together, we will keep Cary moving in the right direction.
Next week will be a week of getting back to normal. It will include a Mayor's Association meeting, a Planning and Development meeting, a cemetery dedication, and the big Diwali celebration at the amphitheater on Saturday.
Well that is all for this week. My next post will be on Sunday, October 23rd. Please feel free to email me with a comment. Email all Town of Cary questions or comments to Harold.Weinbrecht@townofcary.org. Email personal comments to augustanat@mindspring.com.
https://carycitizenarchive.com/wp-content/uploads/2011/10/harolds-blog-1016.jpg
270
480
Harold Weinbrecht
https://carycitizenarchive.com/wp-content/uploads/2020/03/cc-archive-logo-450-v3.png
Harold Weinbrecht
2011-10-17 15:19:28
2016-01-09 11:48:28
Harold's Blog: Thoughts and Reflections That Might Not be Relevant To My Service As Mayor