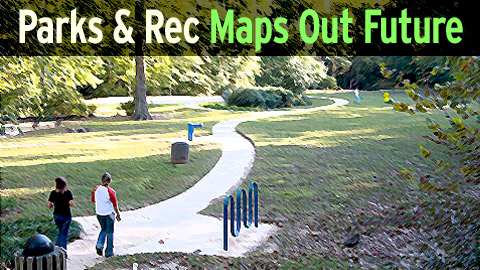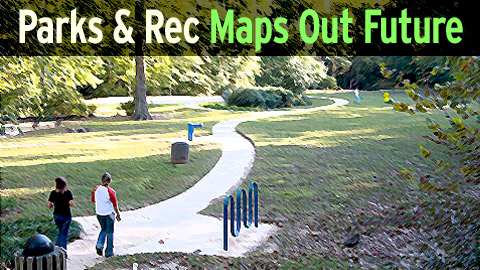 Story by Lindsey Chester. Photo by Zach Hayes.
Cary, NC – After months of surveys and public focus groups, the Cary Department of Parks, Recreation and Cultural Resources held the first of several meetings to reveal the results of the research and the future direction of the program.
Anne Miller of GreenPlay, the firm that has been hired to help gather and focus the data, began the first of three presentations at 10:30am. This first meeting was a general overview utilizing data collected from the town, a random mailed survey, a web survey, seven focus groups and 2 public forums.
The purpose of the review and public input is to update the current Parks and Recreation Master Plan last approved in 2003. As Anne stated, it's not a "do over", but ensuring that the Town keeps making a good thing even better. The Town of Cary is fortunate in that it enjoys a high level of service in the quality and types of venues in our parks system.
Some Interesting Points
Greenways continue to emerge as a hot button issue, along with more parks, a focus on Downtown, and public art. The lack of public aquatics was mentioned several times in answer to various survey questions. Some folks would like to see more availability for the residents with special needs considered. Even though greenways came up again and again in the survey, the inventory found that 63% of Cary lies within a trail network. We have24 individual trails comprising 63 miles.
Some Survey Results
Top 3 Most Used Parks & Rec Services
Special Events
Fitness
Children Activities
Programs Being Unmet
Programming for the disabled
Swimming
Preferences for Outdoor facility Expansion
Unpaved trails
Hard surface trails
Natural areas
Indoor Facility Expansion
Track for running
Indoor swimming
Indoor leisure pool
Go Big or Go Home
People preferred the idea of larger multi purpose Community- type centers which is actually the way centers are trending in the country.  These one stop facilities are convenient for busy families who can drop kids at one activity while the parents work out, take a class or have a coffee. When asked how far people would drive to head to one of these, most responded that a 10-15 minute drive would be reasonable (here in Cary, with road speed and signals, that is about 6-7 miles average).
National Trends
Nationally trends in fitness include an increase in walking and exercising using equipment, as well as camping and swimming. There is an overall decline in participation in team sports, with more focus on individual fitness.
Areas of Cary and Levels of Service
When Greenscapes did an inventory of all the facilities we have in the town, both provided by the town and the private sector (including paid memberships and Home Owners' Associations) they found that 97% of Cary had access to some recreation facilities. Then they broke that down by area where they divided the town into four main areas: Inside Maynard Loop, South Cary, West (of 55) and Central (everything else).
They found that the Maynard Loop has the highest level of service for parks and recreation facilities and that by population, the Central area actually has the lowest per resident, even though it has the second highest number of facilities overall. The West has the least amount of facilities, but by population density at this time has the second highest level per resident in Town. These were two new perceptions.
Two other presentations were made later that day, one highlighting  greenways and open space, and the second Downtown and the Maynard Loop. A later presentation was made for a Town Council work session. Staff sessions continued Wednesday withbe 3 more sessions (Parks; Centers; and Cultural Resources) held at the Page-Walker Arts and History Building. A public meeting was also held later that night for input on the findings.
One thing was made apparent, the Town of Cary enjoys a high level of service in the parks and recreation. It contributes to our reputation as a great place to live. Anne Miller said she did not see big gaps or shortfalls. The survey findings are to help  evaluate current and future needs as the town plans for growth and changing demographics.
Other important ideas to factor into the plan: sustainability, going green and how to balance local and regional  partners After this week, the next big presentation is the Draft Plan that will be presented in February.
Other Meetings to Attend
The Public Art Master Plan is also being given a look. Two public sessions are scheduled in November.
CaryArt Experience: A Workshop for the Public Art Master Plan
Thursday, November 3, 2011
7-9 p.m..
Cary Arts Center, 101 Dry Avenue

CaryArt Places: A Workshop for the Public Art Master Plan
Saturday, November 5, 2011
9:30 a.m. – noon
Cary Arts Center, 101 Dry Avenue

All workshops are free and open to the public. Your input is important.
For more info contact For more info contact Denise Dickens, Cary Public Art Coordinator at 919-465- 4791 or denise.dickens@townofcary.org
https://carycitizenarchive.com/wp-content/uploads/2011/11/cary-parks-and-rec.jpg
270
480
Lindsey Chester
https://carycitizenarchive.com/wp-content/uploads/2020/03/cc-archive-logo-450-v3.png
Lindsey Chester
2011-11-02 11:29:06
2011-11-03 13:39:24
Parks & Rec Maps Out Future