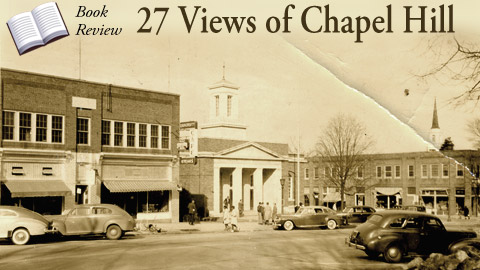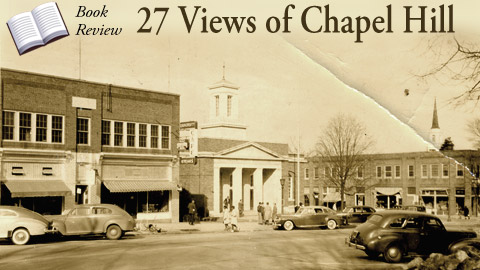 Book review by Matt Young. Photo by Robert St. Louis, 1943.
The passionate, even romantic love of Chapel Hill by those that grew up there, and by those that were educated there is befuddling to the uninitiated. I learned this a little bit first-hand in my daughter's freshman year at UNC-CH when she helped me come to the realization that I could never again utter the apparently ignorant words…"Yes I root for UNC and Duke."
Anthology of Poetry and Prose
Earlier this year, Eno Publishers put out the book 27 Views of Hillsborough. The 27 Views of Chapel Hill anthology, like its first in the series predecessor, is an anthology of poetry and prose memories. Memories that when summed up explain the story and the history of Chapel Hill.
Read this book and you will have an understanding of the town that is referred to by many as the "southern part of heaven" – a place where its inhabitants claim that God himself made the sky the color that it is for a reason.
"It was not known for anything; it was not famous for anything, it was not named for anything. People came here because they were on their way somewhere else, and this just happened to be the place where their horse died and it was easier to just settle down than it was to get another horse. And that, in a nutshell, is how Chapel Hill came to be." – Daniel Wallace's introduction (he goes on to hypothesize that Chapel Hill became what it became because Thomas Wolfe attended UNC-CH and Faulkner allegedly cavorted here in Hemingway style – farfetched but intriguing).
The Book
Included in this book is a memory of  a childhood chum of musician James Taylor who talks about growing up with J.T., doing sleepovers and listening to the "black combos crooning" "Handy Man", "Up on the Roof" and "How Sweet It Is to Be Loved by You".
A subsequent chapter talks about the progressive thinking (for the time) that led to electing an African- American man as mayor in the 70's and how Dean Smith brought in Charlie Scott, the first black player in the ACC.
Mama Dip Council explains how she became a "dump cook", there's poetry about basketball, fond memories of the art of blackberry harvesting, a celebration of the smell of the flora on the campus of Carolina in the springtime, how to properly prepare a pig-pickin' and other interesting local historical and educational gems.
Book Signing and Reading
If you have opportunity head on over to Quail Ridge Books in Raleigh in December. Apparentally the cover artist, Daniel Wallace, will be the MC of a little event and was described by the publisher as "a hoot" to the Carycitizen.
It 's on Thursday, December 1 @ 7:30 pm and the book contributors  will read from the story collection (D.G. Martin, Samia Serageldin,  Morton Neal, Erica Eisdorfer, Daphne Athas, and Karen Parker).
Mooning Over the Past
And then there's this old self-deprecation: "How many Chapel Hillians does it take to change a light bulb?" goes the local joke. "Ten. One to change it and 9 to moon about how great the old light bulb was."
https://carycitizenarchive.com/wp-content/uploads/2011/11/27-views-of-chapel-hill.jpg
270
480
Matt Young
https://carycitizenarchive.com/wp-content/uploads/2020/03/cc-archive-logo-450-v3.png
Matt Young
2011-11-13 10:53:18
2019-12-07 17:01:39
Book Review: 27 Views of Chapel Hill