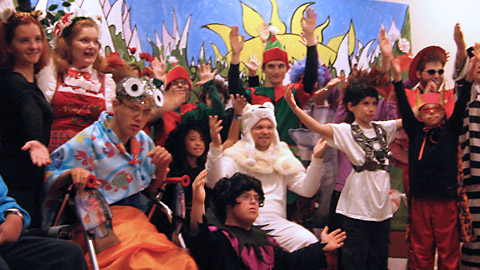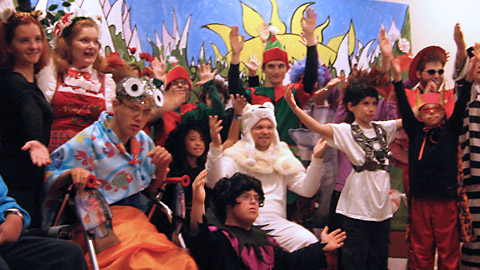 Story and photos by Lindsey Chester
Cary, NC- Alan Rosen is leading a new kind of theater group here in Cary. In association with the Cary Players, Alan has brought his inclusive Together on Center Stage (TOCS) program to the Cary Arts Center.
The program's first play "Ganip Ganopsicle and the Strawberry Popsicle" was created from beginning to end in about 4 weeks. An impressive timetable for people of any abilities, much less those with special needs.
What is a Ganopsicle?
The work began October 26th when the group met for the first time and hashed out a basic story board. They chose their nonsense word "Ganip Ganopsicle", which Alan says is an important part of all his inclusive productions. The groups create their special word that has meaning to them, and the audience must figure it out as the play unfolds. That simple step, gives the cast members a feeling of immediate inclusiveness.
The feeling was infectious as I watched the first dress rehearsal. The costumes were original and the colorful background that parents had painted was eyecatching.
Alan briefly filled me in on the plot. Every odd year around Thanksgiving, a magical transformation of eight beings occurs on earth. These beings become Ganopsicals. They need to find a key within six days so they can then join Santa's elves. If not… then who knows what will happen?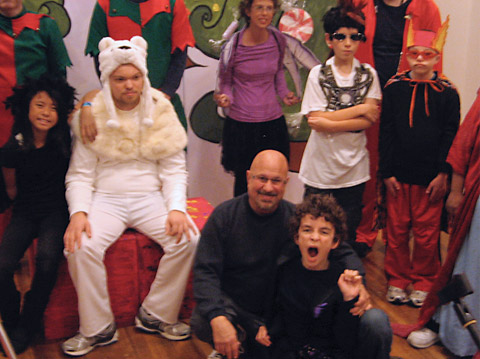 The cast has varying abilities, from seasoned Cary Player veterans, to children with autism and Down syndrome to folks wheelchair bound. What they have in common is a love for what they are doing, and a respect not only for the director, Mr Rosen, but for each other.
When Sierra gets to the mike to sing her solo "Over the Rainbow" the interest and applause is genuine. When the elves stand to give their speech, the laughs are in the right places. The confidence these kids gain from their roles is palpable.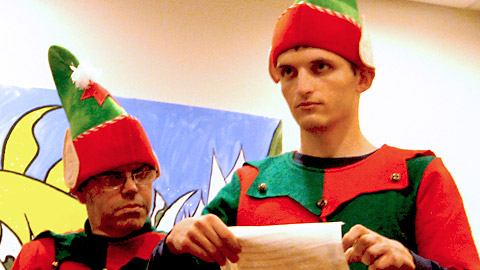 Through Our Eyes
Alan hails from New Jersey, and before moving here developed a program to include people with special needs in theater productions. Anyone who wants to act and get on stage and has the desire to do the work, is welcome.
TOCS – Together On Center Stage, is an inclusive theater group dedicated to developing both social and performance skills, building self-esteem, discipline, responsibility, and positive values through the creative arts.
TOCS is part of The Through Our Eyes Project (TOEP) which is dedicated to promoting inclusion through it's creative arts programs and to providing education and training for audiences, businesses, schools, social organizations and all groups that work with a diversified population.
How The Project Evolved
ClubArtsOnStage in New Jersey was founded by Alan Rosen in 2001 as an inclusive performing arts program.  The Project was born when Through Our Eyes, The Musical, also written by Mr. Rosen, was introduced at the Kelsey Theater in Hamilton, NJ in 2006 to packed houses.  The show, through a series of vignettes and original music, tells stories of how special needs individuals see the world. The original cast and crew included individuals of all abilities, 60 cast members and a production team of more than twenty.  Since then many new cast members were added or replaced others.  In 2008 Through Our Eyes was performed at the United Nations in New York City for the Ghandi, King, Chavez Season's of Non-Violence Conference and in 2009 for the National Down Syndrome Society's Buddy Walk in NYC.
Al moved to Cary two years ago to be near his children. Officially he says he's retired.
The program will be held again in February. If"Ganip" is any indication- Alan will have people beating his doors down to participate. The recent 3 shows were sold out (at 60 seats each).
CaryCitizen looks forward to more great work by the TOCS group and Al Rosen along with his partners the Cary Players. Hope to see the new show in March!
https://carycitizenarchive.com/wp-content/uploads/2011/11/ganip-1.jpg
270
480
Lindsey Chester
https://carycitizenarchive.com/wp-content/uploads/2020/03/cc-archive-logo-450-v3.png
Lindsey Chester
2011-11-22 16:25:27
2016-01-01 18:35:34
Theater: TOCS' "Ganip" Warms Your Heart