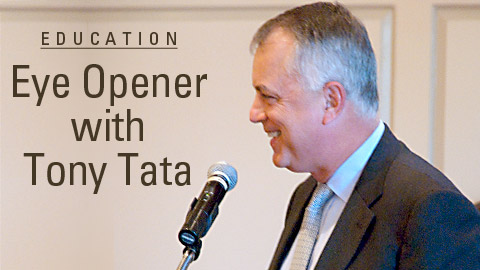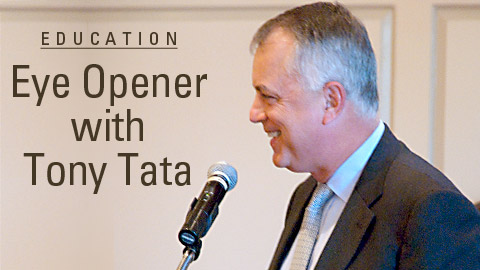 Story and photo by Hal Goodtree.
Cary, NC – Wake County Superintendent of Schools Tony Tata talked to a crowd of more than 100 at the Cary Chamber Eye Opener Breakfast this week.
Eye Opener
Every month, the Cary Chamber hosts an Eye Opener breakfast at Prestonwood County Club. It's $10 for members and $15 for non-members. It's a great breakfast and the speakers are always stellar.
This month, the speaker was Tony Tata (pronounced like "data"), Superintendent of Wake County Public Schools. Superintendent Tata was introduced by Cary resident and Board of Ed member Debra Goldman.
Debra characterized Tony Tata as a man with "a quiet strength," a guy who carries two cell phones and a leader who came to Wake County and "diffused a volatile situation."
Tata comes to WCPSS after 28 years in the military. School kids may want to check out his resume before cutting up in class:
Anthony J. Tata graduated from the United States Military Academy in 1981 and retired after 28 years of uniformed service on June 1, 2009 as a Brigadier General in the U.S. Army. Among his many assignments, Tony commanded a paratrooper battalion in the 82nd Airborne Division and an air assault brigade in the 101st Airborne Division. In 2006-07 he served as the Deputy Commanding General of the 10th Mountain Division and Combined/Joint Task Force-76 in Afghanistan. BG Tata deployed on combat missions and operations in Afghanistan, Kosovo, Macedonia, Bosnia, Panama and the Phillippines. He was awarded the Combat Action Badge and Bronze Star, served as a Master Parachutist and graduated from the U.S. Army's Ranger School. – from WCPSS.net
General Tata also served as a National Security Fellow at Harvard University's JFK School of Government and is the author of three fiction novels (Sudden Threat, Rogue Threat and Hidden Threat).
No Powerpoint
I had never had the chance to personally hear Tony Tata speak. First couple of things you learn about him: he's very down-to-earth. He is utterly in control of the facts.
General Tata began his remarks by explaining that he hadn't brought along a Powerpoint presentation. The crowd applauded gratefully. It did not appear as if he had any notes. It all came flowing out of his head, and his heart. Tata is very passionate about Wake County schools.
137 School Visits
Just one year ago, Tata interviewed for the job. Since coming to Wake County schools, he has visited 137 out of 165 schools.
Headquarters in Cary
This year, Wake County Schools central office, with more than 750 employees, moved to Cary. Tata said it has been a great fit for the employees and puts the central office right in the heart of the county's population.
Looking toward the future, school population grow will be most pronounced in the western and southern rim of the county, making the new location in Cary advantageous. Tata predicted our school system will grow from 147,000 students currently to 200,000 within 10 years.
Picking Principals
Superintendent Tata mentioned early in his remarks the importance of good principals in the schools. "The #1 thing I do is pick principals."
Tata changed the process of picking principals so he could personally interview the top two or three candidates for every opening.
School Assignment
School assignment has been the hot topic in education for residents of Wake County. Superintendent Tata spent considerable time explaining how he saw the situation.
"The number one thing I heard from parents was a desire for stability," Tata told the crowd. With lots of new initiatives in the works, the bottom line for parents is "if you're happy where you are, you can stay."
Holding Bureaucracy Accountable
One of the most riveting parts of the address was a discussion on reforming bureaucracy. Tata said a lot of parents and community groups wanted to help out in education, but the bureaucracy makes it unnaturally difficult. He said WCPSS needed "an Easy Button." Tata said he has a "chief of community engagement" and a "chief of transformation" personnel in place.
"How do you hold a bureaucracy accountable," Tata asked the crowd. "How do you keep it from becoming like a self-licking ice-cream cone?" The Chamber members seemed to appreciate the metaphor.
Tata said he has a simple rubric:
Core Beliefs –> Focus Area –> Metrics
What that means: Core Beliefs are our goals for the school system. What do we want to achieve for our children? Focus Area is how you "operationalize" those beliefs – a plan of action. And Metrics measure the results.
Changes to the Board of Education
During the Q&A, someone asked General Tata how changes to the Board of Education in the recent election would effect his job. "Stay focussed on the mission," Tata said. He related the situation to his time in the military, when Presidents and Congress might change, but soldiers still had the mission.
2 Bells?
Tata briefly discussed a study to consider whether Wake County could switch from a three bell system to two bells. This refers to the start time of different schools, generally organized around bus schedules.
Tata said all the buses go out every morning and make three trips, and another three in the afternoon. Staff at WCPSS is considering whether it may be possibler to condense start times to just two bells, saving a third of the bus trips. "We could save 8 figures," Tata said. That's tens of millions of dollars.
Tata said it's just a theory for now, but he's waiting for the dissertation.
Be Responsive, Be a Leader
Superintendent Tata touched on many other topics. He talked about a new high school for West Apex, renovations at Cary High and a new school called Scotch Ridge.
Bottom line on being Superintendent of Wake County Public Schools" "Be responsive. Be a leader."
https://carycitizenarchive.com/wp-content/uploads/2011/12/tony-tata.jpg
270
480
Hal Goodtree
https://carycitizenarchive.com/wp-content/uploads/2020/03/cc-archive-logo-450-v3.png
Hal Goodtree
2011-12-01 19:30:57
2015-12-30 17:37:52
Eye Opener with Tony Tata