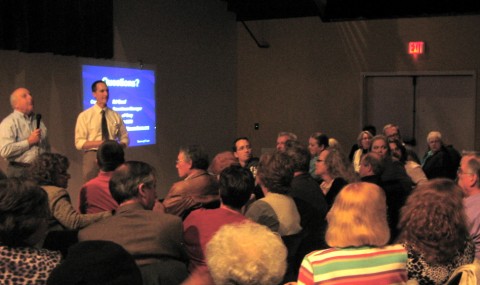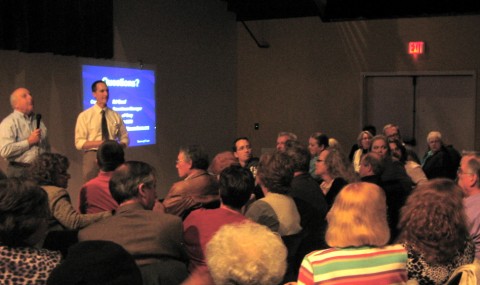 Story and photo by Lindsey Chester
Cary, NC- Tuesday, Nov 29 a standing room only crowd gathered in a Cary Arts Center conference room to hear from Downtown Manager Ed Gawf about the latest downtown updates. As the 6pm meeting time approached there wasn't a seat left in the house, and the crowd spilled out the door. Later we learned staff expected about 30 people and 150 showed up. A second session was added to accommodate the interested residents.
The Vision
Ed Gawf started the meeting by describing what the vision for our downtown needs to be – and that is not Apex part 2, but instead something "uniquely us." He went on to state that we are in an enviable position. Cary has a high quality town that now needs a great Downtown. Our downtown area needs to reflect with equal quality what the planners have established in the surrounding areas. It needs to be vibrant, pedestrian friendly, and unique.
His vision includes a signature street, which will be Chatham. This east-west corridor will become an area where people from other surrounding towns will want to visit and where residents will bring their out of town guests.
Recent Town Purchases
The Jones House– hisotris home on the corner of Dry and Academy directly across from the Cary Arts Center. This house through the years had fallen into disrepair and had been for lease or sale for a number of years. The town saw an opportunity and purchased it a few months ago. (story)
The Opportunity Site– 13 acres parcel of land that the town has been systematically purchasing small parcels between Academy and Walker, and from Park to Walnut. Ed affectionately calls this area the "Opportunity Site". This parcel is across from the Jones House and the Arts Center and offers the town a place for a central park, a possible Cary Library move, and many other options for a  central gathering place to anchor this end of Academy.
The Theater-As written about earlier the Town purchased a former auto parts store. Many years ago it was known as the old Cary Theater. Ed revealed that this strategic purchase gives the Town another venue for movies and smaller performances and fits size-wise between the Arts Center's 400 seat auditorium and Page-Walker's 100 seating capacity. When the theater is restored, an additional building will be added to the site for overflow retail and offices on a second and third floor. Seating capacity will be around 200. Hopes are to open by Spring 2013 or earlier.
Suggs Property– The Town's most recent purchase is an L-shaped property including the Ivy Ellington historic home anda yellow residential property on Academy. This property makes an L behind Ashworth Village. It has not been decided exactly what will be built here.
India Bazaar– The Town closed on this property recently. This will add some expanded retail opportunities and what Ed described as a Raleigh Times refurbishing.
FaceLifts
Gateway Roundabouts– In the old Town Center Plan that was shelved when the economy took a nosedive, planners had created "Gateways" leading into our Downtown. Part of these plans are being revived with the creation of Gateway Roundabouts at East and West entrances to downtown. One roundabout will be at the intersection of Old Apex and Chatham, which currently has an ugly, hasardous merge of these streets when you head into downtown. The second gateway will be at East Chatham and Durham Road.
Way Finding– In the past, how would you know you had arrived in Cary's Downtown? There were no signs to indicate such. The first step in the wayfinding program has been to add banners that designate "Cary Downtown" on light poles throughout the Downtown Core. Next, new signage will be going up this Spring that will clearly identify when folks are heading into downtown from all the arteries that lead there. Signs will also direct travelers to the Arts Center, Page-Walker and the new theater.
Cary Library– Currently the Cary Library is one of the busiest in the Wake County system, seeing over 1500 visitors a day. It is also one of the oldest and due for some renovation. The "Opportunity Site" has been identified by the Town and Wake County as a possible new location in which this new regional library could double in size to 22,000 square feet.
Harrison Bridge- The Town will be working with NCDOT to make this bridge over Harrison to cross over the Railroad tracks. A major study is underway.
Facade Improvements
In addition to the town's purchases, the town is seeking partners who are already vested in the downtown area. Ed is working with Fidelity Bank (corner of Academy and W Chatham) to rework their plaza. He has spoken with Kitchen and Bath Galleries to see how to make that site more welcoming on the Academy Street side. The parking here will be changed to angled parking at the side of this building.He is looking to improve the pavement in the intersection of Academy and Chatham.
The town will work this spring on new sidewalks, curb and gutters on the section of East Chatham near the new theater purchase.
Ed pointed out that where possible the town wants to work with the existing businesses to help them improve their facades. Waved impact fees and parking restrictions are some ways the Town will try to help owners afford the improvements that need to be made.
Additional Parking-One complaint heard frequently about town is the lack of parking. But truly there is a lot of asphalt in Downtown. The problem is that it is privately held, and not shared. Many businesses will tow customers who are not shopping in their stores. The town has purchased the lot next to the theater and Johnsons' Jewelers to add some public parking. There also needs to be more cooperation between businesses to share the parking when business hours permit. Ed hopes to create public parking lots scattered throughout Downtown.
Ed wrapped up his talk with more specifics about the theater plans. A grand marque will be put at the front that will extend over the sidewalk and make a statement. The renovation will fit in contextually with the building's original 1940's pedigree. The designers want the space to have flexible uses and will house movies, plays, music and more. The desire is to bring nightlife to this end of town. They decided to add a second building beside the theater to not only provide more flexibility, but to fill in the gaps around the old building.The second building may house retail. This building will be three stories and will house flex office space and adds 5600 sq feet of available office leasing.
Mind The Gap
Ed spoke about what makes the downtown area of Apex successful and one reason is the proximity of buildings to each other. He called it "minding the Gap" and said they will try to fill in the gaps between buildings where possible, keeping distances at 40 feet or less.
Next Steps
There will be another public meeting perhaps in January about downtown progress.
Theater Plans progress:
5/1 building permit
8/1 start construction
12/1 build infrastructure
5/1 grand opening
Stay tuned for additional announcements about opportunities for citizen input and future meetings.
https://carycitizenarchive.com/wp-content/uploads/2011/12/meeting-e1322860463693.jpg
285
480
Lindsey Chester
https://carycitizenarchive.com/wp-content/uploads/2020/03/cc-archive-logo-450-v3.png
Lindsey Chester
2011-12-02 17:33:50
2011-12-02 17:33:50
Update: Downtown Cary- "Uniquely Us"