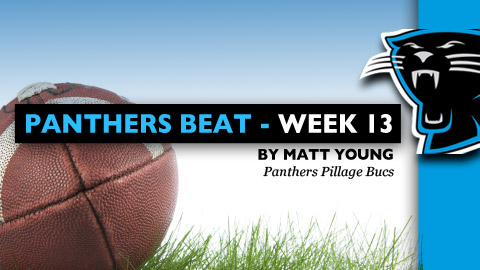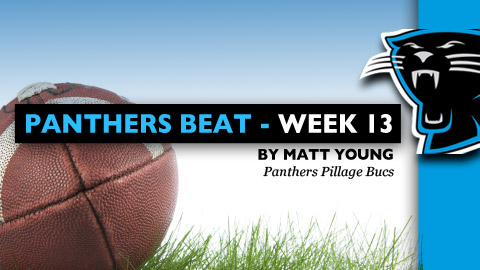 Cary-lina, NC – The Panthers were the better team this Sunday, routing the Bucs 38-19. Tampa Bay wore their throwback "Dreamsicle Swashbuckler" uniforms from the '70's. You would think that they would have learned their lesson from those forgettable days in Bucs history when they wore those awful unis. Aurgh! 
That's TWO IN A ROW for our Panthers.
Brunch
My weekend was going just fine until late Saturday night when my bride "reminded" me that we were invited to "brunch" at a neighbor's house on Sunday.
BRUNCH!
I informed her that she never told me this before. And she informed me that she most certainly did – and once more – I, like all men, listen to every third word.
Brunch! You cannot even say this word and sound manly. "I am going hunting after I rebuild my carburetor. But first we gotta eat brunch." Pffft.
Breakfast would be fine, that's at like what – 9 am? Brunch is at like – noon. Am I the only guy around that is working on perfecting the butt scoop in my couch cushion watching football on Sunday at 1 pm?
So I showered, Chris made cookies and we walked down the street, me whining and moving my limp arms up and down like a child not getting his way. "Honey, you can leave early if you want, they'll understand, they know you". They know I am WHAT? Immature? Why yes, they do.
Well we chatted, and ate and drank and wiped the corners of our little mouths with matching cloth napkins (I swear!) and held our little fingers in the air as we drank our coffee.
One o'clock came and we were done eating. Two o'clock came around and my wife  could see my growing discomfort. I could tell by the sheepish grin on her face. We finished all the civilized chit-chat at about 3 pm. We exchanged good-byes and I ran down the street  home and plopped into my butt scoop after switching on my Mongo-sized TV hooked to both DirectTV and Cable.
Chris had set the DVR for me. She makes me eat brunch, but she always has my back.
Cam Sets Another Record
Wunderkind Cam Newton ran 3 balls into the end zone breaking the Steve Grogan (Patriots) record for QB TDs in a year. A record that stood for 35 years.
The Carolina QB went 12 of 21 passes for 204 yards. He also ran for 54 yards on 14 attempts.
Newton got a reception of his own after a throw behind the line of scrimmage to Legedu Naanee, which Naanee in turn threw back to a streaking Newton for a catch and run for 27 yards. Sweet.
In Command
By the end of the first half, Carolina was leading 24-12.
Jonathan Stewart had another nice day gaining 80 yards on the ground. WRs Brandon LaFell got 64 yards from Newton passes and Naanee 38 yards.
Carolina's defense stifled the Bucs' running game allowing only 78 total yards. Tampa Bay QB  Josh Johnson completed 16 of his 27 passes for 229 yards. WR Mike Williams had a respectable 93 yards for Tampa Bay from aerial connections with Johnson.
They will be playing another division rival, the Falcons next week. This will be one of the toughest tests for the Panthers this year, but I like their chances.
Question: How much is corn in Tampa Bay? Answer:  About a  buck-an-ear!
https://carycitizenarchive.com/wp-content/uploads/2011/12/panthers-bucs.jpg
270
480
Matt Young
https://carycitizenarchive.com/wp-content/uploads/2020/03/cc-archive-logo-450-v3.png
Matt Young
2011-12-05 14:07:56
2011-12-05 14:07:56
Panthers Beat: Clearly Superior Panthers Pillage Buccaneers