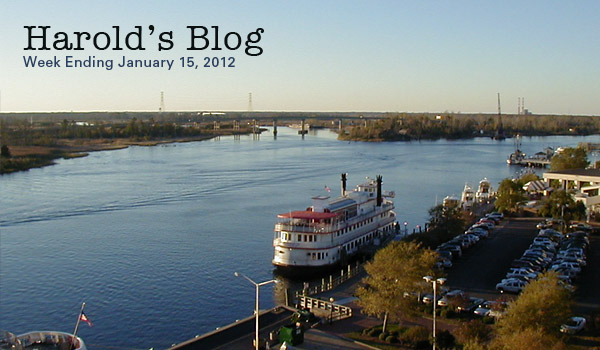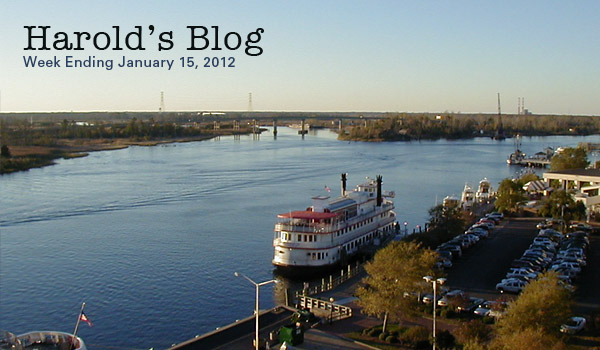 From the blog of Cary Mayor Harold Weinbrecht, covering the week through January 15, 2012. Wilmington, NC photo by Hal Goodtree.
Cary, NC – This week was a busy one that included a council meeting and the annual council/staff retreat.
Monday
As with all Mondays of a regularly council meeting week, I called all council members to hear their concerns or questions about items on the upcoming agenda. I was able to talk with all of them. The only questions or concerns were about the Employee Wellness Program item on the agenda. Later that day I, along with Mayor Pro-Tem Adcock, met with town managers, directors, and administrative staff to go over the agenda. Based on the agenda items it seemed the meeting would be a relatively short one. I guessed the meeting would conclude around 7:30.
After the agenda meeting I spoke briefly with the town manager to catch up on any pressing issues. We discussed the upcoming vote on the Employee Wellness Program and the upcoming council/staff retreat.
Later Monday I had a dinner meeting with a friend and talked about a variety of issues including some related to the town.
Council Meeting: Rezoning of the Fumagalli Tract
Tuesday was a regularly scheduled council meeting. Normally our meetings are held on the 2nd and 4th Thursdays of every month. Since the council was holding their annual retreat which required leaving on Thursday, the meeting was scheduled for Tuesday.
The meeting's biggest issue was the public hearing on the rezoning of the Fumagalli tract near the Mills Park schools. Several people spoke against the rezoning which proposed going from a zoning of R40 to a transitional zoning of townhomes.
As we do with all rezoning cases we sent it to the Planning and Zoning Board for their review and recommendation. Once council receives the recommendation we will make a decision. Since the residents adjacent to the proposal filed a valid protest petition, the rezoning would take six out of seven council members to vote affirmatively to have the project approved.
We will probably see the proposal again in April. The rest of the meeting went by fairly quickly but due to the time spent on the public hearing our adjournment time was around 9 PM.
Chatham Mayors Meet on Jordan Lake
Wednesday I met with Mayors from Chatham County that included Mayor Voller from Pittsboro, Mayor Johnson of Siler City, and Mayor Cunnup of Goldston. Since I am also a mayor in Chatham County they wanted to meet with me and see how we could work on issues together.
Some of the issues we talked about were the upcoming joint Land Use Plan with Chatham County and future water use from Jordan Lake. We decided it would be beneficial to create a mayors association similar to the Wake County Mayors Association. We also discussed the possibility of including Lee County mayors in the group. The group would meet regularly with a focus on finding similar issues to work on together. I believe it will be our intention to create a joint legislative agenda.
This could be very beneficial not only to Cary and other areas of Chatham and Lee Counties but to the region if we have similar issues with Wake County municipalities. Mayor Voller is taking the lead on exploring this further and will get back in touch with me.
Later Wednesday I met with the town manager, assistant town manager, and the budget director to be briefed about the financial topic that would be discussed at the retreat. I was also joined by Mayor Pro-Tem Adcock and council member Bush. The purpose of the meeting was to provide detail on what was to be presented at the retreat and to prepare for any questions the council may have about the topic.
Wilmington Retreat
Thursday I left for the council/staff retreat in Wilmngton. I rode with council member Smith and we arrived around 5 PM. We met with council member Frantz a little bit later and headed out for dinner. Mayor Pro-Tem Adcock, and council members Bush and Robinson, who rode down together, also joined us for dinner. Council member Robison did not attend the retreat due to a family emergency that required her to travel to New Jersey. Our dinner was purely social and provided valuable time together.
I firmly believe that relationship building is the cornerstone to a highly functioning professional group. It is important to note that we, not the taxpayers, paid for our own dinners. It should also be pointed out that the retreat, even though out of town, was very close to the budget we planned for an in town retreat.
Six Topics…
Friday was the official beginning of the retreat which covered six main topics. Our first topic was on being an effective council. We spent a couple of hours discussing what we expect from each other. This included how we prepare for council meetings, how we handle conflicts, and how we can be most effective. It was a good session which began with an ice breaker that included nicknames council members have had during their lives. Of course I'm not disclosing any nicknames.
Our next big topic was on the Land Use Plan. In 1996 the town created a town wide land use plan that was followed by seven special area plans over the years. In December 2010 the town council asked the staff to come up with a unified plan.
The new plan will take into account existing plans, ordinances, policies, guidelines, and especially trends. Here are some of the interesting trends that were presented:
We are projected to have a population of 180,000 by 2025.
Our median age will be approaching 40 by 2025.
By that time over 4000 people will be turning 65 each year as compared to 3000 now.
Cary's population demographics show that we have the largest percentage of 40 go 49 year olds in Wake County and the smallest percentage of 20 to 29 year olds.
Our average household size continues to get smaller.
Our population is more diverse with over 19% foreign born. 7.7% are Hispanic and 13.1% are Asian.
Our median household income has dropped in the last ten years from $95,000 to $88,000.
Our population is well educated with over 60% achieving a Bachelor degree or higher and 24% achieving a Masters degree or higher.
In this century our built environment will be renewed more than three times.
Our challenges in creating this new plan will include: meeting the differing needs and preferences of an older, more diverse population, meeting the demand for a wider range of housing types, and maintaining and serving an increasing number of aging housing stock. This will be especially difficult since most people don't like change.
The last session on Friday was on intergovernmental effectiveness. We heard from people that lobby on Cary's behalf at the North Carolina legislature and from people that lobby for Cary at Congress. As a result of the working groups we decided to inventory our relationships with other elected officials, come up with a strategy to improve relationships, and come up with a process to lobby other elected officials on Cary's behalf.
Friday night the entire delegation of consultants, staff, and council walked over to a downtown restaurant and had dinner. It was an important time to build our relationships with each other. This is critical in our efforts to being a highly functioning council and staff.
Customer Service
Saturday included three retreat topics. The first was taking our customer service program to the next level. We discussed viewing our service through the eyes of the customer which is what Disney does. There was a lot of conversation and discussion between staff and council during this session.
We agreed that council needed to better understand the complexities that staff deals with and that we all need to experience what customers are going through with town services. Consistency in service seemed to be one of the major themes. As a result of this session I felt that we will take our level of customer service higher and hopefully be a municipal example for others to follow.
Funding and a Future Bond Referendum
The next topic was on general capital projects and funding.
We agreed that we would not pursue further debt using our 2003 bonding authority and would pursue a bond referendum which may be held in the general election this fall. We will use a work session to decide what capital projects to include in that bond.
It is important to understand that Cary currently has $90 million dollars worth of projects delayed and another $600 million on the wish list. It is also important to understand that Cary's population continues to grow with demands and needs growing with it. We are rapidly reaching a point where levels of service may be threatened if some projects are continued to be delayed.
Some interesting points brought up in this session include:
Cary has $20 million in required reserve, $39 million of four month worth of operating costs, and $17 million available for pay-as you-go capital.
We have issued no new debt for capital since 2008.
Our current debt service is 11.6% of operating expenditures with our debt ceiling set at 15%.
Our delayed projects include $34 million in streetscapes, $13.5 million in Aquatics, $10 million in Land Banking, and $24 million for other high priority projects.
If voters approve a bond referendum then it would probably require a tax increase. If that is the case then council would prefer not to have an annual gradual increase.
Our last topic at the retreat was the review of all the town's boards and commissions. Our decisions were based not only on experience but from feedback given by the board members.
As a result we decided that the Town Center Review Committee and the Citizen Issue Review Committee could better serve if they were task forces that were formed as needed. This means that people may be contacted with a request to serve on a future committee if a need arises.
It was also decided that School of Government Graduates should be looked at first in creating these task forces.
The Economic Development Committee (a citizen advisory committee) was also changed along with the Economic Development Governing Board (a committee of council, staff, and chamber members). The funding decision of the Economic Development Governing Board would be done instead by the council's operation committee. The governing board would then have three new members from the old Economic Development Committee. The new combined board has yet to be named.
Weekend
I believe our retreat was very successful and we did a lot of great work in a short amount of time. We ended around 3:30 PM on Saturday and I was home in time for dinner.
Sunday I spent most of the day going through retreat information and writing the February version of Cary Matters.
This week there were several emails from staff that included announcements to the public. In one of these staff asked for citizen input to the joint land use plan between Cary and Chatham County. The Cary Council will hold a public hearing on this plan at our January 24th meeting and the Chatham County commissioners will hold a public hearing on January 17th. Once adopted, the Joint Land Use Plan will guide local governments with future growth in the more than 18,000 acres between Jordan Lake and the Chatham-Wake County line, White Oak Creek in the south and the Durham County line to the north. The plan will also define areas that may be eligible for future Cary water and sewer service.
Citizens were also asked to participate in developing a Stormwater Master Plan. This plan will guide the future of stormwater management in Cary. Key elements of the plan include water quality, water quantity, infrastructure, floodplains, and public assistance programs. Citizens interested in participating should attend the meeting at the Page-Walker Arts and History Center on January 17th from 4 to 7 PM.
Emails: Know What's Better? Give Your Opinion in Person.
There were a lot of emails from citizens this week. One set of emails was in response to a news story that implied the Cary Council wanted to put up a neon sign at the Cary Theater being renovated. Staff, not council, is working on a proposal that may or may not include neon. The council has not reviewed or approved any neon sign. It is my opinion that there will be some council members interested and some council members opposed to neon. It is a decision to be made once the options are presented at a future date. There were also concerns about double standards. Those are also valid but there are facts about that issue that were also left out of the story. For example, the sign ordinance was created by citizens, business owners, staff members, and council members years ago. The decision was that public buildings were not to be included in the ordinance. The sign ordinance was recently reviewed by a focus group that included mostly business owners and citizens. Council adjusted the sign ordinance based on many of those recommendations. It should also be pointed out the theater marquees have been approved in town. It is my understanding that Crossroads theaters have approval for a marquee but chose not to use one. Anyway, I believe the majority of the concerns were generated by sensationalizing the facts which is unfortunate.
Other emails this week included a campaign to fill up the council email boxes with objections about the Fumagali proposal that I mentioned earlier. I can tell you from this end that cut and paste emails that fill up mailboxes are usually not effective. What is effective is an email to council members from the heart about concerns one may have. What is even more effective is attending the council meeting and giving your opinion in person. But chain emails do nothing but make it difficult for council members to do their jobs.
I received two other emails this week. One email made recommendations about the building of fire station #8. In another email a lady said that she was praying God would turn my life into hell because the town won't close the dump or build a wall around it. Ouch! Unfortunately taking unwarranted criticism is part of my job.
Next week will include a meeting of the Wake County Mayors Association, a meeting of the Capital Metropolitan Planning Organization, and a council work session on the downtown theater.
Well that is all for this week. My next post will be on Sunday, January 22nd. Please feel free to email me with a comment. Email all Town of Cary questions or comments to Harold.Weinbrecht@townofcary.org. Email personal comments to augustanat@mindspring.com.
https://carycitizenarchive.com/wp-content/uploads/2012/01/harolds-blog-0115.jpg
350
600
Harold Weinbrecht
https://carycitizenarchive.com/wp-content/uploads/2020/03/cc-archive-logo-450-v3.png
Harold Weinbrecht
2012-01-16 12:13:01
2016-01-09 11:58:28
Harold's Blog: Retreat Week