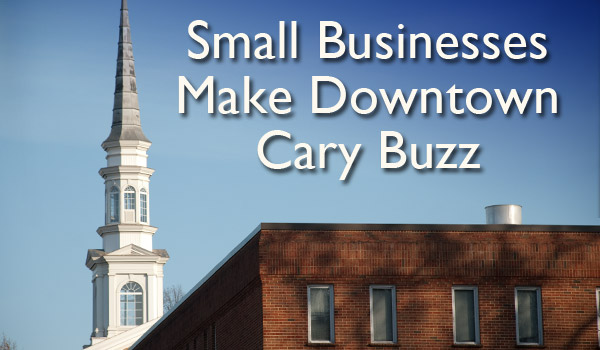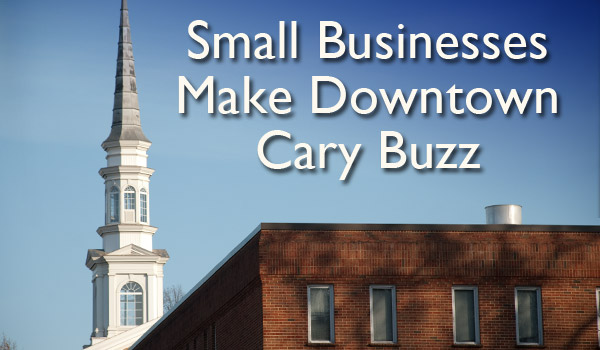 Story by Lindsey Chester. Photo by Hal Goodtree.
Cary, NC – This past year, we have reported on Downtown development with an eye to what the Town of Cary has purchased and developed.
In this article, we take a look at the independent businesses now open in the core area of downtown – chiefly Academy and Chatham Streets.
Unwine'd
The most recent addition to the Cary retail and dining scene is Unwine'd,  a wine bar located in the Olde Cary Commons building at the corner of Harrison and West Chatham Street.
Owner Scott Higgenbotham  opened his doors in mid December and immediately began offering Thursday night wine tastings from 5:30- 7 and offers live jazz music every Friday night. The location has 2 bar areas and a light menu served from 4- midnight, they are open Monday- Saturday. Scott promises it is a great place to have a meeting because he has free WiFi and will be adding a coffee option soon.
Soul Food Coming Soon
Another new spot soon to open is Ermer Jone's soul food restaurant located at the former Chatham Street Cafe. We are keeping our fingers crossed that this is open by the end of January. We will post more info about this exciting development when we finally are able to catch up with the new establishment's owner.
These most recent additions add to other businesses that we saw added to downtown in 2011. These include:
Lynn's Treasure Chest
At Lynn's Treasure Chest, owner Lynn Rogers sells gifts and offers classes. Lynn has recently partnered with Best Friend Pet Adoption (BFPA) to help owners adopt pets to their forever homes. Next door,  Belen Divine specializes in wedding gowns. They sell both new and used, can handle custom tailoring and just added their own line: "Carmen Belen"  . Both stores are located at 149 East Chatham formerly "Calvin's Salon".
Beautimous Beads
Bridgette Bordonaro opened Beautimous Beads in June after buying the former Bedazzeled store in the current location. Bridgette offers a wide array of custom beads, jewelry and gifts, classes and camps. The store is next to Ashworth's Drug at 107 West Chatham Street.
Designed-to-Sold
Next door, Shanna Middleton relocated her real estate and staging company, Designed-To-Sold in December. Shanna offers more than a listing- she will assist sellers in staging their homes for a quick sale, and handles other interior design projects. We wrote about her outreach project  where her business renovated a home for a disabled couple in Raleigh last fall.
MMI Public Relations
Earlier last year, we reported about Patty Briguglio's decision to move her PR company MMI to her new Downtown location at 223 East Chatham Street (story). With so many Cary clients, the location made a lot of sense. She has already become a vocal member of the downtown business circle.
Purple Polka Dot
The Purple Polka Dot (story) opened in June in the former Flower Cupboard house at 114 South Academy Street. Owner Kristin Gurganus does a great job keeping her windows cheery with colorful gift and furnishings displays.
Dorry's Downtown
When The Food Factory left Cary for Duke University, everyone wondered what would we do about breakfast downtown? The answer was Dorry's Downtown that opened up shortly thereafter, owned and operated by Ray Dorry. Ray is a former New Yorker but has lived in Cary for over 20 years. He knows his way around a deli sandwich!  They also have my new favorite: great egg and potato wrap sandwich that I get with a spinach tortilla. With free WiFi and open as early as 7:30 you can have an early morning meeting and be on your way. Dorry's is located at 211 east Chatham Street.
Styles Fitness
This past April, Autumn Hibberd opened a new type of fitness studio. The business is called Styles Group Fitness and offers the intensity of a personal trainer with the lower cost of group classes. Located in the Chocolate Smiles building on West Chatham Street, members decide how many sessions they wish to attend per week and for how many months and are priced accordingly. Classes are offered Sunday- Friday and usually have 3-8 members. Classes are tailored to who attends and focus on strength and core training.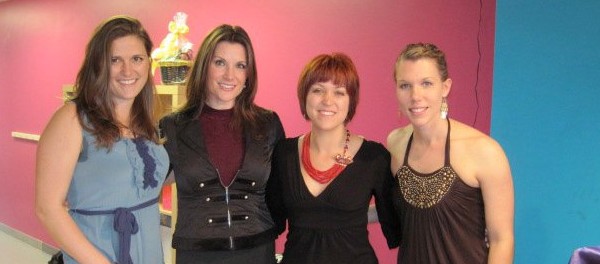 What's Next?
These new and many other established businesses join the efforts that the Town of Cary has engaged in to create a vibrant Downtown Cary Experience. Rumors abound about a Pub, a coffee shop and other private investors.
CaryCitizen will be reporting on these developments as they occur. We hope we captured all the recent developments, but feel free to comment at the bottom of this story (online) if we missed something. Know of any other newcomers that will be opening soon? Email Lindsey Chester and she will be sure to meet the newcomers.
https://carycitizenarchive.com/wp-content/uploads/2012/01/downtown-cary-business.jpg
350
600
Lindsey Chester
https://carycitizenarchive.com/wp-content/uploads/2020/03/cc-archive-logo-450-v3.png
Lindsey Chester
2012-01-16 18:50:19
2019-12-07 17:02:30
Small Businesses Make Downtown Cary Buzz