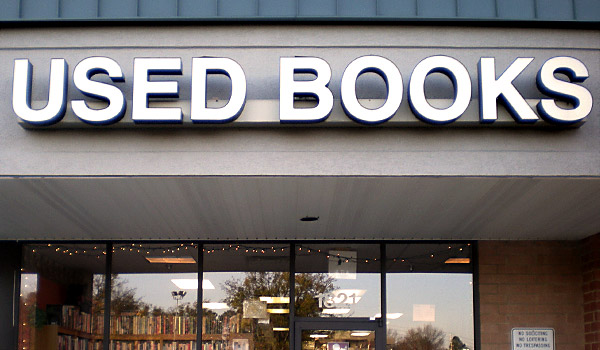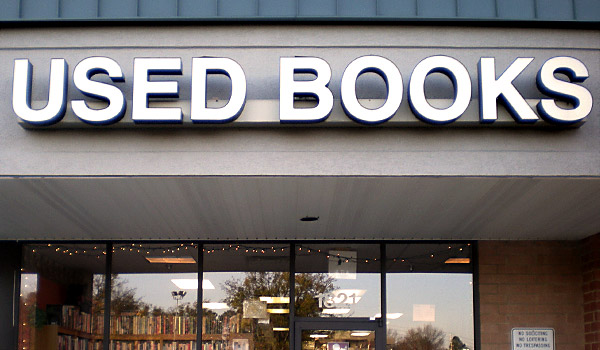 Story and photos by Jeff Strowe. Above, Second Chance Books.
Cary, NC – These days, reading tends to happen online, and hey, CaryCitizen is only available that way, so this is not a complaint.  However, contrary to popular belief, printing presses have not gone silent and books are still being bound, published, and sold, right here in Cary.
Herewith, a tour of four used bookstores in the Greater Cary Metroplex.
A Changing Market for Books
You wouldn't know this by paying attention to the big box stores; they've either shut their doors or turned their focus to the Kindles and iPads.  But there's still something to be said about having the paper between your fingers as you turn the pages of a good mystery, biography, or rediscovered classic.
Independent bookstores carry the torch, serving as anchors of many metropolitan downtown developments and college towns across America.  Outside of these areas though, the brick and mortar stores are few and far between.
Right here in the Cary area, though, we are fortunate to have four illuminating used bookstores, staffed by passionate and intelligent employees dedicated to serving both the intensely literary-minded and casual readers alike.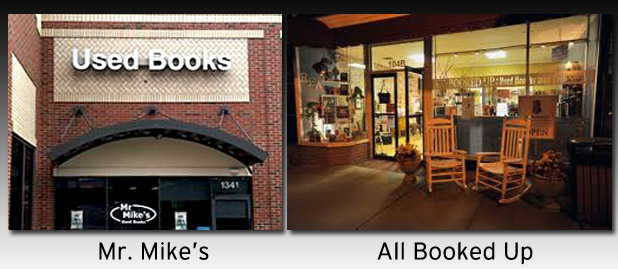 Mr. Mike's Used Books
Our tour begins at The Shoppes of Kildaire shopping center, where you will find Mr. Mike's Used Books, conveniently located a few storefronts down from Trader Joe's.
Co-Owner Mike Cullen comes to the job with experience and authority: his first job was in a used bookstore and in 2003 and he realized his lifelong dream by opening Mr. Mike's.
Today, business is strong as the store specializes in stocking tough to find titles that readers just can't find as an eBook.  Readers can also stop in at any time to take advantage of the buy-back policy, where titles can be sold for cash or exchanged for store credit.
So, the next time you really want to read a best-seller, but balk at the expensive new cover price, consider Mr. Mike's and save some money.
Mr. Mike's Used Books
1341 Kildaire Farm Rd.
Cary, NC  27511
Booksmart Used Books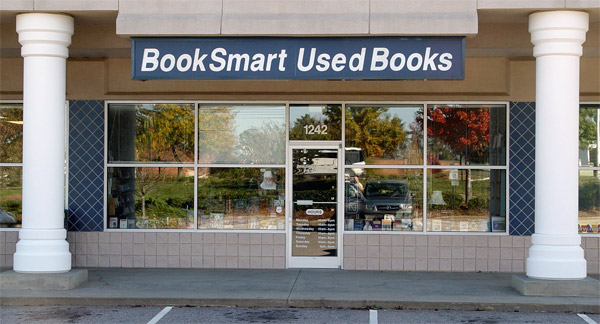 Next, head down to the intersection of Maynard and High House and visit Roy Long's Booksmart Used Books.
Celebrating its 6-year store anniversary this month, Booksmart's pristinely clean atmosphere contrasts with the common perceptions of a used bookstore.  That's the goal, says Long:  "We work hard to clean all the books and keep the store as customer-friendly as possible".
The maintenance extends to organization as well, as the store is neatly categorized by genre, allowing for easy browsing and perusal.
Of particular interest to readers is the store's "Chick Lit" section, which features many popular mysteries and beach reads.
Even non-readers can find something of interest at Booksmart as the store also carries hundreds of used CD's (remember those) and DVD's, making it the perfect place to affordably fill out your iTunes library.
Booksmart Used Books
1258 NW Maynard Road
Cary NC
2nd Chance Books
Head down Harrison Avenue and next to the Carolina Pottery Outlet,  you'll find Mindy Miller's 2nd Chance Books and her 45,000-strong collection of titles.
Customers can jump in and browse around as Ms. Miller's voluminous inventory is expertly catalogued with shelves ranging from coffee table art books to how-to manuals to best-selling James Patterson novels.
Can't find what you're looking for?  Just ask for help.  During my visit, Ms. Miller quickly located three obscure titles for an appreciative inquiring reader.  It's that extra effort of customer service that makes 2nd Chance Books unique.  That, and the fact that Bella, Ms. Miller's Wiemeranier/Great Dane mix will be there to greet you.
If you have a dog of your own, they are more than welcome to tag along as you shop!
2nd Chance Books
Harrison Square Shopping Center
1821 North Harrison Avenue
Cary, NC
All Booked Up
The book tour ends in Downtown Apex's Salem Street district at Janice Monaco's All Booked Up.
A Florida native and former real estate broker, Ms. Monaco was forced to turn her home library into a nursery with the arrival of her children.  The difficulty required in parting with these books led her to start on the new career path of a bookseller.
Now, she is firmly entrenched as Apex's only walk-in bookstore and the neighborhood feel of Salem Street has helped the shop thrive.  Working with a School Media Specialist, Ms. Monaco keeps the required school reading list titles readily available and in good shape.
The store also boasts two distinct features: a local author showcase that highlights some of the region's most creative talents, and a "Man Cave", a decked-out separate room that boasts comic books, vintage movie posters, and a large assortment of DVD's.
All Booked Up
104-B N. Salem Street
Apex, NC 27502
Go Local for Books
So, Cary Citizens…resist that urge to browse Amazon or drive to Barnes & Noble.  Instead,check out the local merchants right here in our backyard and take advantage of their personal expertise and customer service.  I think you'll find the experience much more enlightening than clicking the mouse a few times or being bombarded by the Nook salespeople.
————————————————————————
Community news on CaryCitizen is sponsored in part by Cary Visual Art.
https://carycitizenarchive.com/wp-content/uploads/2012/02/used-books-cary.jpg
350
600
Staff
https://carycitizenarchive.com/wp-content/uploads/2020/03/cc-archive-logo-450-v3.png
Staff
2012-02-08 16:01:42
2016-01-01 18:35:43
Go Local: Used Book Stores