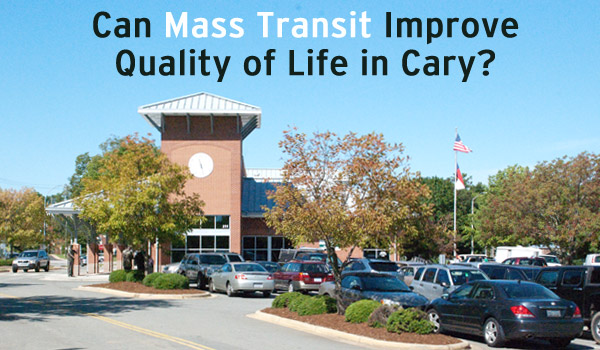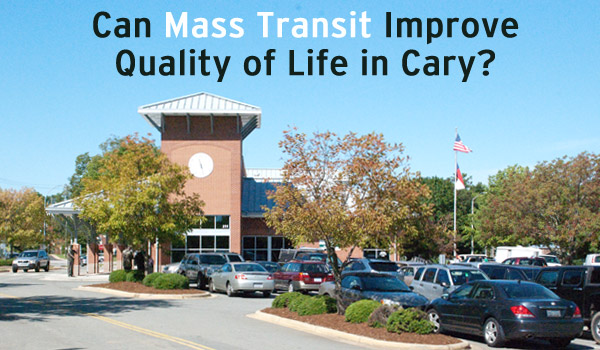 Story by Lindsey Chester and photo by Hal Goodtree.
Cary, NC- Karen Rindge of Wake Up Wake gave everyone an update on transit and how it effects Cary at the Heart of Cary's Feb 2 meeting.
Rindge made the case that mass transit is going to be key to sustaining growth and quality of life not just for the Triangle, but specifically for Cary, and its Downtown area.
#1 in Gas Consumption
Our area makes many Top Ten lists, here's a few lists we would rather not be on at all.
Fastest population growth in Nation. Wake County's population will double by 2030 from 2005 levels
The Raleigh- Durham area ranks #1 in the nation for gas consumption per person
The Triangle is #5 Nationally for longest commute
The list the Triangle never makes: quality mass transit. The area has very little public transit infrastructure. These facts can weigh heavily on quality of life.
Two Phases Will Help
Wake Up Wake has worked with area municipalities to come up with plans to expand transit in the future. Two main phases were adopted by the Metropolitan Planning Organization.
In Phase 1 bus service will be improved and expanded. Commuter Rail will also be implemented. Bus service could double to over 322,000 bus hours to connect all Wake County municipalities within five years. In Phase 2 Light Rail will be built and that requires additional funding from the State and Federal Governments.
Cary's Part of The Plan
Cary needs to expand service for the existing lines and add frequency. New lines need to be opened to serve areas that are currently not serviced at all. The idea will be to have all points connecting to the current Downtown Depot as the hub. There will eventually be the need for a Western maintenance facility for these trains and buses.
Commuter Rail
Rail for commuters to ride further distances would operate to operate mainly during rush hours. Proposed are 37 miles of tracks with 12 stations connecting Durham, RTP, Downtown Cary, and Garner with trains to run every 30 minutes.
Light Rail the Last Phase
Light rail would be electric, running shorter distances with up to 14 miles and 16 total stations. This would require federal funds to be built.
Sales Tax Increase
This costs money- and to accomplish these goals, an additional 1/2 cent sales tax is proposed. For other outlying Counties, they may add a 1/4 cent sales tax if they are to be connected.
Benefits Outweigh the Cost
In the thirteen years I have lived here, Cary has added over 60,000 residents. Traffic isn't as bad as what I experienced  commuting from our home in New Jersey to New York City, but I also never drove my commute. Riding a bus or a train to my job freed up my time to read, listen to music or get some work done on my laptop. Three things you can't do behind the wheel if you're are spending 30-45 minutes a day driving.
Here's a quick list of the benefits our area can experience if we expand our transit system:
Jobs are created
Growth happens around transit stops
Improved air quality
save on energy
spurs economic development
Increased Downtown activity
People in metro areas with transit also walk more and therefore actually get more exercise, which in turn is part of a better quality of life. They also experience less stress from driving in traffic. Home values increase when areas have more mass transit options.
The current Cary Depot (which serves the train to Charlotte and C Tran buses) experiences 800 passengers a day in 2012. By adding commuter rail we could see over 2020 passengers a day by 2017. With the addition of light rail, that number could increase to over 3300 per day, annually that would mean 1 million people would be coming through Cary's Downtown.
Could be the catalyst we need in our downtown.
https://carycitizenarchive.com/wp-content/uploads/2012/02/cary-mass-transit.jpg
350
600
Lindsey Chester
https://carycitizenarchive.com/wp-content/uploads/2020/03/cc-archive-logo-450-v3.png
Lindsey Chester
2012-02-08 08:45:56
2019-12-07 17:02:38
Can Mass Transit Improve Quality of Life in Cary?