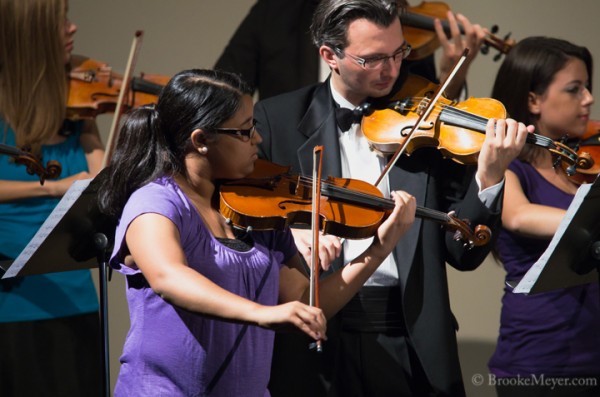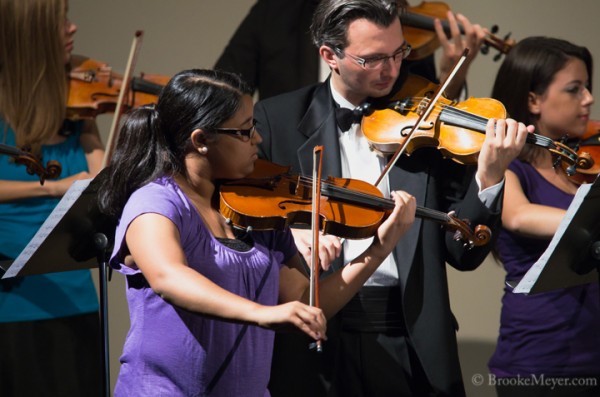 Story by Lindsey Chester, photos by Brooke Meyer from last year's Cross Currents Festival
Cary, NC – Last summer's Cary Cross Currents Music Festival brought more than a week of chamber music to Downtown Cary and kicked off the opening of the Cary Arts Center. A key ingredient of the festival was the "Side By Side" instruction given to select area music students.  This year, director Carrie Knowles is expanding the program and the time for students to apply is now.
Cary Cross Currents Music Festival
The Festival will once again take place at the Cary Arts Center. July 29 is the kick off and the Festival will take place over 2 full weeks. The Brussels Chamber Orchestra is once again the featured group. New this year is the Lipkind Quartet (strings), and  jazz performer Will Scruggs.
Playing Side By Side with the Pros
Last year's festival (story) included the opportunity for area students to audition and play "side by side" with the Brussels Chamber Orchestra professional musicians. The "Side by Side" program will expand this year to include string quartets and jazz students.
Applications for Side-By-Sidespots are available now. Visit the application page or email CCFsidebyside@gmail.com.
Student Experiences
A few of last year's students were happy to tell us about their experiences.
Enloe student Gen Palmer explained how she missed getting into the Governor's School last summer and chose to audition for this program.
"I'm really glad I didn't get into Governor's School.
I learned different ways to practice. Mainly how to distribute time equally between focusing on technique and fundamentals as well as actually practicing music. And if anything, playing with those guys seriously trained my ear. I don't think that my viola has ever been more in tune."
I asked students how they had heard about the program last year (it was brand new) and Nadia Drabick told me she had heard about the opportunity through her private violin teacher (not CaryCitizen?!!)
"Last summer working with the BCO was hands down the most enriching and eye opening experience I have had, not only in music, but probably my entire life. Being able to work with such down to earth and accomplished musicians was such a blessing to me… The bond and intimate relationship throughout the chamber orchestra was so inviting and made me want to push myself to become a better musician."
Nadia has even formed a chamber orchestra with some of her fellow students at Heritage High School.
Not Just Chamber Music
With the addition of Jazz this summer, Carrie Knowles hopes to attract an even broader range of music enthusiasts and teach another fine group of Triangle students.
Jazz instruments will include guitar, saxophone, flute, bass, drums and piano. The string quartets must audition as existing groups to be included in the Side By Side experience. After being admitted, students pay a fee of $400 each for the week long, full day training. About 14 chamber music students, 10-15 jazz and a couple string quartets will make the cut this summer.
What To Expect
A typical day will include morning one-on-one practice from 9:30-1, a lunch break and free time to attend the professionals' rehearsals. Afternoons the students head back in the studio from 3:30-5pm with their groups to rehearse.
One of the major benefits of the student experience is the culmination of a week of practice with a ticketed concert performance beside the professionals in the Cary Arts Center auditorium. A rare opportunity indeed.
The festival will include a wide variety of concerts and art collaborations.
Apply to Play with the Pros
Students can apply to play in any of the side-by-side programs:
Chamber Orchestra Side-by-Side
Jazz Side-by-Side
Lipkind Quartet Side-by-Side
For more information, visit the Cary Cross Currents Festival application Page.
https://carycitizenarchive.com/wp-content/uploads/2012/01/SBS-_IGP8162-e1327182290781.jpg
397
600
Lindsey Chester
https://carycitizenarchive.com/wp-content/uploads/2020/03/cc-archive-logo-450-v3.png
Lindsey Chester
2012-02-07 16:05:49
2019-12-07 17:02:37
Music Students Invited to Play with the Pros