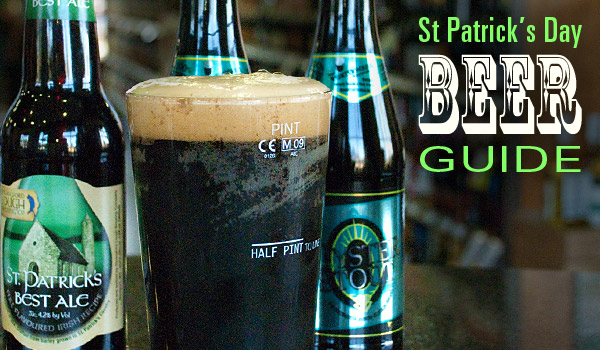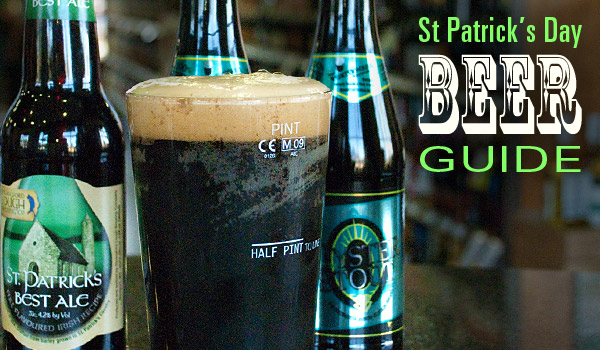 Story by Matt Young. Photo by Hal Goodtree.
Cary, NC – St. Paddy's Day is coming. Want to try something besides green beer (ugh) or the usual Guinness?
First, An Ode to Guinness
Even though this article suggests expanding your aperture a little on March 17, I would never discourage anyone from lifting a pint of brown heaven. In the mid-1700's Arthur Guiness got a 9000 year lease (NOT a typo!) on a brewery in Dublin. Soon they were producing the legendary stout and eventually Guinness became the biggest brewery in the world for quite a spell.
Guinness is delicious, not harsh like stouts can be. It has a cream-colored head and a pleasant aroma. Nice.
May you be in heaven a full half hour before the devil knows your dead.
Irish Reds
"Irish Red" is a beer style. Something nice to try if you are throwing a St. Patrick's Day party. While it's not the most commonly drunk beer in Ireland, the labels say "Irish" on them. The style is pretty agreeable to even the biggest beer scaredy-cats. By definition it is low in alcohol content and lightly hopped. I won't get onto the technical specs, but suffice it to say that it is similar to the average pale ale. And it has a pleasing dark amber or reddish color from the addition of roasted barley.
If you are interested, try Smithwick's, Samuel Adam's Irish, Harpoon Celtic, Great Lakes Conway's, Saranac and Killian's versions…and there's many more.
May you always have a clean shirt, a clear conscience, and enough coins in your pocket to buy a pint!
Waiter, There's an Oyster in My Beer!
I love seafood. I love fruit. Neither belongs in beer! Yuck.
…Or so I thought…until I had a Porterhouse Brewery (Dublin,Ireland) Oyster Stout.
I'm sticking by the "no fruit" comment though.
Anyway, here's the deal. Someone got the crazy idea to throw some shucked oysters in the fermenting vessel. While it didn't initially make sense to me, the combo has been around for hundreds of years as oysters have always been commonly served as a beer accompaniment. And in fact there are hundreds of homebrewers sharing recipes on the web for the stuff.
First of all it comes in a bottle with a pull-top. Very cool. Ask to take a look at one when you are beer shopping.
Some claim they can taste the salinity of the oysters, or a sea-like flavor. While I wasn't sure I was getting that, I was tasting a darn good stout. Looks like cola in the glass, and has that almost burnt (but not unpleasant) stout aroma. If you like stout, this is a "must try".
The saying on the side of the bottle: "Not suitable for vegetarians". Brilliant.
May the roof over your heads be as well thatched as those inside are well matched.
St. Patrick's Best Ale
If you are marketing a beer, and you want to sell it on St. Patrick's Day, this is the best name you could choose. Face it.
AND it's brewed in County Down where Patrick himself is buried by Strangford Lough Brewing Company.
This is a beer lover's beer. And I was in love at first sip.
It has a mahogany color, is low in alcohol (4.2%), but is flavorful. It is what I would expect a traditional Irish ale to taste like: earthy, malty, bold and grassy. It has a dry and bitter finish.
May the hinges of our friendship never grow rusty.
"The Hoppiest Beer on Earth"
That's the slogan on the bottle of Moylan's Brewery's "Hopsickle Imperial Ale".
Someone bought me a 22 ounce bottle for Christmas. Wow! A beer for hopheads.
Brewed in Navato, California by owner and founder Brendan Moylan (of Irish descent, I believe) this is a beer that boasts IBUs (International Bitterness Units) of over 100 (that's a LOT)! And it is not force-carbonated with CO2 like most mass-produced beers. It has live yeast in the bottle and is thus, naturally carbonated. It packs a wallop at 9.2% alcohol.
I liked this one so much that when I first tasted it I contacted Mr. Moylan and asked if he share his "grain bill" (recipe) with me so I could brew it at home. And he happily did.
Description: Citrus-y and piney (from the types of hops used), and caramel-y (there is a lot of malt in here, that's why the alcohol content is so high).
This beer is for people with serious hop-monkeys on their backs.  If you never had an IPA before, start with something tamer. Otherwise this might scare you. It made me, well, "hoppy".
Moylan's Brewery also boasts the likes of Dragoon's Dry Irish Stout,  Tipperary Pale Ale, Celt's Golden Ale, Irish Style Red, and Ryan Sullivan's Imperial Stout. Irish enough for ya?
May those that love us, love us. And those that don't love us, may God turn their hearts.
And if he doesn't turn their hearts, may he turn their ankles, so we'll know them by their limping.
Beannachtam na Feile Padraig!
——————————————————————————————
The Wine & Beer Series on CaryCitizen is sponsored by Triangle Wine Company on Davis Drive in Morrisville.
https://carycitizenarchive.com/wp-content/uploads/2012/03/st-patricks-beer-guide-2.jpg
350
600
Matt Young
https://carycitizenarchive.com/wp-content/uploads/2020/03/cc-archive-logo-450-v3.png
Matt Young
2012-03-01 16:42:43
2015-12-28 13:37:04
Irish Beer and St. Patrick's Day Guide