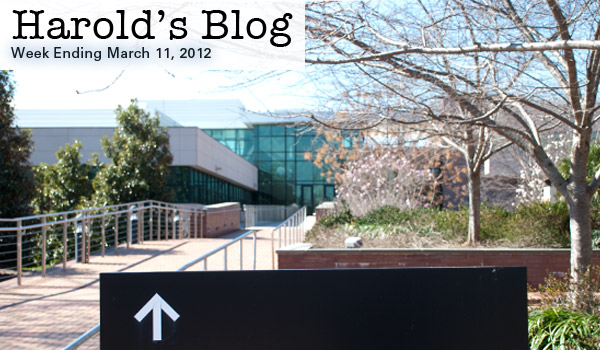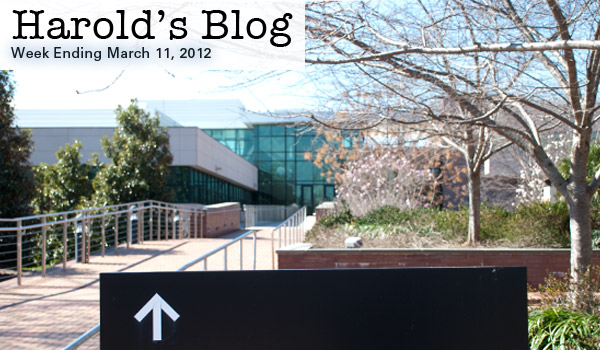 From the blog of Cary Mayor Harold Weinbrecht, covering the week through March 11, 2012. Photo by Hal Goodtree.
Cary, NC – This week was a typical council meeting week for me made up mostly of meetings and events.
Monday – Town Business
Monday I called all council members and was able to get in touch with all of them except Robison. There seem to be no issues or concerns from council members about the upcoming meeting on Wednesday. I also called the chairman of the Planning and Zoning Board to get his comments. The items that they discussed in detail would not be in this meeting. Later Monday I met with Mayor Pro-Tem Adcock, managers, directors, legal, administrative, and other staff to go over the agenda. We did not see any major issues for discussion or concerned but due to the quasi-judicial hearing and a closed session, both the Mayor Pro-Tem and I predicted the meeting would end between 8:30 and 9:00 PM.
After the agenda meeting I met with the town attorney to get updates on all of our major cases. One interesting note out of this meeting is that the legal department is creating a document that will eventually go on line to explain steps in the legal process. This will be a great help not only to council members but citizens as well as we try to understand legal issues involving the town.
Tuesday – Bond Referendum
Tuesday I met with the town manager to go over issues. We spent most of our time talking about capital projects and a potential bond referendum. Staff is preparing information for the council in an upcoming work session on capital projects. It is important to note that if there is a bond referendum it would take several months to prepare so it would likely be on this the ballot this fall. And if passed, a tax increase may be warranted. That potential increase would likely be in the 2014 fiscal year which begins July 1st, 2013.
Later on Tuesday I met with someone advocating against the proposed joint land use plan with Chatham County. Many concerns were expressed including pollution, traffic, and infrastructure to support growth in the area. I asked him to meet with the town manager and engineer to discuss his concerns in more depth.
Wednesday – Town Council Meeting
Wednesday morning I spoke at the Cary Chamber of Commerce Youth Leadership Program. The group was made up of 40 high school juniors from Cary, Panther Creek, Athens Drive, and Green Hope. I spent about 15 minutes explaining the role of local government in the state, the role of council in a council-management form of government, and answering questions.
Wednesday night the council met for our first regularly scheduled meeting in March which included several items of interest. A public hearing for a proposed office on Kildaire Farm Road drew a lot of concern from residents that lived in MacGregor Downs. Council referred the proposal to the Planning and Zoning Board for their recommendation. A special use quasi-judicial hearing was held for a Bed and Breakfast off of Green Level Church Road and was unanimously approved. And finally, the council asked staff to draft an ordinance amendment to prohibit the tethering of dogs. The meeting lasted until just before 9 PM.
Saturday-Sunday – Miles 4 Matt & Basant Bahaar
I did not have events on Thursday and Friday so I used that time to write the April version of Cary Matters.
Saturday I attended the 2nd annual Miles for Matt 5K. This fundraiser was in memory of Matt Cossa who died from a blood cancer. While I didn't know Matt personally, I've heard countless stories about his leadership both in the classroom and on the field. It is only fitting that the memorial bearing his name continues to be a leading contributor to cancer research and treatment through the Duke Cancer Institute. So far this group has raised $125,000 in five years to fight blood cancers which is astonishing. I believe that by working together against cancer we can find a cure in our lifetime.
Sunday I had the pleasure of attending a Basant Bahaar performance at the Cary Arts Center. Basant Bahaar is an annual spring festival. This performance was "Aum Sad Gurubhyo Namaha – An Ode to the Guru." The performers were from the Natyarpana School of Dance, Music and Aakkrisht Indian Contemporary Dance Group, and the Natya Academy. It was a fantastic performance blending classical and contemporary dance choreographed to perfection. I believe this type of event enhances our community and as a result is one of the reasons Cary is the greatest places in the world to live, work, play and raise a family.
Later Sunday I attended a charity fundraiser for the Jimmy V foundation at Rudinos in Cary. They raised $500 by the time I left and were aiming at $1000.
Fitch Reaffirms AAA Rating for Cary
In news to the town, on March 7th Fitch Ratings affirmed Cary's combined enterprise systems revenue and refunding bonds as AAA and said our outlook was stable.
Plans in Review
In emails this week staff sent the latest plans in review which includes:
20 homes in Weldon Ridge
Cary's Downtown Theater
An office for the SRI Venkateswara Temple
A pre-school on Tryon Manor Drive
A Walgreens at Waverly Place
80 dependent care units at Weatherstone Springs
51 homes in Westvale
8 mobile classrooms at Middle Creek
14,000 square foot building for Syracuse Plastics
You can review the entire list athttp://www.townofcary.org/Assets/Planning+Department/Planning+Department+PDFs/planreview/Active+Projects+in+the+Review+Process+(sorted+by+date).pdf .
Biennial Survey Results
The town's biennial survey results also came out this week. We received an A mark on several items including:
Courteous Town staff
Safety within neighborhoods and in public places
Cleanliness and appearance of Public Areas
Success at keeping Cary clean and forever green
Courteous, fair and competent Police and Fire departments
Overall quality of parks, recreation and cultural resources courses, facilities and instructors
Other interesting results included:
Almost all citizens (94.8%) believe that the quality of life in Cary has remained the same or improved over the past two years
A majority (71.4%) of residents feels that Cary's tax rate is "about right"
The biggest concerns of Cary citizens are growth, road improvements, schools and safety
Over half (54.5%) own or plan to purchase a smart phone in the next year
More than two-thirds (67.9%) have college degrees, with 9% of those having a Ph.D., JD, or MD
A total of 402 Cary households were randomly selected for the survey and interviewed by telephone from January 2-20, 2012. The Town utilized scientifically developed sampling techniques and statistical analysis that allow the survey results to be generalized over the entire population even though not everyone in Cary was called. The margin of error for the 2012 survey was +/- 5 percent. The town plans to conduct several focus groups later this spring to provide an opportunity for the Town and selected citizens to discuss specific issues in greater detail.
Update on the Cary Theater
An update on the Cary Theater was sent out this week. Town staff is continuing to make great progress with the Downtown Theater. The latest plans, which are 65% complete, were submitted to council this week for inspection. Included in the plans was the three story building addition with a café on the first floor. The Theater seating remains at 180 seats with a balcony on the left and right sides of the theater. The architect and artist are working closely together on colors and materials for the marquee, which will be presented to council at a future date.
Other Staff Business
Staff also announced that the third annual Compost Giveaway sponsored by Spruce will be on Saturday, March 10 at 9 a.m. This will be just in time for everyone's spring cleanup.
In addition staff announced lane closures will occur periodically along six streets now through November. This will allow the town contractors to build a sanitary sewer pipeline from the Walnut Creek and Jones Franklin pump stations.
Mailbag
Emails from citizens this week included complaints about speed humps on Seabrook Avenue, road conditions in Summerwinds III, future chickens in Cary, the proposed Cary-Chatham County Joint Land Use Plan, trash on Carpenter Fire Station Road, the future of Morrisville Parkway near Highway 55, an issue with dirt from a downtown property owner, the lack of a resolution on fracking, and the future dog tethering ordinance.
This coming week, March 11 through March 17th celebrates Sunshine Week in Cary. I will be presenting a proclamation at the NC Open Government Coalition's sunshine day event on March 14 at Elon University. At this event I will be talking about the importance of open government from an elected official perspective.
The week will be a busy week with events in addition to Sunshine Week including an Arbor Day event, a celebration of a World War II veteran, the School of Government kickoff, and a Sister Cities Diplomacy Summit.
Get in Touch
Well that is all for this week. My next post will be on Sunday, March 18th. Please feel free to email me with a comment. Email all Town of Cary questions or comments toHarold.Weinbrecht@townofcary.org. Email personal comments to augustanat@mindspring.com.
https://carycitizenarchive.com/wp-content/uploads/2012/03/harold-weinbrecht-mar11.jpg
350
600
Harold Weinbrecht
https://carycitizenarchive.com/wp-content/uploads/2020/03/cc-archive-logo-450-v3.png
Harold Weinbrecht
2012-03-12 18:45:19
2019-12-07 17:00:34
Harold's Blog: Triple AAA Bond Rating and More