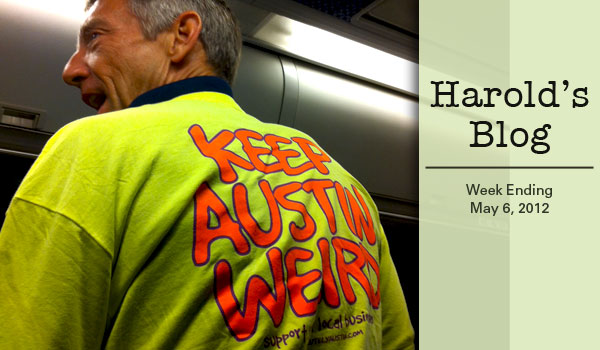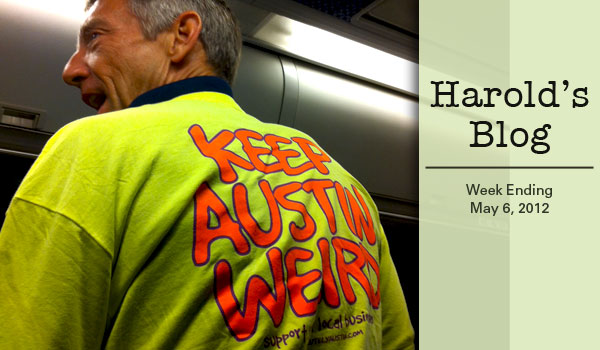 Story by Harold Weinbrecht. Photos by Lori Bush.
Cary, NC – This was a busy week dominated by the Cary Chamber intercity visit to Austin, Texas.
Cary's Legislative Agenda
Monday I went to Raleigh and presented the Cary Council legislative agenda to the Wake County delegation. This was a very similar presentation that I made to legislators when we had for dinner a couple of weeks ago. Here are some of the points I made:
Changing rules state-wide could have serious, negative impacts on Cary where issues are different.
We support tweaks to modernize the tax system but ask that legislators consider the effects on local government.
On transportation issues Cary asks that projects be prioritized where the need is the greatest.
As the shale gas exploration topic moves forward Cary asks that legislators preserve a reasonable role for local governments.
We oppose Senate Bill 731 which limits our authority to put development controls in place that are appropriate for our community.
We ask legislators to protect the personal identifying information of our children. This is already done in parks and recreation programs but needs to be expanded into other areas.
Other mayors presenting were Mayor Weatherly of Apex, Mayor Holcombe of Morrisville, Mayor Williams of Garner, and Mayor Matheny of Zebulon. Mayor McFarlane was in attendance but had the city attorney present Raleigh's agenda. About two thirds of the Wake County delegation was in attendance.
Smart Phones, RTP and Water
Monday night, I had a private meeting with individuals interested in getting the town more involved in smart phone technology. Staff is already working on some ideas but hopefully we will be able to do more soon.
Tuesday I met with the town manager and the CEO of Research Triangle Park. We talked for about 30 minutes about the future plans of RTP. If plans move forward the park will not only be a world renowned science park but a state of the art place to live, work and play.
Later Tuesday, I met with the town manager and staff to discuss fees associated with water and sewer. We are revisiting the way the cost of these fees is calculated. Currently the fees are set based on a cost table provided by the state.
Austin
Wednesday morning I joined 41 others from Cary as we boarded a 6 AM flight with a final destination of Austin, Texas. Going along on the flight were five council members, several staff members, and members of the business community. After collecting our luggage, we caught a bus for downtown Austin and headed to city hall.
After being served lunch on the Mayor's Balcony, we headed to the council chambers to hear from Austin Mayor Leffingwell and Texas State Representative Strama. These were progressive leaders and I enjoyed talking to them and listening to their ideas.
In their presentation to the group they talked about the successes Austin has had especially during the recession. Austin's strength is having a highly educated population and a city filled with technical businesses. Austin is also known for its entertainment, tourism, and natural beauty. Austin's weakness is traffic. And they have it most of the day and night. They have an interesting slogan which is "Keep Austin Weird" (More about that later).
After a short break we heard from staff about Austin's history and their plans for the future. One interesting note was that Austin was originally named Waterloo. As for their plans, they are about to approve a comprehensive plan that has been years in the making. Included in that plan are streetscapes such as their 2nd street. After the presentations the Cary group then did a walking tour of 2nd street. It is tree lined with large sidewalks, cafes and other retail on the first floor and residential on upper floors. This is similar to what Cary is planning for downtown.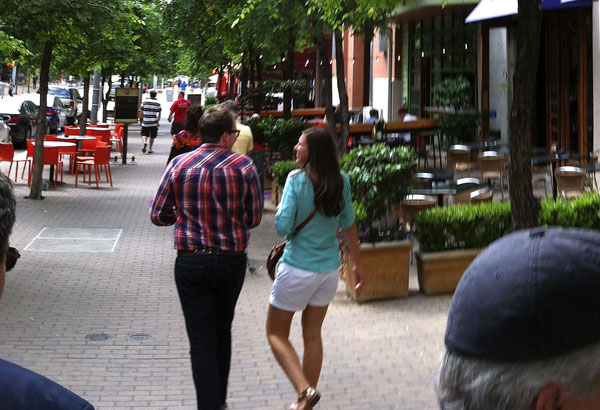 Next we boarded the bus and headed for the hotel at the Domain in Austin which is a huge mixed use development that some call the second downtown. After checking in we all attended a Welcome Reception and Dinner with several Austin staff and guests.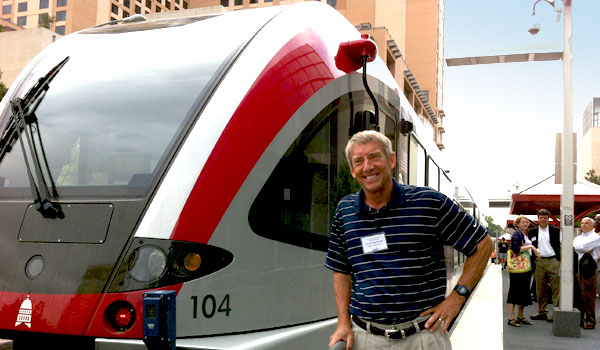 Thursday started at 7:30 with a talk about transit in Austin. Several officials in transit, planning, transit-oriented development, and economic development presented information. Their rail is a diesel-electric train that runs 32 miles. Its frequency is 20 to 30 minutes depending on the time of the day. It uses existing freight rail for most of the route which terminates in downtown Austin. Our Cary group boarded the train about mid-way in the route, headed downtown and then to a transit-oriented development. We toured the transit-oriented development and then boarded a bus to the University of Texas football stadium.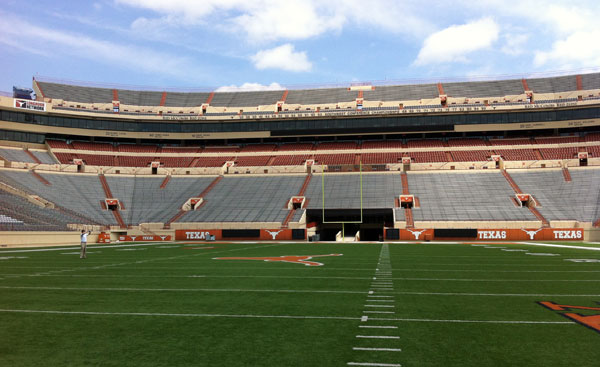 The University of Texas stadium seats over 100,000 people and we were fortunate to tour the facilities and walk around on the field. We had lunch in the University of Texas Club and heard information from Austin staff on Comprehensive planning, sustainability, and economic growth and redevelopment. This session was very informative especially several great techniques for gathering public input. There was also a few interesting quotes related to planning and implementation such as "Done beats perfect every time" and "Always be prepared to turn".
Next we boarded a bus for a redevelopment project at an old airport site. Austin moved the airport several years ago and has begun the redevelopment of the old airport site. This site was a community in itself and had just about everything including several types of housing. The fact that the City of Austin owned the airport property made redevelopment much easier. They are about half way done with the redevelopment.
Keep It Weird
We then boarded the bus for the hotel. We took an hour to freshen up and headed to downtown Austin for a Texas barbeque dinner. After dinner a few of us headed to the Congressional bridge over the downtown lake to watch the infamous bats. About 1.5 million bats come out at dusk in a cloud. Unfortunately, they don't come out in a cloud if it is windy because the mosquitoes are not out and the mosquitoes were not out. After the bats we headed over to 6th street which is known for live entertainment and great musicians. It was interesting that the city closed the street starting at 10:30 PM on a Thursday night. And I got to see firsthand what "keeping it weird" meant.
Friday morning we did a review of the trip during breakfast before heading over to the city of Roundrock which is very similar to Cary. It is interesting that one of their sayings is "keep weird in Austin". I talked with the mayor and then he and a few staff members presented information about their town. Then we did a quick tour before heading to the airport for our trip home. Our trip was delayed a couple of hours and we eventually arrived around 10 PM.
Weekend
Saturday morning started around 7:30 for me. I gave a few comments at the first annual Purple Cloth 5K which was raising money for the Dorcas ministry.
Saturday night I went to the Booth amphitheater to the Baisakhi festival which is an Indian celebration of the arrival of spring. Unfortunately thunderstorms postponed the entertainment and I wasn't able to give my remarks. Hopefully, the weather will be better for next year's celebration.
Championship City
Information from staff this week included an announcement that Cary will host the 2013 NCAA Division I women's soccer championship called the College Cup. This event combined with other soccer events at the same time generates millions of dollars of economic benefit for the region. We look forward to hosting the College Cup again.
Staff announced that the NCAA Division II Baseball Championships is returning to Cary for the fourth consecutive year as the country's Top 8 Division II baseball teams go head to head. Games are set for May 26-June 2 at the USA Baseball National Training Complex.
Fire Department Saves Lives
Staff also sent out notification that the Cary Fire Department recorded ten cardiac arrest saves resuscitations County-wide. This means that 10 individuals in the community suffered a cardiac arrest event and subsequently left the hospital neurologically intact because of the Cary Fire Department's efforts. Thank God we have one of the best fire departments in the state.
Quarterly Report
The first quarterly report was sent out this week. Some of the information included:
– The automated water meter system, Aquastar is almost completely installed with 97% of the meters currently being read.
– The Cary, the theater being renovated downtown, should be completed by summer of next year.
– C-Tran ridership has increased by over 40% from the same quarter last year.
– Two of the eight construction contracts for the water reclamation facility and the two influent pump stations are underway, and the others have either already been advertised or will be by the end of April 2012.
– The Town has its first public electric vehicle charging station at the Garmon Operations Center on James Jackson Avenue. More public electric vehicle charging stations are coming to the Cary Arts Center and, through another grant, at the Herb Young Community Center Parking Deck.
– During the 1st quarter 2012, 227 new single-family dwelling (SFD) permits were issued, up 13.5 percent from the previous quarter.
– Total building permits issued during the 1st quarter 2012 (1,700) were down 3.4 percent
– Total building permits issued during the 1st quarter 2012 (1,700) were down 3.4 percent from the previous period and down 5.5 percent from the same period last year.
– Installations of four new traffic signals are nearing completion:
Kildaire Farm Rd and Loch Highlands Drive
Chatham St and Dixon Avenue
Penny Rd and Ederlee Drive
Regency Pkwy and Regency Forest Drive
– The Town has completed the Swift Creek Pedestrian Bridge and the extension of the greenway trail to the Regency Parkway and Ederlee Drive intersection.
– Water demand for the quarter averaged approximately 14.3 million gallons per day, which was 0.3 million gallons per day higher than the same time period in 2011 when demand averaged 14 million gallons per day.
– Cary utility customers have made great strides in improving water use efficiency representing over 20% improvement in per capita water utilization over 15 years.
– The North Cary Water Reclamation facility reduced nitrogen by 95% and total phosphorus by approximately 92%.
– Our AAA bond ratings for both general obligation bonds and revenue bonds have been reconfirmed with a stable outlook by Fitch in a routine monitoring review. The rating reports stated that "financial management is very strong" and "financial modeling efforts are robust and used to evaluate various rate and growth scenarios on an ongoing basis."
– 33 apartment communities are actively participating in Project PHOENIX.
– Overall, reported offenses show an 18% increase through March 2012 over the same time period in 2011. The increase can also be attributed to a rise in reported drug violations (increase from 45 to 102) and aggravated assaults (50%).
– The Wake Med Soccer Park expansion project is 53% complete and on schedule for completion at the end of September. The north grandstand erection is 88% complete. Remaining items are concrete ramps and railings to the bleachers, landscaping, and the façade that covers the back of the grandstands. Estimated completion of the north grandstands is the end of May
Emails
Emails from citizens included a nasty one which said: "…You have a God Complex Syndrome. You think you are God. … Have a crappy day…" .  Thankfully these are rare. Unfortunately elected officials have to learn to deal with these. While it is hurtful it is part of the job and something you learn to deal with.
Other emails included a request for help to get a school in Chatham County, a few requests to meet, and several invitations to events.
Next week will be a busy one with a council meeting, several events, and several other meetings.
Well that is all for this week. My next post will be on Sunday, May 13th. Please feel free to email me with a comment. Email all Town of Cary questions or comments to Harold.Weinbrecht@townofcary.org. Email personal comments to augustanat@mindspring.com.
https://carycitizenarchive.com/wp-content/uploads/2012/05/harold-weinbrecht-0506-1.jpg
350
600
Harold Weinbrecht
https://carycitizenarchive.com/wp-content/uploads/2020/03/cc-archive-logo-450-v3.png
Harold Weinbrecht
2012-05-07 18:32:25
2016-01-09 11:58:30
Harold's Blog: Cary Chamber Intercity Visit to Austin