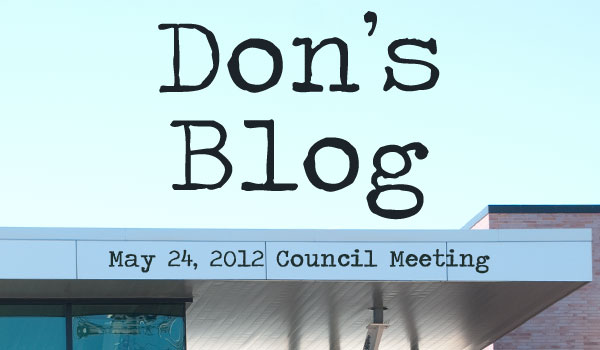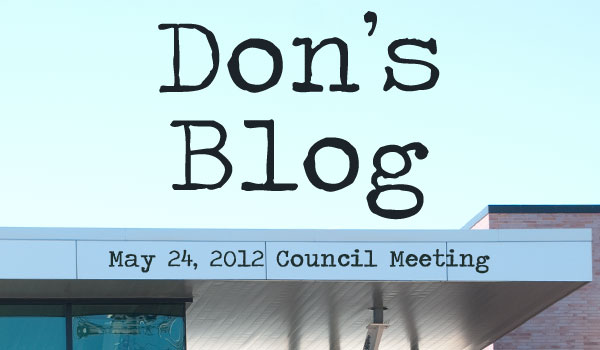 From the blog of Don Frantz, District 2 Cary Town Council Member. Photo by Hal Goodtree.
Cary, NC – Thursday evening's council meeting included a number of discussion items to include land development ordinance amendments, a rezoning near Wake Med on Kildaire Farm Road, the Panther Creek ninth grade center request from WCPSS, a report from staff on the proposed Technology Task Force, and chickens – not necessarily in that order.
Keisler Rezoning
The council unanimously approved the applicant's request to rezone 3.5 acres along Kildaire Farm Road from residential to office. The applicant has proposed a 50,000 sq. ft. office building on the site. Conditions include a 40 foot opaque buffer with no averaging, a 100 foot building set back from the rear property line, shielded lighting and storm water BMP's that will be designed to accommodate a 50 year storm event. This site has been identified on Cary's Land Use Plan as O+I since 1996. The site is not viable as a residential use (except for high density).
More info: Keisler Rezoning.
Technology Task Force
Councilmember Lori Bush and I initiated a request for Cary to consider creating a Technology Task Force to help Cary better understand and utilize technology and social media in communicating with citizens. Council unanimously approved the request.
The clerk's office will handle the application process so if you are interested in serving on the task force, please contact Town Clerk, Sue Rowland at sue.rowland@townofcary.org .
More info: Technology task force.
Backyard Chickens
Discussed numerous times ad-nauseum. We conducted a public hearing and heard from many in support of allowing folks to keep a limited number of backyard hens. Two people spoke in opposition. The council forwarded this item to Cary's Planning and Zoning Board for review before coming back to council for final decision in July or August. Yes, government moves slow – and that's usually a good thing.
Yes, I still have a few concerns with the proposed ordinance; the $50.00 fee is too high, the recommended number of chickens allowed (6) is a couple too low, and the set-back requirements for coup placement are a bit difficult for the average citizen to understand, but I'm not going to win these arguments right now. The council consensus is to take it slow and see how this goes. Not a bad idea at all. If we find we need to make some adjustments in the future we can do so. I believe what is proposed to be a good balance of allowing folks to keep some chickens for personal use while protecting those who do not want to be impacted by their neighbor's chickens.
One last point on chickens – if you live in a community whose HOA covenants prohibit the keeping of chickens, you still cannot get chickens. HOA covenants trump town code and you agreed to those rules when you bought your house.
More info: Chickens.
Panther Creek 9th Grade Center
The council unanimously denied WCPSS' request to amend the Town of Cary's Land Development Ordinance (LDO) to allow for the construction of a "temporary" 9th grade center at the future site of the Alston Ridge Middle School (M16).
The overriding concern was with having to amend Cary's LDO to allow for temporary classroom space in the absence of a principle structure (existing school). This amendment would not only apply to this specific request, but would also apply to any educational/institutional use town-wide. Any public or private school, trade school or other educational uses would be allowed to construct "temporary" facilities in the absence of a principle structure. We are all unfortunately familiar with WCPSS' practice of adding trailers/modulars to alleviate overcrowding at area schools. This is the first time I can ever recall where they want to install the temporary classrooms first.
If council were to consider supporting the amendment, town staff recommended defining "temporary" as 2 years with a possible 2 year extension for a total of 4 years. WCPSS is on record stating they would need the 9th grade center for 6+ years.
Should WCPSS construct middle school M16 within four years of constructing the 9th grade center, that would then provide the principle structure required for the modulars to remain indefinitely – whether as a 9th grade center or to alleviate overcrowding at the middle school.
I blogged about this request last week in an effort to solicit citizen feedback, and boy did we get it. The emails and phone calls were overwhelmingly in opposition to this request with only 2 supporting it.
Make no mistake – this was not an easy decision. We all are well aware of the overcrowding issues at Panther Creek High School and we know we need additional school seats. Sacrificing our development standards however is not the answer. Council members also expressed concerns about the urgency of this request. I think councilmember Bush said it best, "Poor planning on your part does not constitute an emergency on our part."
I don't have an answer to this problem – none of us do. I wish we did and we will continue to try. But this isn't our responsibility; it's the school system's. Cary works very hard to communicate development data and trends to WCPSS staff. What they do with that information I do not know.
UPDATE: WCPSS has filed an appeal with Cary's Zoning Board of Adjustment. I will post an update as I learn more.
More info: Panther Creek 9th Grade Center.
Land Development Ordinance
Land Development Ordinance (LDO) Amendments: There were a number of amendments discussed and approved – too many to write about and not as interesting as chickens ;-). You can view the staff reports here and here.
Well, that's our council meeting in a nutshell. As always, thanks for reading!
https://carycitizenarchive.com/wp-content/uploads/2012/05/dons-blog-may-24-cary-council.jpg
350
600
Don Frantz
https://carycitizenarchive.com/wp-content/uploads/2020/03/cc-archive-logo-450-v3.png
Don Frantz
2012-05-29 17:45:39
2019-12-07 17:19:50
Don's Blog: May 24, 2012 Council Meeting