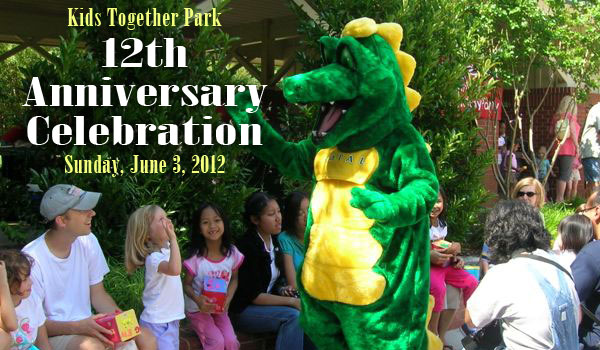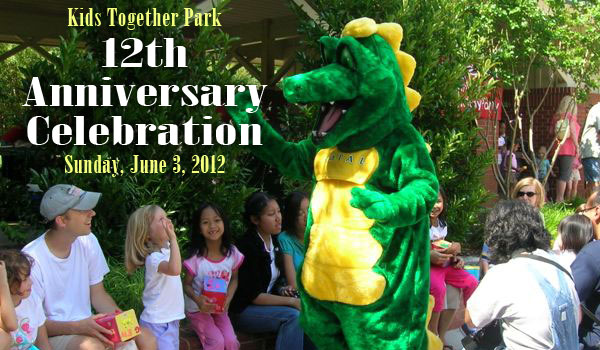 Story by Marla Dorrel, president of Kids Together Inc.
Cary, NC – Without the dreams of two little girls who wished to create a place where children of all abilities could play together, Kids Together Playground never would have been built. The playground celebrates its 12th anniversary this Sunday, June 3, 2012.
The story of the park began with Kristin Holcombe and Helen Rittelmeyer, at that time ages 7 and 6, who wanted a playground in Cary that would be comfortable, inviting and fun for their younger sisters, each of whom had special needs.
The girls shared their idea was Bruce Brown, then a member of Cary's Parks and Recreation Advisory Board.  Bruce had heard of Cary families trekking to Raleigh's All Children's Playground for regular outings and felt that Cary needed an accessible playground of its own.  As Bruce pursued the idea through Cary's Parks and Recreation department, Kristin and Helen planned and organized neighborhood children under the banner "Kids Together," and produced their first fundraiser for the project, the Kids Bazaar in May 1994, which raised $1,322.08! That was only the beginning…
Site Selection
They convinced the Town of Cary to select a site among properties it owned, but the Town required that the group demonstrate community  support by raising a sufficient level of private funds before construction would begin.
Council member Richard Burton recruited business leader Marla Dorrel to organize the private fundraising effort.  The Town hired a design team for the project, Little & Little Landscape Architects and Robin Moore of Moore, Icafano & Goltsman., who brought the concept of a playground that focused on the natural environment.
In the fall of 1994, Robin conducted the first of two public design workshops for children and adults.  Kristin and Helen participated, and after the session Marla spoke with them about the fundraising effort and the need for children and adults to work together, all under the same name.  She asked if everyone could use the name "Kids Together".  Marla held her breath as the two youngsters conversed in whispers, then turned back to her with smiles, simultaneously responding, "We say YES!"  Kids Together was born!
Six Years of Fundraising
For six years, Kids Together worked to raise funds and build public awareness for what would become Kids Together Park.  Hundreds of children and adults participated in fundraising activities, including a Small Change Drive, a Beanie Baby Auction and a concession booth at Cary's Spring Daze and Lazy Daze festivals.  Corporate donors were recruited for larger gifts.  The grassroots effort raised almost $300,000 in private funds, roughly 30 percent of the total project cost.
Over 100 adult volunteers assisted with the installation of equipment on the playground and more volunteers – families, scout troops, school classes and adults – participated in Planting Days, installing hundreds of liriope plants and daylilies.  Cary Visual Art brought an added dimension to the playground, donating fanciful and botanical-themed benches and a hillside dragon sculpture, named KATAL (for Kids Are Together At Last).
Opened June 2000
Kids Together Park opened in June 2000.  In 2010, the Cary Town Council renamed the park to honor Marla Dorrel, and wisely kept the Kids Together name for the playground, now called Kids Together Playground at Marla Dorrel Park.  It continues to be one of Cary's favorite places to play.
Today, Kids Together continues to support Kids Together Park and raise its profile as a model for accessible play.  Since the park's opening, the all-volunteer organization has donated trees and plants; replaced the temporary playground map at the entrance with a sturdy, engraved granite map; and purchased shade canopies to protect the School Age Discovery Zone equipment.
Celebration June 3 Open to All
Special activities for the event include a parade through the park led by KATAL the Kids Together dragon mascot; reading of the Kids Together story in the style of Dr. Seuss; and making and enjoying Roly Poly Fruit Slushies, along with other refreshments.
Children are invited to meet at the picnic shelter at 3:00 pm to make noisemakers to use in the parade.  The universal design of Kids Together Park assures that the parade route, as well as all of the park's paths, will be easily maneuvered by those with disabilities.
Event Info
Kids Together Park Anniversary Celebration
Sunday, June 3, 2012 –  3:00 PM
Kids Together Playground at Marla Dorrel Park
111 Thurston Drive, off SW Cary Parkway, near Tryon Rd.
https://carycitizenarchive.com/wp-content/uploads/2012/05/kids-together-park-cary.jpg
350
600
Community Contributor
https://carycitizenarchive.com/wp-content/uploads/2020/03/cc-archive-logo-450-v3.png
Community Contributor
2012-05-31 11:09:08
2012-05-31 11:09:58
Kids Together Park: 12 Anniversary Celebration