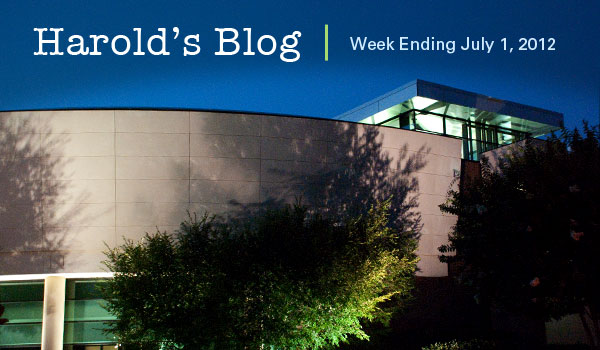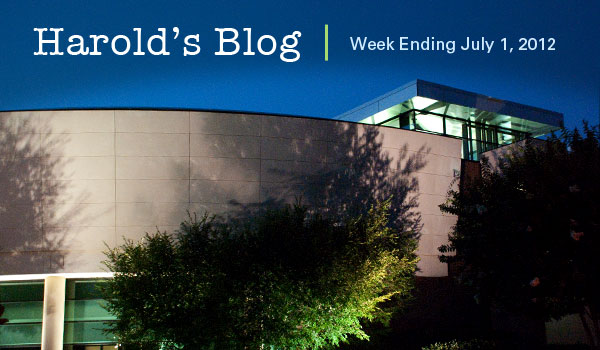 From the blog of Cary Mayor Harold Weinbrecht. Photo by Hal Goodtree.
Cary, NC – This week was marked by the last council meeting with long time council member Julie Robison.
Monday – Prepping for Town Council
Monday started with the usual call to council members for find out their concerns or questions about Thursday's council meeting agenda. I was able to contact all council members except Frantz.
Most of the interest and questions seem to be focused on the two rezonings with protest petitions. If a rezoning has a protest petitions then it will take a super majority (six out of seven) council members for it to be approved.
Later Monday I met with management, directors, administration, and legal to go over the agenda. Based on the ceremonial items and the public hearings my prediction of the council meeting's end was 10:30 to 11:00.
Tuesday – A Full Plate
Tuesday I attended the Searstone Groundbreaking Ceremony Luncheon. It was very well attended and filled up the Prestonwood ballroom. I gave a few remarks and then headed back to work. Searstone has been working on this development for over a decade. I made the motion to approve this development back in the early 2000s. The development will finally have the senior living component start soon. It is estimated to take about 15 months to complete. Once it is done it should be a beautiful amenity to the town.
Tuesday night the council had a work session on the budget which had to be approved before the end of June. Staff had made minor recommendations since our l last work session a few weeks ago. There were no additional changes requested by council and the meeting was adjourned shortly after it started. At this point the final budget was set for a vote in Thursday's meeting. Staff has spent an entire year working on this budget. Council got the preliminary budget in April. I, along with my council colleagues, spent a lot of time on this budget so that it reflects our values, our vision, and our highest priorities.
Tuesday night I co-hosted the July taping of the Cary Matters program along with Mayor Pro-Tem Adcock. This will be the first Cary Matters with a new intro. The main topic for this episode was our water conservation program.
Wednesday – Talk to the Neighbors
Wednesday I met with a developer proposing a rezoning for a townhome project. The project has a valid protest petition submitted by the neighbors. This was one of two rezoning proposals scheduled for Thursday's meeting that had a valid protest petition. In this meeting the developer reviewed conditions applied to the rezoning. During the discussion it was agreed that they should consider another condition and should talk to the neighbors again. The developer promised to remove the proposal from the agenda for Thursday and bring it back at a later date.
Wednesday night was originally set aside for a budget work session. Since the budget was finalized on Monday I had the evening free and so I took the opportunity to visit Waverly Place for one of the "Wind Down Wednesday" concert series. There were hundreds of people listening and dancing to the tunes of the Chapel Hill's Liquid Pleasure. My wife and I thoroughly enjoyed ourselves and had a spectacular dinner at Enrigos which is one of Waverly's new restaurants.
Thursday Town Council
Thursday was an eventful, emotional day for the council. It started with a reception for outgoing council member Julie Robison. Julie will leave the council to join her family in West Virginia where her husband is a Dean at the university. The reception was well attended and included elected officials from neighboring municipalities including Mayor Holcombe from Morrisville and Mayor Jones from Wake Forest. County Commissioner Erv Portman was also there to give his best wishes.
Later at the regularly scheduled council meeting we presented gifts, made comments, and honored Julie by naming the volley ball courts at North Cary Park after her. A resolution recognizing Julie for her devoted service as a council member was unanimously passed by council and framed as a gift. Here is the content of that resolution:
It was an emotional time for most of us (including me). I will miss her not only as a council member but as a friend.
Budget Approved
The remainder of the council meeting included several significant votes. We unanimously approved the $233 million budget with no tax increase. In addition, we approved the Joint Cary/Chatham County land use plan that has been in the works for years. Two controversial zonings scheduled for a vote were deferred. One was delayed to another council meeting and one was sent back to the Planning and Zoning for a review of changes.
Bond Referendum Moves Forward
The council also gave approval to move forward with a bond referendum this fall by 1) formally introducing the bond orders, 2) calling for a public hearing, and 3) calling for the Finance Director to file a sworn statement of debt.
In my opinion the approval of these bonds will be critical to Cary remaining one of the greatest places in the nation to live, work, play, and raise a family.
Without the two controversial rezonings were we able to finish shortly after 10 PM.
Green Business Challenge
In emails this week I was notified of the Triangle Green Business Challenge. In short, this will help area businesses improve the efficiency and sustainability of their day-to-day operations: reducing waste, increasing energy efficiency, making greener purchasing decisions and providing environmentally friendly commuter choices. This will run now through November 16th. For businesses to register they should contact http://www.TriangleGreenBusiness.com or call Brennan Bouma, 919-558-2710.
59 Candidate's for Julie Robison's Seat
Other emails included the final list of applicants for appointment to Julie Robison's seat. The entire list of 59 can be reviewed at http://www.townofcary.org/Town_Council/Cary_Town_Council/2012_council_vacancy/2012_Statements_of_Interest_and_Qualifications.htm. Each council member will now create a list of six people to interview. Then the entire council will decide which applicants they will interview.
Mayor's Mailbag
Emails from citizens this week include questions about the Business Improvement District, criticism because I do not support carrying concealed weapons in parks, a complaint about the senior center, criticism of Cary keeping funds from red light cameras (not true – by law proceeds go to schools), and several complaints about controversial rezonings.
Next Week
Next week is a holiday week and includes holiday ceremonies in which I will participate. Council will also have its first work session on the council appointment. And I have two private meetings including one with a newspaper reporter.
Get in Touch
Well that is all for this week. My next post will be on Sunday July 8th. Please feel free to email me with a comment. Email all Town of Cary questions or comments to Harold.Weinbrecht@townofcary.org. Email personal comments to augustanat@mindspring.com.
Related
https://carycitizenarchive.com/wp-content/uploads/2012/07/cary-mayor-harold-weinbrecht-0701.jpg
350
600
Harold Weinbrecht
https://carycitizenarchive.com/wp-content/uploads/2020/03/cc-archive-logo-450-v3.png
Harold Weinbrecht
2012-07-02 16:30:36
2016-01-09 11:58:31
Harold's Blog: Replacing Julie Robison