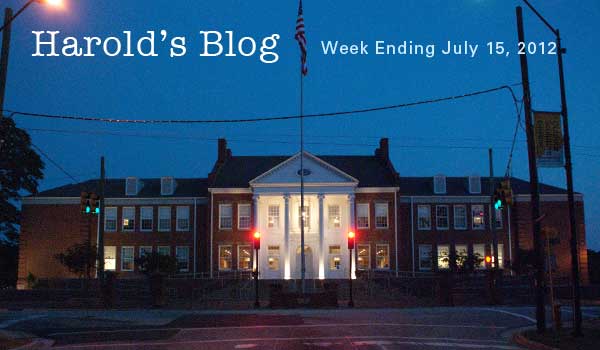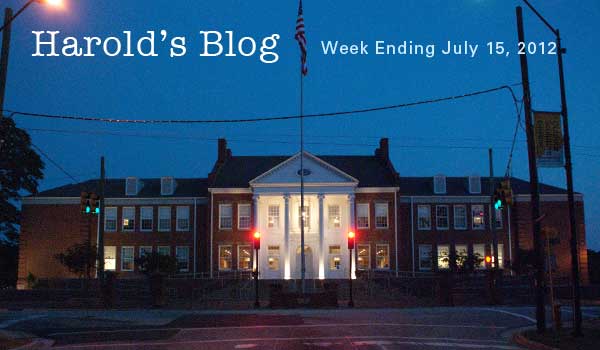 From the blog of Cary Mayor Harold Weinbrecht. Photo by Hal Goodtree.
Cary, NC – This week was a relatively slow one. It included a joint meeting of Morrisville and Cary subcommittee, other meetings, and one event.
Cary and Morrisville
On Monday the Cary/Morrisville Joint Issues Committee met at the Historical Christian Church located at 222 Church St., Morrisville. There were six items on the agenda.
Evans Road Extension
One item of note included Morrisville's bond referendum for this fall. If they decide to do a referendum and it is passed then Morrisville will build segments of Evans Road to go from Maynard to McCrimmon Parkway. This would essentially be a bypass of Morrisville and be an area prime for development.
Morrisville has not planned the type of development at this point. Cary staff reported that the Cary portion of Evans Road is built to its ultimate width and will be sufficient in the near future. Of course they would reevaluate as Morrisville develops and the bypass gets more use.
Hotel-Motel Tax
Another item of note was Wake County's Hotel Motel Tax. In the early 1990s the Wake County municipalities agreed to a tax on prepared food and hotels which was put into place by the legislature. This tax combined money was to be used for venues that would create a regional draw and benefit.
Over the next several years Cary will benefit with an allocation for improvements to our sports venues. Morrisville has never benefited from this tax. The decision makers for the allocation of this tax include members of the Raleigh Council and Wake County Commissioners. Cary and Morrisville would like a voice in the decision of projects since together we make up approximately 40% of the collected taxes.
It was reported that complaining about the current structure and allocation might encourage the general assembly to do away with the tax all together. The subcommittee agreed to talk about this again at our next meeting.
Development and Red Light Cams
Tuesday I met with the town manager for an hour to catch up on several things. We discussed several topics including the opportunity site in downtown, development in downtown, development around the airport, and red light cameras. A report on the red light cameras is tentatively scheduled for August.
Triangle Community Coalition
Wednesday I was supposed to have a meeting with someone who wanted to introduce themselves to me and talk about their background in planning. I guess we got our times mixed up because they were a no show. So instead I had dinner with my wife which was a bonus.
Also on Wednesday I ran into a representative of the Triangle Community Coalition. This group is made up mostly of developers and those with developer interest. They recently did a survey of the municipalities in Wake County on developer issues. On a scale of 1 to 5 this group ranked Cary 3.4 overall which was somewhere in the middle of the pack. The municipality ranking the lowest was Morrisville at 2.2. The lowest question ranking given to Cary was 3.2 for "Elected Official Review" which is not surprising. The highest question ranking given to Cary was 4.0 for "Staff Knowledge".
August Cary Matters – 2013 Budget
On Saturday I wrote the August episode of Cary Matters. The main topic will be the 2013 budget. The bond referendum will also be discussed. Writing Cary Matters has been something I have done since the inception of the show in 2008. I now share writing duties for Cary Matters with council member Robinson. The draft script is due on the 15th of every month to the Public Information office. Then the script is fact checked and proof read for mistakes. Taping is usually around the 25th of every month.
Person For Regional Boards and Committees
I also spent time Saturday charting Julie Robison's replacements to regional boards and committees. I will continue to work on that in the upcoming week.
Board and commission appointments are also coming up and I spent a great deal of time reading over all of the applications Saturday and Sunday. I will make my recommendations to the clerk's office on Wednesday.
Serve And Support Helping Hands Walk-A-Thon
Sunday I had the pleasure of attending the Serve And Support Helping Hands Walk-A-Thon at Morrisville Community Park. I was joined by Morrisville Mayor Holcombe and Morrisville council member Rao. We walked a two kilometer route and enjoyed several performances by the youth in attendance.
The youth, from elementary to high school, did a lot of work putting on this Walk-A-Thon. Thanks to them over $6000 was raised for St. Jude's Children's Hospital. I had the honor of addressing the crowd and thanked them for their volunteerism and encouraged them to continue to serve their communities. Then Mayor Holcombe and I were presented a giant Thank You Card from the youth.
A great time was had by all and for a good cause.
Route 64 Rehab
Emails this week included one from NCDOT announcing a Public Meeting to discuss the Pavement Rehabilitation of the beltline between US 1/64 and the Knightdale Bypass (US 64) in Raleigh.
The meeting will be on July 19 from 3:00 to 7:00 PM at the Wake County Commons Building located 4011 Carya Drive in Raleigh.
Cary's National Night Out
In an email from staff it was announced that Cary's National Night Out will change this year. National Night Out is a nationwide initiative where communities across the country join in celebrating safety and neighborhood unity.
On August 7 this year Cary will hold National Night Out on Academy Street. Kids will be able to explore safety vehicles of today and yesterday, see K9 demonstrations and enjoy a Fun Zone. Beer Goggles and a crash simulator will be available for adults to experience. Town of Cary Police and Fire personnel will be on-hand with information on Town safety initiatives and to register citizens for free home safety inspections.
Larry's Beans
Staff also sent out an email announcing that the Cary Town Council will consider a recommendation to enter into an option with the Raleigh-based coffee roaster Larry's Beans to lease the historic Jones-Foy House at 324 S. Academy Street across from the Cary Arts Center.  The council will vote on this July 26.
Scott Brookhart Withdrawal
An email was sent from one of the candidates considered for council appointment. Scott Brookhart withdrew his name from consideration saying "I realize that there was a potential for conflict of interest if I were selected for the council position."
Citizen Emails
Emails from citizens this week included a complaint about trees blocking line of sight on Cary Parkway, a complaint saying there was lack of input on the budget (we held several public hearings over several months), a complaint about trees dying in Cameron Pond, a complaint that home values have suffered in Chatham County because there is no school and Cary needs to do something about it, a complaint about the wireless water meters (you guessed it, the same guy), and a complaint about air conditioning at the senior center.
Next week includes a Mayor's Association outing at the Mudcats game where we will still do business. There are also the interviews for the council appointment, a Planning and Development committee meetings, and a ribbon cutting.
Well that is all for this week. My next post will be on Sunday July 22nd.Please feel free to email me with a comment. Email all Town of Cary questions or comments to Harold.Weinbrecht@townofcary.org. Email personal comments to augustanat@mindspring.com.
https://carycitizenarchive.com/wp-content/uploads/2012/07/cary-mayor-harold-weinbrecht-0715.jpg
350
600
Harold Weinbrecht
https://carycitizenarchive.com/wp-content/uploads/2020/03/cc-archive-logo-450-v3.png
Harold Weinbrecht
2012-07-16 16:30:14
2016-01-09 11:58:31
Harold's Blog: Morrisville/Cary Alliance Continues and More