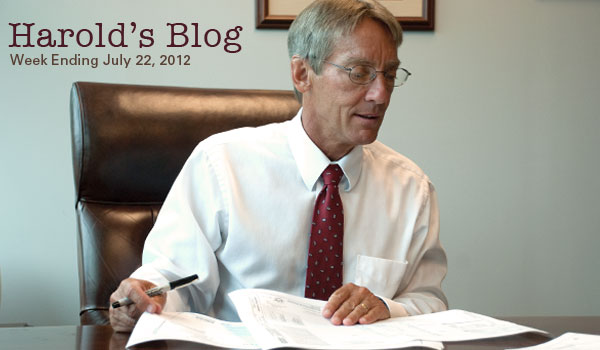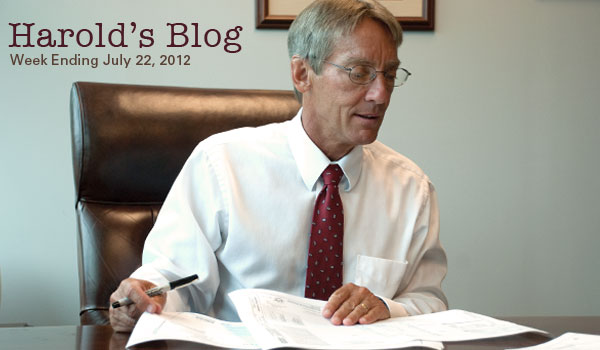 From the blog of Cary Mayor Harold Weinbrecht. Photo by Hal Goodtree.
Cary, NC – This week was a slow week but kept me busy with a few meetings, appointments and events.
Monday: Hotel/Motel Tax
Monday the Mayor's Association met briefly at our Carolina Mudcats outing in Zebulon. The main topic of meeting was the hotel, motel, prepared food tax discussed at the Cary Morrisville Joint meeting last week.
Mayor Holcombe explained that Morrisville has never received any money and that Cary/Morrisville would like a voice in determining the allocation. She also explained that there is a fear that if we complained that the legislature would eliminate the tax altogether.
The 10 mayors in attendance asked for further investigation to see exactly what was needed to change the makeup of the allocation decision groups. In addition, the consensus was that the legislature would not eliminate the tax due to the funding promised the PNC center, Cary, and other projects.
Tuesday: Reclaimed Water
Tuesday I joined Congressman Price, County Commissioner Portman, and other elected officials to celebrate the completion of phase one of Jordan Lake Reclaimed Water Ribbon Cutting. Here is a portion of my comments:
"…It's taken a lot of sweat and elbow grease to get here today. Our partners to the north in Durham County have upgraded their treatment plant to make today possible. Our own Wake County has installed almost four-and-a-half miles of pipes to make today possible. And our staff in Cary has focused on getting that reclaimed water from the county line to eligible customers. It truly has been a joint effort any way you slice it.

But for many here, today is just the halfway point.  Phase Two of this project will start this fall and extend the benefits of reclaimed water further south into Cary, stretching to our own Thomas Brooks Park, home of the USA Baseball National Training Complex. We're excited for this next phase and invite everyone to return next year when we celebrate its completion.

Great things like this project happen with good planning, hard work, talented people, and a little bit of luck.  And there's one more critical element to success:  Partnerships.  So, I want to close by again thanking both the Federal and County governments for their support of this project and tell you how proud we are to have worked with you.

The Jordan Lake Reclamation and Reuse Project is an excellent example of how all the levels of our citizens' government can accomplish great things when we have a shared vision of and commitment to our community and our country's future. …"
Using reclaimed water for irrigation will save the need for more potable water. This will delay our need for providing more capacity from the water treatment plant which delays our need for a plant expansion. That in turn, will save taxpayer dollars.
Wednesday: Powell Bill
Wednesday was a busy day for me. The day's first order of business was to sign the Powell Bill document.
In case you are not familiar with the Powell Bill, the Powell Bill are funds distributed to cities and towns to assist them in maintaining, constructing, reconstructing, repairing and improving public thoroughfares, certain bikeways and sidewalks within their corporate limits.
The Highway Trust Fund Supplement was created under by the legislature several years ago "to supplement the appropriations for city streets made under the Powell Bill" for as long as the Trust Fund exists.
Eligible cities and towns are annually allocated from the State Highway Fund, on or before October 1 of each year, an amount in cash equal to the net sum produced by a 1 3/4 cents tax less refunds, as taxed during the preceding fiscal year ending June 30. The annual allocation is sent out each October 1.
Wednesday: Jones House
After signing the Powell Bill documents I participated in the Planning and Development Committee. Typically the mayor does not serve on the Operations or Planning and Development Committee. But since we are short a council member I am serving until a new council member is appointed. At this Planning and Development meeting we had three consent items that we did not pull for discussion and one discussion item which was the James Jones House. A little back ground on the James Jones House:
On September 8, 2011, the Town of Cary acquired the James Jones House at 324 South Academy Street to assist in the revitalization of Downtown Cary.  On April 20, 2012, after conducting a formal Request for Proposals process to obtain a business to lease the house, the Town received two responses.
A staff committee reviewed the proposals and selected the proposal from Lawrence Coffee Bar as being the most responsive to the RFP.  Staff recommended approval authorizing the lease of the Jones House to Lawrence Coffee Bar. The Planning and Development Committee agreed and so it will now be on the July 26th council consent agenda for approval.
After leaving the Planning and Development Committee I attended a discussion with staff on three issues related to schools and parks.
Town Council Candidate Interviews
Then I headed over to the Page-Walker hotel to participate in the council candidate interview process.
Council members divided into groups of three, since four would make a majority, and interviewed each candidate for 20 minutes. In between interviews we switched up our groups of three.
The candidates interviewed very well and were very impressive. However, I do believe this process personally helped me narrow my search. Now it will be up to individual council members to further interview before we meet as a council on July 31st at a work session to decide what to do next.
Thursday my only duty was a meeting with a representative from a political campaign. It is important to understand that all elected officials are frequently asked to help with many campaigns from the local to the national level.
Herb Young
Friday I was notified by staff that former council member and beloved Cary citizen Herb Young passed away. My thoughts and prayers go out to his family and friends.
Herb put his heart and soul into this town and we are all better off for it. Rest in peace Herb. His memorial service will be 11 AM at the First Baptist Church of Cary.
Emails
In email notifications this week I received a meeting announcement from the NCDOT regarding a workshop on for the proposed Raleigh Union Station. This "Citizen Informational Workshop" will be held August 6, from 5 to 7 PM at the Raleigh Convention Center Ballroom B.
I received several emails from staff this week about various issues. One particular email of interest was the notification that NCDOT will begin maintenance construction on US1 from just south of I-40 to US64 beginning Monday, July 23rd. Work will be from 9 PM until 6 PM through Friday, July 27th weather permitting. Traffic lanes can be reduced to one lane during this time.
Emails from citizens this week included several complaints about having two entrances to the proposed Cary Carpenter Park, a complaint that my blog from last week hurt home sales in Chatham County, a concern that the Planning and Zoning Board recommended allowing chicken slaughter with the new ordinance for chickens, a concern about pedestrians crossing at Kildaire Farm Road and Cary Parkway, and a concern about a time warner cable across a sidewalk.
Next week's activities include a taping of Cary Matters and a council meeting.
Well that is all for this week. My next post will be on Sunday July 29th. Please feel free to email me with a comment. Email all Town of Cary questions or comments to Harold.Weinbrecht@townofcary.org. Email personal comments to augustanat@mindspring.com.
https://carycitizenarchive.com/wp-content/uploads/2012/07/cary-mayor-harold-weinbrecht-0722.jpg
350
600
Harold Weinbrecht
https://carycitizenarchive.com/wp-content/uploads/2020/03/cc-archive-logo-450-v3.png
Harold Weinbrecht
2012-07-23 16:14:49
2016-01-09 11:58:32
Harold's Blog July 22, 2012