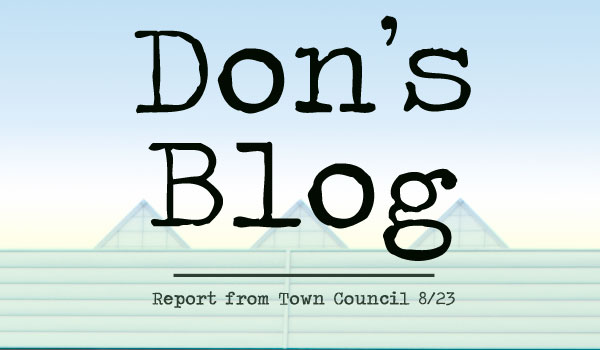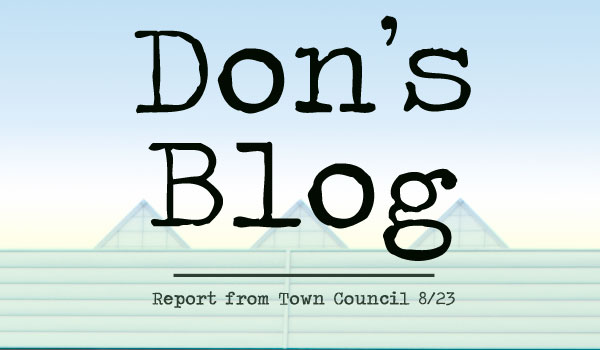 From the blog of Don Frantz, District 2 Cary Town Council Member. Lead photo by Hal Goodtree.
Cary, NC – Our council meeting on 8/23/12 was a long one – six public hearings, a special recognition, Ed's swearing in, and chickens – and we had to take a new group photo. Yay….
Rowland & Yerha
The town council had the pleasure of honoring Cary's own Sue Rowland, who was recently named the 2012 North Carolina Association of Municipal Clerks Clerk of the Year! This of course comes as no surprise to any of us who have worked with Sue as we are all well aware of her talents and commitment to excellence. I swear I don't know how we could do our job without her. Congratulations Sue!
Its official – Ed Yerha is a Cary Town Councilman. Ed, with his wife, Carolyn by his side was sworn into office at the beginning of our meeting by our town clerk, Sue Rowland. And what a first meeting right? Chickens and protest petitions, woo hoo! All kidding aside, Congratulations Ed!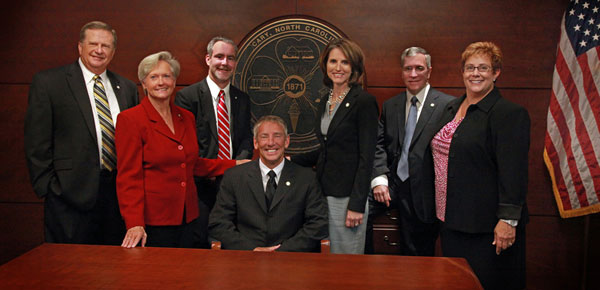 Notable public hearings
Cary's Parks, Recreation and Cultural Resources Master Plan. You can view the staff report here and the complete plan as proposed here. A number of citizens spoke in favor of the plan. The plan now goes to our Planning and Zoning Board for review and input before final council approval in a couple of months.
Rezoning for Village at the Park: The proposed rezoning would modify a previously approved phasing plan for Phase 3 and Phase 4 of the project. Phase four includes 95,000 sq. ft. of commercial use, 88,000 sq. ft. of office, and 45 multi-family units. Prior to development of phase four, the developer must also widen Kitt Creek Road, Green Level Church Road and Hwy 55 along the property's frontage. The developer however is only looking to construct 17,000 sq. ft. of the 95,000 sq. ft. allowed. They requested breaking phase four up into two phases – 4a. which includes the 17,000 sq. ft. of commercial and requires the developer widen Kitt Creek Road and Hwy 55, and 4b. which includes the remaining commercial, office and residential uses and requires the developer widen Green Level Church Road. The council unanimously approved the request.
Rezoning for Weston PDD: This request would amend the previously approved PPD to allow for a wellness center as a permitted use in the office district. A few folks, including an adjoining business owner spoke in opposition to the request. This kind of surprised me as I consider a wellness/fitness center to be a good use in an office park for obvious reasons – but I appreciate and understand some of the concerns presented.
Special Use Permit, Preston Golf Course: This request was to approve grading revisions in the FEMA designated flood plain on the Prestonwood Highlands Course. During the maintenance and renovations of two golf course greens, Prestonwood inadvertently altered the grades a whopping .3 feet from what previously existed. Now, not only must Prestonwood obtain FEMA, state and federal approval, but town council approval as well. This was a total waste of time, and yet another example of government regulation run amuck. Lord knows how much all of this cost…
Chickens
Cary residents who live on single family home lots can now keep a limited number of backyard hens PROVIDED THAT YOU DO NOT LIVE IN A COMMUNITY WITH HOA COVENANTS THAT PROHIBIT IT. HOA COVENANTS TRUMP TOWN CODE. I highly recommend you visit Cary's Chicken FAQ page and inquire with your HOA (if you have one) about any restrictions prior to getting chickens. DO NOT contact the town to complain that your HOA will not allow you to keep chickens – it is out of our control. YOU agreed to your HOA covenants when you bought your house and this is a private agreement between you and your HOA.
I believe the approved ordinance to be a good compromise that allows folks to keep a limited number of backyard hens and also protects adjoining property owners from any negative impacts associated with their neighbor's hobby. Notable rules include:
Limit of 5 hens – NO ROOSTERS ALLOWED
Coop must be set back 15 feet from all property lines
Coop must be located closer to the owner's home than any neighbor's home
No on site slaughter
Chickens only allowed in coop or run – no free range
One time $50.00 permit fee
Please visit Cary's Chicken FAQ for more info on Cary's chicken ordinance.
Lazy Daze
I hope everyone had a great time at Cary's 36th annual Lazy Daze Festival in Downtown Cary! Thank goodness the weather cooperated this year. With an average attendance of 50,000, the Town of Cary's Lazy Daze Arts & Crafts Festival is the highest ranked one day festival in the Nation for Classic & Contemporary Craft Shows by Sunshine Artist Magazine. You can see some great pictures from this year's festival here and here.
Thanks so much to everyone who worked so hard to make this year's festival a huge success. A very special thanks to Joy Ennis and Lyman Collins and their staff, Cary's Festival Committee members, Public Works Dept. and especially all the volunteers – you all are awesome!
Remembering Jess Ward
On a sad note, we have learned that former Cary Town Councilman, Jess Ward has passed. Jess served as the District A Representative on the Cary Town Council from 1997-2001. Jess' funeral is scheduled for Saturday, Sept. 8, 11 a.m. at Mt. Zion Church in Cary.
That's all for now, and as always, thanks for reading!
https://carycitizenarchive.com/wp-content/uploads/2012/09/dons-frantz-blog-0823.jpg
350
600
Don Frantz
https://carycitizenarchive.com/wp-content/uploads/2020/03/cc-archive-logo-450-v3.png
Don Frantz
2012-09-11 07:44:12
2019-12-07 18:37:51
Don's Blog: Report from Town Council