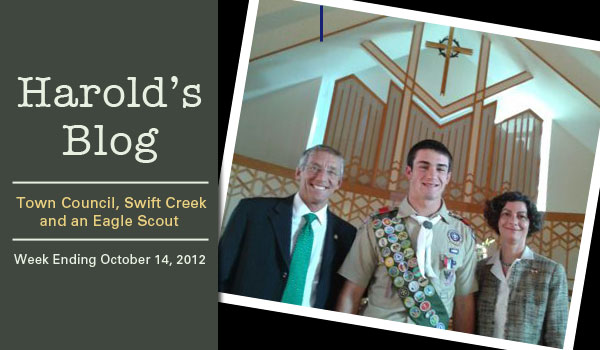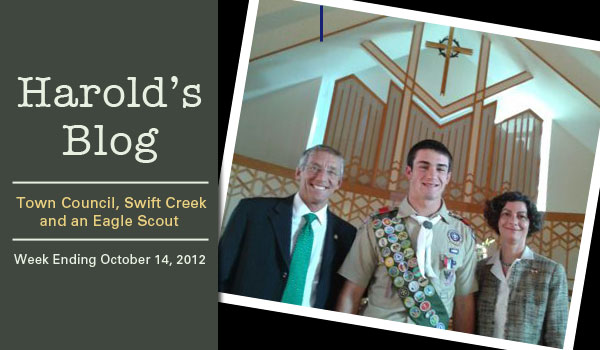 From the blog of Cary Mayor Harold Weinbrecht. Photo courtesy of Harold Weinbrecht.
Cary, NC – After the busy week last week it was nice to have a typical council week this week.
Prepping for Council
Since there was a regularly scheduled council meeting this week, I called council members for questions or concerns about the items on Thursday's agenda.
Questions included whether or not there was a protest petition for the Highcroft proposal, a question about setbacks for bees, and a question about whether or not electronic gaming could be grandfathered.
Later in the day I met with staff and the Mayor Pro-Tem to go over the agenda. Our preparation meeting for Thursday took a little over 30 minutes. It was my projection that Thursday's council meeting would last until about 10 PM.
Twyla Road Development
After the agenda meeting I met with representatives for a Comprehensive Plan Amendment related to a Twyla Road development near I-540. This proposal included over 20 property owners. They would like to see their properties develop as a mix of use rather than very low density single family housing. One interesting aspect of their proposal included unique entrances and exits to I540 with nearby round-a-bouts.
Walking to School
Tuesday morning I had the joy and privilege of walking to school with students from Oak Grove Elementary. I believe we walked between a half mile and a mile. On the way I had a great conversation with two young ladies as we talked about everything from my favorite color to having a woman as President. At the end of the walk we took a few pictures with the principal and the mascot Ollie the Otter. It was a wonderful event and hopefully promoted the importance of exercise to the students.
Recognizing Boards & Commissions
Tuesday night I emceed the Cary Boards and Commissions Recognition dinner. The purpose was to hear annual reports, recognize outgoing members, welcome new members, and talk about how that staff, council, and boards can work better together.
The annual reports were given in a unique way and several had an entertainment component. For example the Planning and Zoning Board used the Twelve Days of Christmas song in talking about the last twelve months. The funny part was that they used Chickens and Bees instead of five gold rings. The Zoning Board of Adjustment used a fiction example of a guy named Harold Weinbrecht wanting to add ten tennis courts in a riparian buffer on his property. They used photos of a huge mansion for the property and thanked Harold for gift baskets after making their decision. It was a hoot. The dinner and activities were fun, informative and got us all thinking on the same page.
Council will have a work session on October 25th to prioritize what new information we need from our boards and commissions.
Ground Breaking – Kiddie Academy
Thursday started with the ground breaking of the Kiddie Academy in Tryon Village. This is located at the back of the shopping center at Walnut Street and Tryon Road next to the greenway. I along with the developer and interested parties took photos of the typical groundbreaking pose with shovels.
It was exciting to see this new business moving forward even in these tough economic times. Their project is expected to be finished by the end of the year and open for business on January 2nd.
Town Manager Items
Later Thursday I met with the town manager briefly to go over several items including the quality of reclaimed water, a trip to visit the bond rating agencies, the downtown theater and associated streetscape, and information related to the bond referendum.
High House & Cary Parkway Intersection
Thursday afternoon the council held a work session to discuss the intersection of High House Road and Cary Parkway.
The town received a grant of $3 million to improve this intersection with certain criteria. That grant money will expire this fall if not used. This intersection is projected to have a 15 minute wait with long queues within the next ten years if nothing is done. That makes sense given Park West is about halfway built and Searstone and Bradford are only beginning the construction phase.
In the past, the staff proposed a jug handle solution to improve this intersection. This drew strong opposition from residents and council.
At this work session there were three solution options. Two of them had round-a-bouts on High House and Cary Parkway that eliminated left turns on Cary Parkway. Those solutions would basically require cars to pass the intersection, turn around, and come back and make a right turn.
Council opted for a traditional approach of widening. Even though this approach is not ideal and will require removal of some decorative vegetation, we believed it was our best alternative. Staff was also directed to look at ways to keep the intersection aesthetically pleasing. The clock tower and other permanent structures will not be touched.
Town Council Meeting
Thursday night's council meeting had several items discussed by council.
The council unanimously approved a resolution that would purchase and sale property for a four diamond boutique hotel in the town center at Park and Academy Streets. It is my hope that this will be a catalyst for other businesses to come downtown.
The council also approved three Land Development Ordinance Amendments. The first would allow beekeeping with a ten foot setback, the second would eliminate the requirement for an Accessory Use Permit for home occupations where no customers or outside employees would visit, and the third would prohibit standalone clothing drop off stations.
The council decided to table a decision on electronic gaming to get input on allowing these in Office and Institutional zones.
In other actions taken at the meeting the council decided to allow three concerts at the Booth Amphitheater with up to 98 decibels. This creates flexibility to sign acts. The council also approved the bid award for the downtown theater. The meeting adjourned around 9:15 after a closed session.
Honoring an Eagle Scout
Saturday I had the honor and privilege of participating in the Eagle Scout ceremony for Chase McGrath. He is a third generation Eagle Scout. This smart young man has accomplished a great deal in his 17 years. It is my hope he will be one of the leaders in his community.
GSA
In notifications this week it was announced that the US General Services Administration that the Request for Lease Proposals to all locations in the Raleigh-Cary area accepted on the market survey. The estimated lease award date is set for January 9.
Reducing Erosion on Swift Creek
Staff announced that starting October 15, contractors will repurpose several trees onsite into "log vanes" and insert them along a 150-foot section of the Swift Creek bank, weather permitting.
These buffers are designed to not only stabilize the Swift Creek bank and reduce erosion, runoff and flooding, but also improve in-stream habitat.
Construction and installation of natural buffers is anticipated to last through mid-November. During this period, there will be short periodic closures on the Swift Creek Greenway to allow contractors working on behalf of the Town of Cary to bring work materials to the construction zone; closures may occur Monday through Friday, 7 a.m.-6 p.m.
The total cost of the project is estimated at $55,000, of which $20,000 is funded by a grant received from the North Carolina Division of Water Resources. Upon completion, the Town will install educational signage along the boardwalk for visitors to learn about the impacts of runoff and the project's use of log vanes as natural buffers.
Morrisville Parkway – Clock is Ticking
Staff also provided an update to the closure of Morrisville Parkway to allow bridge construction. NCDOT presented two construction phasing options for consideration:
A 30-month overall construction period, with a full crossing closure and traffic detoured off-site for 24 months.
A 36-month overall construction period, with a full crossing closure and traffic detoured off-site for 6 to 9 months; for the remainder of the project traffic will be detoured on-site on a two-lane temporary at-grade crossing.
NCDOT explained that while the second option with the shorter closure period seemed to be preferred by many communities and residents. But a shorter road closure will increase the construction time frame.  The contractor would be required build a temporary crossing to maintain the detour traffic before starting the new bridge construction.
The delays associated with maintaining traffic on-site could push the project close-out date beyond the September 2017 deadline set by the American Recovery and Reinvestment Act (ARRA) funding.  If the project is not completed by the deadline, NCDOT would lose the 100% project funding from USDOT and would not be reimbursed for the project costs ($17 million total).
Cary staff submitted a comment at the public hearing supporting the construction option with the shorter, 6 to 9 month closure period.
Letters
In letters received at town hall this week I received a notification from the National Center for Health Statistics which is part of the Centers for Disease Control and Prevention. They are conducting a major study of the health of persons in the United States and Wake County was selected as a survey location. Their personnel will be in Wake County from October 8th through December 18th and will sample about 433 people from Wake County using demographic information for selection.
Emails
Emails from citizens this week included the continued email campaign for Excel Fitness. I have received so much email about this topic that my Outlook is now categorizing them as spam. Other emails include a concern about sprawl, a concern about walkability and bikeability, questions about the community bonds, and a plea for Pickleball courts.
Next Week
Next week I have only few meetings and events. The highlight of the week will be the Diwali celebration at the Booth Amphitheater.
Get in Touch
Well that is all for this week. My next post will be on Sunday October 21st. Please feel free to email me with a comment. Email all Town of Cary questions or comments to Harold.Weinbrecht@townofcary.org. Email personal comments to augustanat@mindspring.com.
https://carycitizenarchive.com/wp-content/uploads/2012/10/cary-mayor-weinbrecht-1014.jpg
350
600
Harold Weinbrecht
https://carycitizenarchive.com/wp-content/uploads/2020/03/cc-archive-logo-450-v3.png
Harold Weinbrecht
2012-10-15 16:15:18
2016-01-09 11:58:33
Harold's Blog: Town Council, Swift Creek and an Eagle Scout