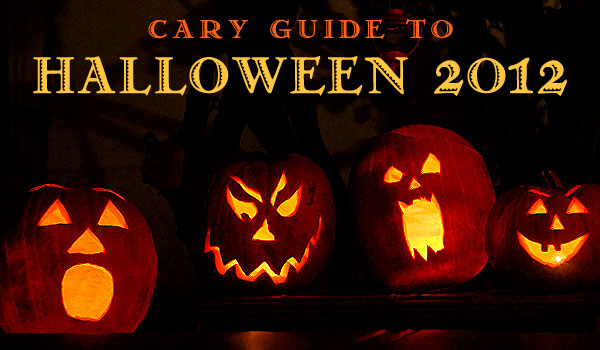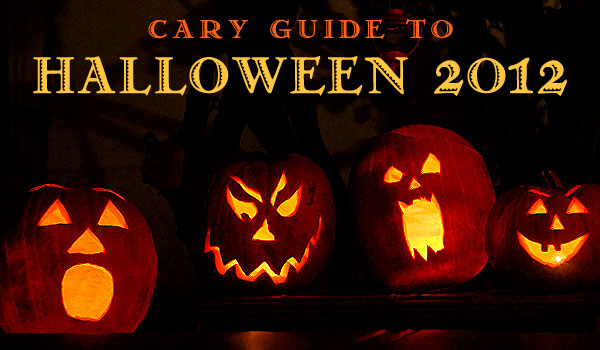 Story by Lindsey Chester. Photo by Troy Pickard.
Cary, NC – October in Cary is filled with activities from corn maze fun on area farms to a Town sponsored annual Haunted House and a new Downtown Harvest Festival. Make your ghoulish plans now with our Cary Guide to Halloween 2012.
Cary Guide to Halloween 2012

[wpcol_1half id="" class="" style=""]
[/wpcol_1half]
[wpcol_1half_end id="" class="" style=""]
[/wpcol_1half_end]
You can be haunted, get lost in a corn maze and of course Trick or Treat! We've arranged the events in chronological order for your calendar planning convenience.
Corn Mazes
It wouldn't be fall without a visit to a corn maze! Did you know there are 2 corn mazes right here in Cary?
Green Acres Corn Maze
1132 Morrisville Carpenter Road,  Cary NC (919) 481-2435
Green Acres Farm  has a rich Cary history and was established by David Ferrell's great-grandparents, Charles F. and Alice Ferrell in 1898. The family can trace their roots back to 1819 on this land.   The farm house was built by Charles in 1900.  Charlie and Alice raised two children in this home.  Their son George and his wife Lula (David's grandparents) raised three.   Current owners Beth and David are the 4th generation of Ferrell's to work the land and live in the house.
The farm boasts a 10 acre corn maze utilizing smart phone technology to answer some trivia questions along the way with a virtual punch card. Guests can enjoy hay rides, bounce houses, pony rides, strikers, hay mounds, pipe tunnels, sand pile, corn hole games, horse back rides, horse drawn wagon rides, hot food, face painting, pumpkins, vintage train rides, and more!   There's also a huge picnic shelter as well as tables outside for everyone to enjoy. The farm can even host birthday parties!
Hours:
Friday: Ticket office 4-9 PM
Saturday: Ticket office 9 AM – 9 PM
Sunday: Ticket office 11 AM – 6 PM
Pricing:
$10 per person
Children 3 and under are FREE
$8 per person if in a group of 20+ (paying) people
$8 for seniors 60 and over.
$6 for military with current ID cards and  scout troops, tribes and leaders in uniforms/vests.
Phillips Corn Maze
6701 Good Hope Church Rd, Cary
Their brand new 2012 maze design is modeled after the logo for the Food Bank of Central and Eastern North Carolina. It officially opened Sept 21st.
Hours :
Friday – 3pm – 6:30pm
Saturdays – 10 am – 6:30 pm
Sundays – 1pm – 6:00 pm
Pricing for the main maze:
Adults / Teens 13+:  $10.00
Children Ages 4-12:   $6.00
Children Ages 0-3:     FREE
For those fright enthusiasts, every Friday and Saturday night, starting Sept 28th through the last weekend in October, your worst nightmares come to life with Phillips Farms haunted farm experience "Revenge of the Farm Hands: Zombie Apocolypse"
Adults / Children     $20.00*
*Admission Price Includes: All Three Phillip's Attractions
Reel-y Scary Movies at Booth Amphitheatre
Koka Booth Amphitheatre, 8003 Regency Parkway
From October 23 – 27  Gates open around 6, movies begin at dusk.
Every Halloween the folks out at Booth Amphitheatre create a live haunted experience and show movies nightly during the week leading up to Halloween. Moonlight sets the stage for the horror to begin at the region's most popular venue.
Tickets: $3 per person
Kids 12 and under are free, but parents may want to review movie ratings prior to each show.
Tickets will be available for purchase at the Booth Amphitheatre Box Office beginning September 1, 2012.
Bring your own lawn chairs, blankets and dress warmly!
Reel-ly Scary Cary Movie Schedule:
Tuesday, October 23-Carrie – (R)
Wednesday, October 24 –Shutter Island– (Rated R)
Thursday, October 25—Woman In Black (Rated PG-13)
Friday, October 26–The Spiderwick Chronicles (Rated PG)
Saturday, October 27 –Rocky Horror Picture Show (Rated R)
Haunted Twilight Tour
Fri Oct 26
Page-Walker Arts & History Center, 119 Ambassador Loop, Downtown Cary
Tour of downtown Cary (age 13 & up) produced by the Cary Players. A macabre walking tour of historic downtown Cary. Your tour guides will share spooky legends and tales of yesteryear, guaranteed to send a chill up your spine.
Times: 6:30-8 p.m. 7-8:30 p.m. 7:30-9 p.m.
Tickets: $15
Downtown Harvest Day
Sat Oct 27, 2-5 pm in Ashworth Village, on South Academy St, Downtown
First annual Harvest Day sponsored by the Heart of Cary Association
Family-friendly fall games, live music by Tom Teachout (classic rock, to Halloween favorites, and kids' music), food vendors, and more. Wristbands will allow children to play from 2pm-5pm, and also get into the Town of Cary's 'Howlin' Good Halloween' activities that night such as the 'Tricks and Treats Bash', story-time, and the hayride between the Cary Arts Center and Ashworth Village.
Pricing: Wristbands ($3 per child), free to adults and children under 2.
Adults can purchase $1 wristband to continue on to the Tricks and Treats Bash at Cary Elementary.
Tricks and Treats Halloween Bash
Sat Oct 27, 5-7:00 pm
Cary Elementary, corner Dry and Kildaire Farm Rd, Downtown
Featuring a family-friendly carnival sponsored by Cary Teen Council, Un-Scary Stories, The Hey Brothers bluegrass band and trick-or-treating through Ashworth's Village.
For detailed event schedule, call (919) 460-4061.
Fees: Carnival admission $1, includes hayride to Ashworth's Village for Trick or Treating at participating businesses
8th Annual Haunted House
Sat Oct 27, 6-9 pm
Cary Arts Center, 101 Dry Ave, Downtown Cary
Brought to you by Applause! Cary Youth Theatre's Fright School. And they say it's good luck to have a theatre ghost…..
Fees: $1 at the door
The 3D Project's Annual Spooktacular
 Sunday, October 28
1:30-4:00pm ages 5-10,  2:30-4:00pm ages 3-4
Cary Ballet Conservatory 3791 NW Cary Parkway   Cary, NC  27513
Brief event description: A fundraiser for the 3D Project Jazz & Contemporary Company, Spooktacular is a fun filled day for dancers and their friends ages 3-10. Dancers participate in a Halloween themed dance class taught by CBC's most advanced dancers. Followed by fun games & the dancers learning a Halloween routine to be performed for friends and family at 4:00 after the big parade of costumes!
Mysteries and Secrets, Exploring Cary Area Cemeteries
Tuesday Oct 30, 7:30-9:00 pm
Page-Walker Arts & History Center, 119 Ambassador Loop. Downtown Cary
There's something mysterious about cemeteries. As we pass them, our thoughts begin to fly: Who rests there? What joys and sorrows surrounded their lives? Where are their families – with them, or far, far away? Join The Friends of the Page-Walker Hotel as they explore the mysteries and secrets held by local cemeteries, identi- fying the resting places of historic figures and bringing to light the more obscure facts and questions from both prominent and well- hidden burial grounds in Cary and its outskirts. For more, visit www.friendsofpagewalker.org or call (919) 460-4963.
Cost: Free
Safe & Sane Halloween
Oct 31, Cary Towne Center, Walnut Street, Cary
Jointly sponsored by the Town of Cary and Cary Towne Center Mall, this annual event features "Not So Scary Story Telling", a magic show, the ever-popular costume contest and more!
Free, come dressed in costume to participate.
Officially Halloween on Wednesday October 31st
The Town of Cary officially celebrates Halloween on the traditional date of October 31st. Not going to be home or don't plan to celebrate? Keep your doors locked, your garage door shut and your front door outside lights turned off. The little goblins and fairies will pass by your house.
Many families that take their kids out, but don't want to stay home by the door – leave a giant bowl of single wrapped candies for the kids to take as their treats.  When the candy is gone, its gone.
Other Halloween Events in Cary?
When it comes to Halloween, Cary is a happening place. Even this epic article (1279 words) cannot begin to describe the horror of Halloween in s-Cary.
So, if you know of another Halloween event in Cary, NC, please feel free to share it in the comments to this story.
—————————————————————————————-
Thanks to our sponsors Green Acres Farm and Chocolate Smiles, both located in Cary, NC for all your Halloween joy.
https://carycitizenarchive.com/wp-content/uploads/2012/10/halloween-cary-nc-2012.jpg
350
600
Lindsey Chester
https://carycitizenarchive.com/wp-content/uploads/2020/03/cc-archive-logo-450-v3.png
Lindsey Chester
2012-10-16 15:55:09
2015-12-30 17:43:15
Cary Guide to Halloween 2012