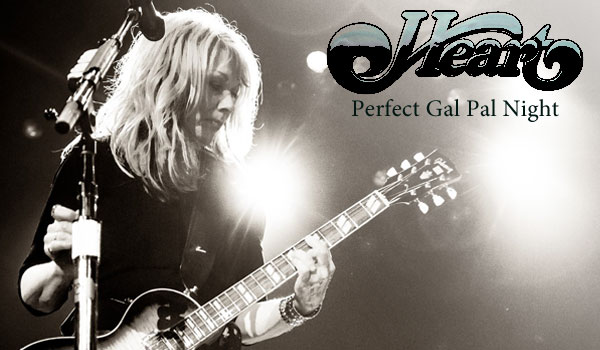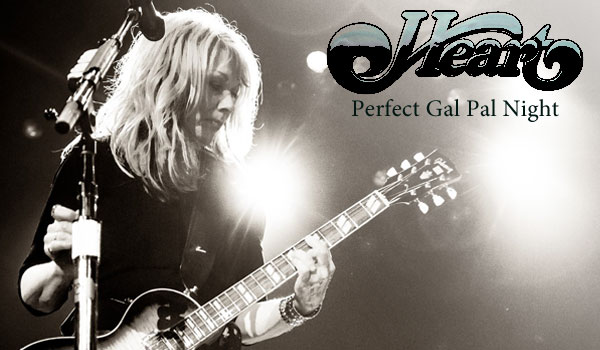 Story by Lindsey Chester. Photo from Heart on Facebook.
Cary, NC – Heart played Cary's Booth Amphitheatre Sunday night. The weather was perfect and so was Anne Wilson's voice and her sister Nancy's guitar solos. Three of my gal pals and I danced the night away under the stars singing along to Crazy On You and Barracuda.
"Heart" Perfect Gal Pal Night
The evening started off with Alejandro Escovedo and the Sensitive Boys, an admittedly un-inspired warm up band, who insisted on playing down-tempo numbers that none of us could relate to.
By 8:30 all was right with the world when the Wilson sisters hit the stage. The first song was the title track from their (Latest!) album Fanatic.
All bands want to play their new stuff, and who can blame them? Heart's first album, Dreamboat Annie, was recorded in 1975 netting them Magic Man and Barracuda. Almost 40 years later they are still touring, so we cut them some slack and heard several tunes from the new album.
Then we got into familiar territory with Heartless. They are still in heavy metal soaring vocal form and the audience was ready to sing along throughout the evening.
These older rock legends stayed focused and on key- something I dare say our current crop of starlettes will be hard pressed to accomplish with so much technology making music these days. Will I want to see Kesha in 35 years? Rihanna? Lady Gaga? Heck, I was 16 when Magic Man came out, so I dare not venture to think how old the Wilson sisters are, but they can rock like nobody's business.
When the drum started the beat for Straight On it was time to dance, and we didn't sit down til we got to our cars an hour later.
Other hits from Sunday's playlist:
Dog and Butterfly
Dear Old America (new written about their dad)
Crazy On You
Barracuda (take THAT Fergy!)
Then, the band took a break and came back with the encore hit Magic Man.
For a surprise ending, they followed up with the most rocking version I've ever heard live of Black Dog by Led Zeppelin. I've seen Zep perform, and they can't sing it any longer. Unlike Zep, Nancy can still hit those notes.
It was the perfect ending to a night of hanging with the gal pals.
For the record, Heart's Discography:
Dreamboat Annie (1976) – 100 weeks on chart, multi-platinum selling
Little Queen (1977) – 41 weeks on chart, multi-platinum selling
Magazine (1978) – 25 weeks on chart, platinum selling
Dog & Butterfly (1978) – 36 weeks on chart, multi-platinum selling
Greatest Hits Live (1980) – 25 weeks on charts, multi-platinum selling
Heart (1985) – 92 weeks on charts, five times platinum selling, Grammy nominated
Bad Animals (1987) – 50 weeks on charts, three times platinum, two Grammy nominations
Brigade (1990) – 49 weeks on the charts, multi-platinum selling, Grammy nominated
Greatest Hits 1985-1995 (2000) – platinum selling
Essential Heart (2002) – platinum selling
Red Velvet Car (2010) – Top 10 entry in Billboard Magazine, September 6
Fanatic (2012) – released Oct 2, 2012
https://carycitizenarchive.com/wp-content/uploads/2012/10/heart-review.jpg
350
600
Lindsey Chester
https://carycitizenarchive.com/wp-content/uploads/2020/03/cc-archive-logo-450-v3.png
Lindsey Chester
2012-10-17 08:32:37
2012-10-16 19:02:10
"Heart" - Perfect Gal Pal Night