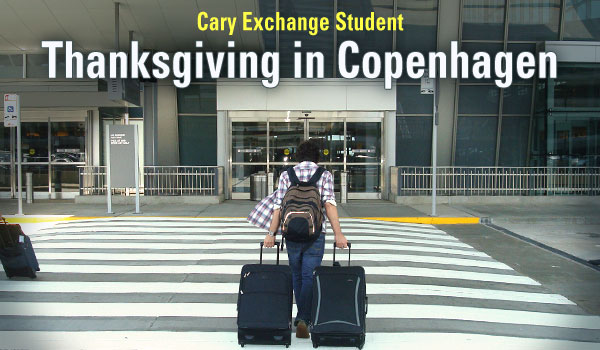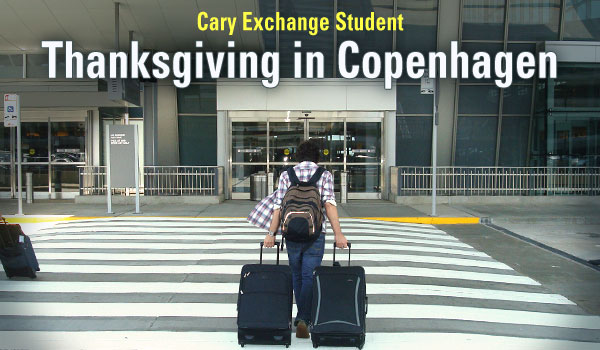 Story and pictures from Copenhagen According to Travis, the blog of N. C. State junior and economics major Travis Toth, a 2010 graduate of Green Hope High School in Cary.  
Copenhagen, Denmark – I've been pretty slack about updating my blog, so I'm going to give you an outline of this past week, Sunday to Sunday. In a way, the past seven days have been a prime example of all the best aspects of life in Copenhagen. Let's get started.
Sunday – Thanksgiving in Copenhagen
Last weekend marked the halfway point between the Canadian and American Thanksgivings. Our Holger Danskes Vej family decided to celebrate together. As my first Thanksgiving away from home, I was a bit leery about the idea. I just didn't think that everyone would be interested; turns out I was wrong. After organizing the food, everyone cooked their own dish and fifteen or so of us put together a fantastic spread. My Australian friend, Kieran, and I provided the vegetables, carrots, stuffed peppers (capsicums in Australian lingo), and some green beans. We had a proper feast that night. Everything I had wanted from Thanksgiving was there, delicious food, a feeling of togetherness, and a feeling of "Why did I eat so much food?" The only thing missing was the turkey; they're way too expensive for us poor exchange students in Denmark, but a good chicken did the trick.
Monday – Schoolwork
One of my courses finished up a couple of weeks ago, leaving me with two days of class a week. I had a bit of a quiet day, catching up with friends and coursework. The weekend would start the next evening so there was need to rush into anything.
Tuesday – The Room
Some friends and I stumbled across an art theater showing this movie called The Room, dubbed the worst movie of all time. Upon reading the description, I couldn't fathom the utter disaster awaiting me.
Apparently, this guy wrote, directed, produced, and starred in this flick. On premiere night, he sat in the front row with a spotlight on him for the entire duration.
So, you might be wondering why any cinema would bother showing such an atrocity. Well, The Room turned into a cult classic and an interactive experience, reminiscent of Rocky Horror Picture Show screenings. Basically, you need spoons, pillows, and a bit of booze to watch the movie.
In far too many scenes, there are portraits of spoons in the protagonists room, and whenever one appears on the screen you throw spoons at it. Also, there are several pillow fights throughout; a simultaneous pillow fight breaks out in the audience. The Room certainly earned its reputation, by far the worst movie I've seen, but a great time was had nonetheless.
Bit of an excerpt from one of the countless unnecessary scenes:
Johnny: [walks into flower shop] Hi.
Flower Shop Clerk: Can I help you?
Johnny: Yeah, can I have a dozen red roses, please?
Flower Shop Clerk: Oh, hi, Johnny. I didn't know it was you.
[grabs bouquet of roses]
Flower Shop Clerk: Here you go.
Johnny: That's me. How much is it?
Flower Shop Clerk: It'll be eighteen dollars.
Johnny: [hands over cash] Here you go. Keep the change.
[grabs flowers and pats dog on the counter]
Johnny: Hi, doggy.
Flower Shop Clerk: You're my favorite customer.
Johnny: Thanks a lot. Bye!
Flower Shop Clerk: Buh-bye!
The dialogue was certainly gripping, as you can see.
Wednesday – Halloween in Copenhagen
Halloween! Not many countries get as excited about Halloween as we do back home, but when you put together a group of international students and give them a day to dress up and run around, everybody wants in. A local student bar threw a costume party and everyone was in great form. There were zombies, hippies, cats, and clowns. Santa Claus even made an appearance!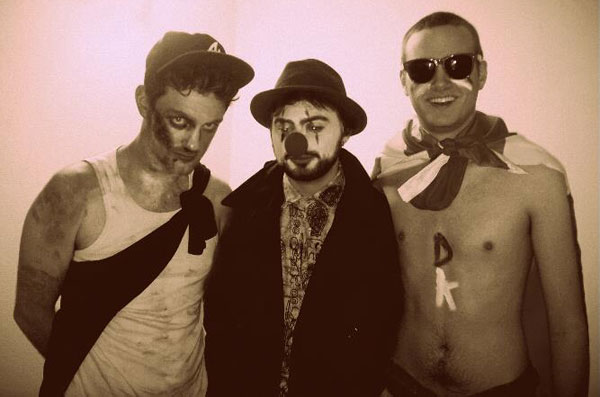 Zombie, Clown (me), and Mr. Copenhagen
Thursday – Halloween Part 2
Halloween part two! After cooking a nice dinner with two lovely Danish girls- an experience that is hard to come by when you only live with international students- we again donned our costumes, heading back out into the night. The international office rented out a bar in town and put on a great party. There were even more crazy characters hitting the dance floor than the previous night.
Friday – J-Dag
November 2nd is a popular marketing holiday in Copenhagen, "J-Dag." The local brewing company, Tuborg, releases their Christmas beer.
Julebryg, as it's called, gets delivered to all of the bars in town. Big trucks drive around with jolly elves in them giving out free beer and Christmas gear.
We had heard that J-dag rivals New Year's Eve as the biggest night in Copenhagen, so we set out to see what all the hype was about. Basically, the idea is to guess where the caravan will go next and be there before the trucks arrive.
At each stop, spirits were high. There was lots of caroling and beer drinking to be had.
Julebryg only makes an appearance in Danish stores for two months a year, but boasts the title of the second highest revenue source for the Tuborg franchise. It was truly a novel experience.
Saturday – Concert in Sweden!
Following a spontaneous idea from the night before, I decided to join Kieran for a concert… in Sweden. We went in to the night without the faintest clue as to how to get between the two countries, but it turned out to be a pretty simple process, hopping on a train for forty minutes and ending up in Lund, Sweden half an hour before showtime. On Wednesday night, out of pure coincidence, I happened to meet a girl from Lund, who was in Copenhagen for Halloween. She met Kieran and me at the station and hosted us for the evening, making sure we made it to the concert instead of spending the night wandering around not knowing where we were. The headliner was a big name in Australia, Matt Corby, at a venue called "The Dairy," English translation. He had the crowd absolutely captivated, performing some songs with a full band, others alone with his guitar.
After the concert, some locals invited us to a birthday party (whose birthday it was, I'm still not entirely sure). Back home, that would have been a rigid experience. But in Lund, people were so accepting. Everyone was glad to have us there. We caught the train home the next afternoon after a whirlwind trip.
Sunday – Skyping the 'Rents
Today was mainly spent Skyping with my wonderful parents and trying to get my life sorted out again after quite an interesting week.
I promise I'll be updating more regularly in the weeks to come!
Thanks for reading
-Travis
https://carycitizenarchive.com/wp-content/uploads/2012/11/cary-exchange-student-1.jpg
350
600
Staff
https://carycitizenarchive.com/wp-content/uploads/2020/03/cc-archive-logo-450-v3.png
Staff
2012-11-08 07:49:45
2013-06-18 10:58:04
Cary Exchange Student: Thanksgiving in Copenhagen