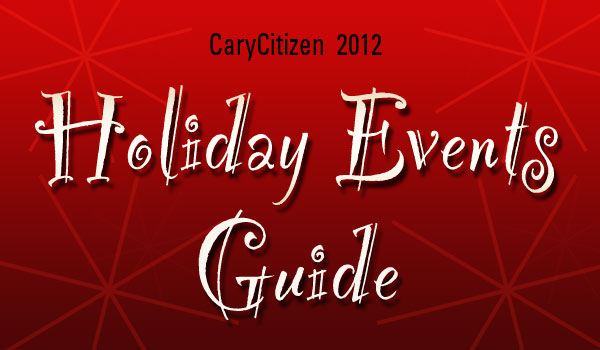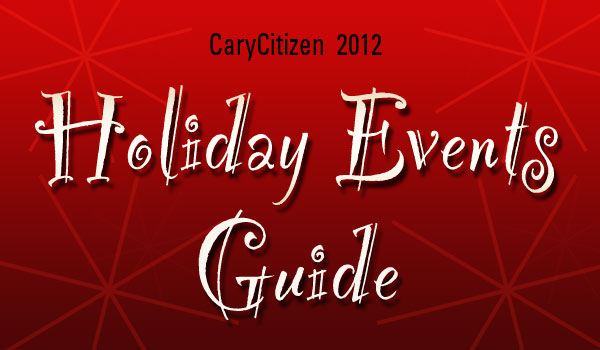 Story by Lindsey Chester.
Cary, NC – The Holidays are fast upon us in Cary. Here's our complete guide to 2012 Holiday Events in Cary, from Santa to tree lightings, Hannukah to Kwanzaa and snow days to holiday camps.
Ole Time Winter Festival
The season officially kicks off in grande style with Cary's very own Ole Time Winter festival December 1st.
Hang out Downtown for the entire day beginning with a crafts fair in the street, and stay til dusk for the town's Christmas Tree Lighting Ceremony. Finish the night with the Cary Players' own A Christmas Story production at the Arts Center. That's just one day!
Read on for more holiday fun!
Friday Nov 30
Waverly Tree Lighting
6 PM at Waverly Place in the Promenade
corner of Tryon and Kildare Farm Roads in Cary, NC
Enjoy musical entertainment by Craig Woolard and other special guests. Visit with Santa and his elves while tasting seasonal treats!
Sat December 1
Santa's Workshop
10 AM-1 PM
Herbert C. Young Community Center
(age 10 & under accompanied by an adult)
Join us for Cary Teen Council's annual Holiday Celebration. Children will enjoy a variety of craft stations where they can make a gift for someone special, experience live entertainment by Cary Ballet Company and 3D Project and enjoy visit with a white bearded guy from the NORTH POLE! While at Santa's workshop, support the Cary Teen Council's food drive by sending each child with two non-perishable food items or cash donation will be accepted. All contributions will be given to a local charity. 
5th Annual St. Nicholas European Christmas Market
10 AM -4 PM
Saints Cyril and Methodius Parish
2510 Piney Plains Rd.
Cary NC
Shop Europe without leaving Cary!
Hot Slavic lunches and European bakery include home made piroghi, kielbasa, cabbage rolls, stollens, and nut rolls. New and vintage collectible Christmas linens, ornaments, and gifts from Poland, Germany, Slovakia, Sweden, Mexico, Italy, and more.
Christmas trees and Advent wreathes. Exhibit on the life of the REAL St. Nicholas! A free, fun family holiday event under the big white tent including music from the Little German Band.
Call for info: 919-851-9266
Ole Time Winter Festival
10 AM – 4 PM in Downtown Cary
Presented by Heart of Cary Association and Town of Cary
Celebrations begin with the Heart of Cary's Ole Time Winter Festival held on the streets of Downtown Cary. Festival goers can enjoy arts & crafts, entertainment, food, activities, and more. Santa will be there. Start (or finish) your holiday shopping with festival vendors and Downtown Cary Merchants!
Groundbreaking for the New Cary Theater
11 AM on East Chatham Street, Cary NC
Enjoy the festivities that kick off this new Town of Cary project. Popcorn and tours available.
A Christmas Story
3 PM and 8 PM at Cary Arts Center
Presented by Cary Players
Cary Players annual holiday production this year produces A Christmas Story. Follow Ralphie Parker in his quest to get a genuine Red Ryder BB gun under the Christmas tree. Bring the entire family to this hilarious holiday-classic based on the movie by Jean Shepherd! Ticket info: www.caryplayers.org. Additional performances Nov 30 and Dec 2-3.
Page-Walker Open House
4-6 PM – Page-Walker Arts & History Center
Ambassador Loop, Cary NC
Get into the holiday spirit with an old-fashioned Victorian Christmas experience at the Page-Walker's Annual Holiday Open House. Learn about century-old holiday traditions while touring Cary's 1868 historic hotel. Enjoy Victorian Carolers, sing Christmas carols around the piano or take a horse-drawn carriage ride. Taste holiday refreshments and view historic rooms decorated for the season by the Friends of the Page-Walker Hotel. Fun for the whole family.
Official Town of Cary Christmas Tree Lighting Ceremony
6 PM on Town Hall Campus, 917 N. Academy Street, Cary NC
This community celebration of the season has become incredibly popular over the past years. It's a wonderful time to bring your blanket and your loved-ones out to the Town Hall campus and welcome in the holiday season with your neighbors. This festive night features talented actors, singers, dancers, and musicians from our community onstage. Not only will the beautiful 30 foot cedar Christmas Tree be illuminated for the first time in the season, but we'll also unveil the "Cary Community Christmas Tree" that will be inside at the Town Hall. All sorts of groups that serve our local community will be providing handcrafted ornaments to be displayed on the inside tree. Our Community Christmas Tree will truly be a representation of the diversity of Cary.
Sunday, December 2
Handel's Messiah – Cary Community Choir
7:30 PM – Westwood Baptist Church, 200 Westhigh Street, Cary NC
Come and join The Hallelujah Tradition! This year's performance marks forty-two years the choir has opened Cary's Advent Season with Handel's beloved Christmas Cantata.  Admission is free, but goodwill donations are graciously accepted.
Saturday, December 8
Cary Jaycees Christmas Parade
Parade starts at 2:00pm, but participants begin lining up at 1pm
Downtown Cary, NC
For the past thirty-three consecutive years the Cary Jaycees have sponsored the Cary Jaycee Christmas Parade in downtown Cary.  The parade starts on Chatham Street and ends at the end of Academy Street in front of the  Cary Arts Center (the old Cary Elementary School building) . The parade is a joyful celebration which includes bands, mascots, local businesses, community groups, and churches.
Concert Singers of Cary Holiday Pops
Cary Arts Center, 101 Dry Ave, Cary NC
performances at 3pm and 8pm
Known for almost two decades for their wildly popular Holiday Pops programs with The North Carolina Symphony, the 125 Voice Symphonic Choir of The Concert Singers of Cary return home to present two performances of fes tive music of the season in the Cary Arts Center. Bring the whole family as we ring in the season with holiday favorites, old and new! $18 Adults; $16 Seniors; Students Free. For more, www.concertsingers.org
Sunday, December 9
Hanukkah Festival
presented by Town of Cary
Cary Arts Center, 101 Dry Ave., Cary NC
Activities begin 2 pm and continue until 8 PM when the Menorah is lit.
On the first night of Hanukkah, celebrate Jewish culture in Cary. Enjoy traditional Jewish foods, crafts and hands-on activities for children, entertainment, educational displays and the lighting of a nine-foot menorah!
Friday, December 14
Visions of Sugar Plums
Cary Ballet Conservatory
Cary Arts Center, 101 Dry Ave., Cary NC
Opens Dec 14 at 7pm
Cary Ballet Company & The 3D Project present "Visions of Sugarplums", their holiday dance showcase. Celebrate the season and enjoy Peter Tchaikovsky's kaleidoscope of music, featuring highlights from the full-length Nutcracker ballet. This classic tradition has grown to include soldiers, mice and the magical growing tree! There are also fabulous holiday jazz pieces presented by The 3D Project that will have you clamoring for more. For more, (919)481-6509 or www.caryballet.com. $15 Orch; $12 Loge. Other Performances:  Dec 15th at  2 pm and 7pm, Dec  16- 2pm
Winter Music – The Sequel
Cary Town Band
7:30 PM at the Cary Senior Center in Bond Park, off High House Rd.
Enjoy the old familiar carols you've sung for years in this fourth annual Cary Town Band holiday musical celebration. Perhaps you'll sing along. Popular songs about winter and snow, Christmas, Hanukkah, and other holidays of the season. And Sleigh Bells will be jingling. Concert is FREE.
Saturday, December 15
Holiday Suite
presented by International Ballet Academy
Cary Academy, 1500 North Harrison Avenue, Cary NC
International Ballet Academy's Company (IBA) dancers perform excerpts from that perrenial Holiday favorite, the Nutcracker. These pre-professionals will dazzle with their skills in this abbreviated version of the all-time classic. Showtimes: Saturday, 2pm and 7pm. Tickets available from IBA at 201 Davis Grove Circle , Cary, NC 27519. Call to reserve: (919) 303-7200.
Snow Day!
Waverly Place in the Promenade area
corner of Tryon and Kildare Farm
12pm- 4pm
Enjoy tons of snow, sledding, s'mores and sing- a-longs. Free and open to the public.
Sunday December 16
Little Windows Concert
Presented by Friends of Page-Walker
Page-Walker Arts and History Museum, 119 Ambassador Loop
4-6pm
Little Windows is a music duo comprised of Julee Glaub and Mark Weems. They specialize in traditional Irish and Appalachian mu- sic. Mark and Julee tour nationally and abroad with a focus on the art of the pure voice with tight harmonies in traditional songs. Instrumentation includes guitar, fiddle, banjo, flute, piano and bodhrán. Tickets $15 per performance. Order tickets online at etix.com or in person at the Cary Arts Center box office or by calling 1-800-514-3849. For more visit or call (919) 460-4963.
Monday Dec 24
Christmas Eve at Chatham Hill
Chatham Hill Winery, 3800 Gateway Circle, Cary, NC
11 AM – 2 PM
Enjoy a relaxed atmosphere with your out-of-town guests, away from the hustle bustle of last minute shopping at this urban winery in Cary.
December 27th
Cary Kwaanza
Co-sponsored by the Ujima Group, Inc. and the Town of Cary Parks, Recreation & Cultural Resources Department.
3 PM – Cary Arts Center, 101 Dry Ave., Cary NC
Cary Kwanzaa is a communal, cultural celebration that honors African-American people and their heritage. This year's theme, Social Change Through Community Involvement, will feature performances by Bradley Simmons, Director of the Duke Djembe Ensemble, Spoken Word artist Robin Mills and Ghanaian drummer Kwabena Osei Appiagyei.  The event will feature a special tribute to former Cary Town Councilman Jessie Ward, who passed away in 2012. Cary Kwanzaa will also feature a craft and nonprofit fair, children's activity and African food. Free & open to the public.
December 27-29th
RailHawks Holiday Soccer Camp
XL Soccer World, 5600 Hillsborough Street, Raleigh NC
9 AM-4 PM
Enjoy indoor soccer taught by the RailHawks pros. For the player that wants to stay fresh in the off-season and increase his/her technical and tactical understanding of the game. 3-Day Camp for Boys and Girls: 7-14 year olds.
Looking Ahead to New Year's
Look for our guide to New Year's coming in mid-December.
Happy Holidays to all from CaryCitizen!
Related

RailHawks Holiday Camps
[wpcol_1half id="" class="" style=""]
Cary Jaycees Christmas Parade
[/wpcol_1half]
[wpcol_1half_end id="" class="" style=""]
[/wpcol_1half_end]
https://carycitizenarchive.com/wp-content/uploads/2012/11/holiday-events-cary.jpg
350
600
Lindsey Chester
https://carycitizenarchive.com/wp-content/uploads/2020/03/cc-archive-logo-450-v3.png
Lindsey Chester
2012-11-28 15:45:51
2019-12-08 10:09:34
CaryCitizen Holiday Event Guide