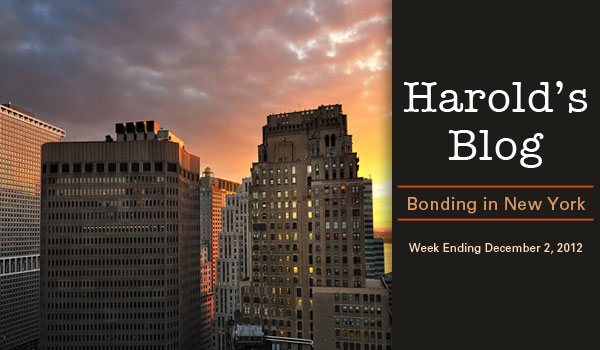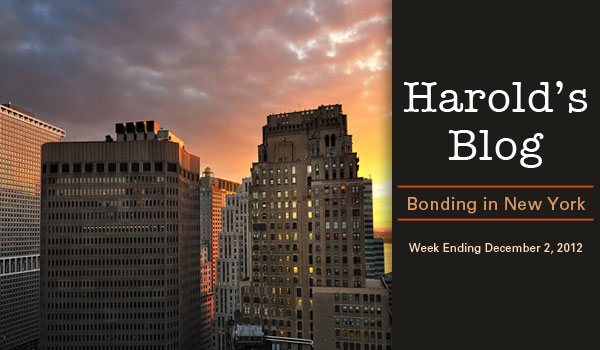 From the blog of Cary Mayor Harold Weinbrecht. NYC Financial District photo by Andrew Mace.
Cary, NC – This was a busy week filled with events. As the holiday season moves into high gear I expect this to be the norm for the remainder of the year.
Monday – Davis Drive Elementary
The week started with a visit to Davis Drive Elementary where I was asked to address the entire third grade.
Before meeting with them I had a private meeting with the "mayors" of each class. We talked and I answered questions about leadership. One student asked what particular skill is most valuable for a leader and I said listening. It is my belief that true understanding of issues and people come from mastering that skill.
After the meeting with the class mayors I went into the gymnasium to speak to the entire third grade. I spoke briefly about my duties and the roles of local, state, and federal government. Then I answered questions from the students.
The students, teachers, administration, and principal at Davis Drive Elementary were extremely kind and gracious and it was truly a pleasure to visit. I was humbled with parting gifts and a beautiful poster before I left. I hope to be invited back in the future.
Tuesday
On Tuesday I met with the town manager and town attorney. We discussed information that will require a meeting of the entire council in closed session. Afterwards the town manager and I held our weekly meeting to catch up on issues.
Tuesday night I briefly attended a reception at the Cary Arts Center for the 50 Group before heading to a private dinner. The 50 Group is a Triangle-wide organization made up of CEOs or regional site leaders in business and non-profit organizations. The name is a legacy since there are now close to 125 members. This group has been in existence for over 40 years.
After the reception Mayor Pro-Tem Adcock spoke on the town's behalf to provided greetings. The 50 group was in Cary for a dinner meeting to hear election analysis from two political consultants.
Wednesday to Friday –  Bonding in NYC
Wednesday I traveled to New York with the town manager, finance director, public works director, and the town's bonds expert.
The purpose of the trip was to meet with the three major bond rating agencies before selling our next round of utility revenue bonds. These are bonds to finance the building of our Western Wake Regional Wastewater Facilities.
We were joined in New York by two of our financial advisors from Davenport and Company out of Richmond, Virginia. They provide advice to the town on when and how to sale the bonds. They also have strong connections to the people at the bond rating agencies. There were also two members from Citigroup of Raleigh with us. They were the bank chosen to sell these bonds. They have a vested interest in the bond rating because it could impact the sale of the bond. However, it is my understanding that they will make their money regardless of the ratings.
The strangest thing I learned about this process is that the bond rating agencies are paid by the applicants for the ratings. It seems kind of strange to me that you would pay tens of thousands of dollars for each of these agencies to rate you. But in the overall scheme of selling over a hundred million dollars' worth of bonds I guess it makes sense.
Thursday morning the town contingent, our financial advisors, and the Citigroup members met in the Citigroup offices to discuss our strategy for our meetings with the bond rating agencies. The office was in the building of the Citigroup trading floor which was interesting. Most of the Citigroup traders were in an open area but some were in a secured area behind glass because they dealt with sensitive data. Everything seemed somewhat generic except for a shark hanging from a ceiling. I wonder that that was supposed to motivate?
In advance of our trip to New York we provided each bond rating agency with a document (over an inch thick) of information related to our finances and utilities. My role on this trip was to talk about council and their relationship to staff and to give a sense of stability and confidence in staff decisions. Our meeting strategy was to have one our financial advisors kick off the meeting with introductions and then turn it over to me to talk about relationships. Then I would turn it over to the town manager who would talk about the town's operations and accolades. Then staff would go into the details of the finances.
Each of the agencies would send analysts to meet with our group. In a few weeks they will meet in committee of five or so analysts and decide Cary's bond ratings. Cary currently has the highest bond rating possible from each of the major agencies.
After we finalized our strategy we met with representatives from Standard & Poor's. The meeting went smoothly with one of the analyst asking most of the questions. The questions were easily answered by staff and the rest of the team. Our meeting lasted a little over an hour. I was able to interject a few times when questions were asked about the possibilities of council decisions changing the direction of financial projects.
Next we headed over to another Citigroup building where we were treated to lunch in the executive dining room. I believe we were about thirty floors up and had a window wall that faced the Hudson and West Street. What a view! Citigroup was very gracious hosts throughout the trip.
Our next meeting was with Moody's in a building next to the Freedom tower. Before our meeting I pressed my face against the glass and couldn't see the top of the tower. That's how close we were. The meeting with Moody's had two analysts who asked more in depth questions than Standard & Poor's. At the end of the meeting they stated that they thought the committee wouldn't have a problem with the rating. I had a good feeling about our meetings on Thursday.
Friday started with another strategy session at the Citigroup building with the traders. Afterwards we met with analysts from Fitch. They asked the most questions of all. They seemed to be very satisfied with everything but as the meeting was about to close made a parting shot about our debt that sent us into another round of discussion. Later, both the financial advisors and representatives from Citigroup explained that what they said was highly unusual and that they would make sure their questions were answered before they met in committee.
Back to Cary, Lighting the Tree
After the meeting we headed to the airport, grabbed lunch, and caught an on-time Friday afternoon plane back to RDU. I arrived home just in time to drop the suitcase and head over to Waverly Place for the Christmas tree lighting.
I had the joy of providing greetings, introducing Santa, and together we lit the tree. Afterwards I met a group of people for a private dinner.
Saturday Downtown
Saturday morning I gave welcoming comments at Cary's Ole Time Winter Festival. Part of Chatham was filled with vendors displaying and selling crafts which would make great holiday gifts. After this ceremony I headed over to the Cary theater site for the groundbreaking.
Just before the ceremony was to begin I found out that I had the wrong talking points. So if you saw the clip on TV and it appeared that I was reading too much, well, now you know why. The ceremony was great with over 100 people in attendance. I can't wait to see the theater open. Construction will begin this coming week and hopefully be finished by Christmas of next year. So keep your fingers crossed.
Later Saturday I headed over to town hall for the town Christmas tree lighting. Before the tree lighting ceremony we honored a Cary employee Sammie Garris who has worked for the town 35 years. Sammie always greets you with a smile and has an outgoing personality. We are so blessed to live in a town that has such great employees as Sammie. He will be the Grand Marshall at Cary's Christmas parade next week.
The tree lighting ceremony was the 25th for the town. We chose longtime Cary resident and award winning artist Jerry Miller to be the official Christmas Tree Lighter. Jerry is well known for his pen and ink drawings but also has done much with watercolors. He was given the honor of painting the original watercolor of President Ronald Regan. He was also the founder of Cary's Lazy Daze. Jerry is a great guy and the tree light went on without a hitch.
Emails
Emails this week included information from staff answering a question about airport traffic patterns and noise. In case you're wondering there have been no operational changes recently that would account for increased airplane noise.
NCDOT also sent an email notifying the town of a Citizen's Informational Workshop for the Proposed Improvements to Interstate 440 (Cliff Benson Beltline) from South of Walnut Street in Cary to North of Wade Avenue in Raleigh. The meeting is scheduled for Monday, December 3, 2012 between the hours of 4:00 and 7:00 PM at the Method Community Center – Pioneer Building, located at 514 Method Road in Raleigh.
Emails from citizens this week include a complaint about excessive tree pruning, a complaint about too many storage buildings on highway 55, complaints about the proposed Mayton Inn, and of course a complaint from the person who complains weekly. This week he claims we were unethical in advertising the bonds.
Next Week
Next week will be another busy week. It includes charity events, an appreciation lunch, an appreciation dinner, a committee meeting, a few other meetings, and the Christmas parade.
Get in Touch
Well that is all for this week. My next post will be on Sunday December 5th. Please feel free to email me with a comment. Email all Town of Cary questions or comments to Harold.Weinbrecht@townofcary.org. Email personal comments to augustanat@mindspring.com.
https://carycitizenarchive.com/wp-content/uploads/2012/12/cary-mayor-harold-weinbrecht-1202-2.jpg
350
600
Harold Weinbrecht
https://carycitizenarchive.com/wp-content/uploads/2020/03/cc-archive-logo-450-v3.png
Harold Weinbrecht
2012-12-03 16:15:37
2016-01-09 11:58:34
Harold's Blog: Bonding in New York