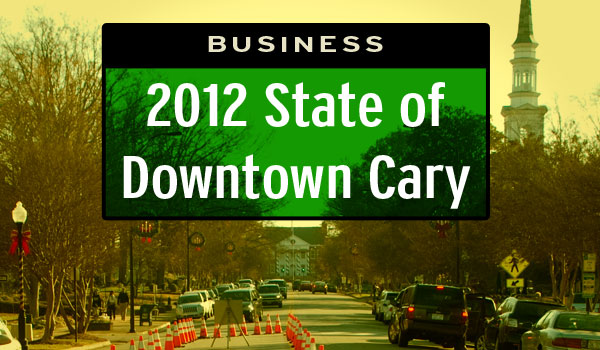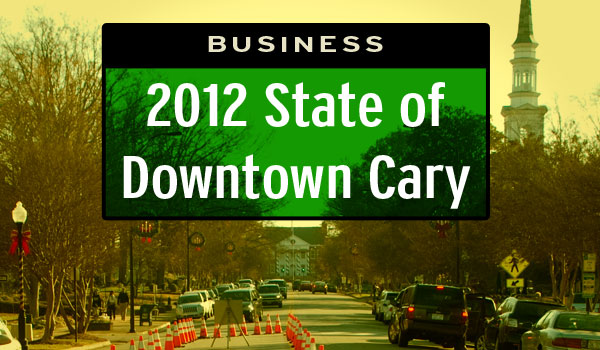 Story by Lindsey Chester. Photo by Hal Goodtree.
Cary, NC – Last year, we reported on six new businesses that opened in Downtown Cary in 2011. This year, a dozen more have opened their doors. In fact, this might be the most transformational year in more than a generation. Read on for our 2012 State of Downtown Cary.
Coming Soon
CaryCitizen has written about a coming boutique hotel, a soon-to-open German Bakery, and a Larry's Beans coffeehouse that has signed to open next year across from the Cary Arts Center in the old Jones House. But that's not all that's percolating Downtown. Private investment is starting to happen.
Browse more Downtown stories from this year.
Expansions
Many businesses moved or expanded.  The Green Kangaroo moved from Ashworth's Village to a larger store front location on West Chatham Street. The Diet Center moved from Academy to an upstairs retail location in Ashworths.
New Businesses Opened in 2012
My Girlfriend's Closet– Store owner Lois Cozart already had a successful retail store in Apex and was looking to expand. When the house/ condo opened up for sale on West Chatham, she purchased and renovated the interior and was open before Lazy Daze. Her mix of consignment and new with a designer twist has won her a loyal Cary client base.
Stonehaven Jewelry had a successful business in the Stonecreek shopping center, but owner Ron Ludholtz was attracted to the potential in downtown. He moved in mid-August and is quite happy with his new Academy Street location
Upcycle art gallery, Lucky Pie opened shop before Lazy Daze as well and their ececlictic mix is a welcome change to the downtown retail landscape.
Speaking of Upcycling- the Cary Creative Center was opened as a 501c3 by director Betsy Dassau in early Spring. She offers art supplies and classes for those looking to make treasures out of what would otherwise be called trash.
A Perfect Piece moved in to the old Cary News space beside the BB &T bank on East Chatham. They sell consigned and new furniture along with booths of accessories and seasonal items. They expanded into their basement not long ago. I'm told that's where the real bargains hide out.
In Ashworth Village, Warm & Fuzzy Yarn store sells fine quality yarns and knitting accessories as well as offers classes for those new to the craft.
Emerge Art Gallery also opened this year offering a taste of truly modern art, owner Hayley Sizemore represents about a dozen artists exclusively int he area. Each month the gallery features art by  different artist.
Also in Ashworth Village, Vintage Vogue has quirky interior decor some antique and other pieces that look like antiques. Look for vintage hats and jewelry at great prices.
This summer Yes! Solar Solutions relocated their solar energy installation business to Dixon Street. Having been in StoneCreek, they needed more of a warehouse type space and found it reasonably priced in Cary's downtown.
Wooklinx opened recently in the location formerly occupied by Helping Hands Mission and an old carpet outlet. This unusual furniture store has wicker pieces made overseas, and other fine teak tables.
Patchwork Memories, in November moved into 226 East Chatham, formerly Etc. Crafts. The 7-year-old custom quilt company is owned by Julianne Walther,  and had outgrown a basement studio.   Now operating on the second floor of the house, and in January will open Cary Quilting Company, to sell quilt fabrics and supplies.
The most recent addition to the Downtown retail landscape is called Elizabeth's. Owners Glenn and Elizabeth Sullivan have always wanted to own a retail store. According to her husband, Elizabeth is quite the artist when it comes to floral arrangements and garlands. Look for her artful touches throughout the home furnishings store mixed in with mantels, lamps, chairs and artwork. They just opened before the Thanksgiving holiday in a vacant West Chatham Street building next door to the old Fotofax business.
Old Cary Commons
The corner of Harrison and Chatham is also being transformed.
Old Cary Commons, the home to MRPP just a year ago, is now home to Cary Innovation Center and almost a dozen small businesses.
Also at Old Cary Commons, something Downtown desperately needed: a wine bar. Not since Ciao closed years ago, has there been a location to hang out "after hours" (anything after 7pm!). Un Wine'd opens at 4pm and doesn't close til at least midnight. Offering live jazz on Thursdays and Fridays, and free wine tastings, the location has become a great meeting place for business after work. Un Wine'd opened at the end of 2011, but they're worthy of another mention if you haven't visited.
Stroll Around
Add these businesses to those that opened in 2011 and the whole Downtown Cary economy is being transformed. Factor in the massive efforts of the Heart of Cary Association, Town investments in the Cary Arts Center, the Chatham Street movie theater (now under renovation) and other properties, plus a year-long parade of festivals and events and something big is happening.
The best way to take in all the pleasures new and old of Downtown Cary is to stroll around. Go down in the evening when the Christmas lights come on and witness the miracle of a renaissance gaining momentum.
Related
https://carycitizenarchive.com/wp-content/uploads/2012/12/downtown-cary-2012-2.jpg
350
600
Lindsey Chester
https://carycitizenarchive.com/wp-content/uploads/2020/03/cc-archive-logo-450-v3.png
Lindsey Chester
2012-12-04 09:04:51
2012-12-13 16:47:12
Business: 2012 State of Downtown Cary