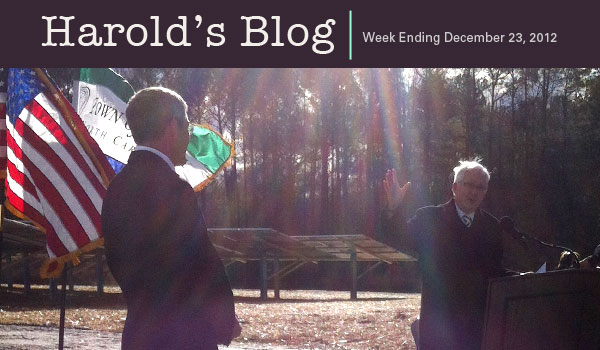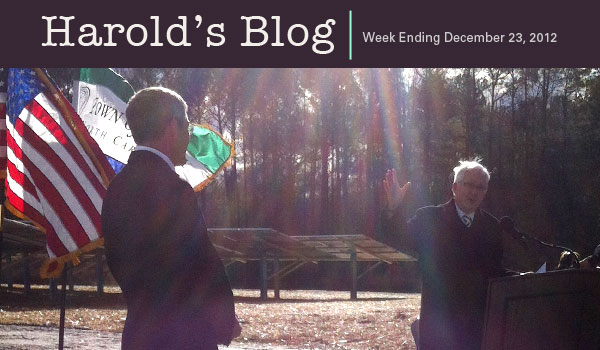 Editor's note: Due to our limited holiday production, we couldn't publish Cary Mayor Harold Weinbrecht's blog from December 23, 2012. Here it is now. Story by Harold Weinbrecht and photo by Lori Bush.
Cary, NC – This week was the last hustle and bustle week of the holiday season.
Monday
Monday started with a celebration luncheon of town administrative staff, directors, management, and council. Staff provided us with great food and it was a wonderful lunch. This tradition was started decades ago and is a great way for council and staff to spend an informal time together.
Monday night I attended the annual Mayors Association dinner held at the PNC VIP dining area. There were approximately 200 in attendance including all of the Wake County mayors, several members of council from each municipality, and several members of the Wake County Commissioners. I was blessed to have members from Cary and Garner at my table including Miss Garner who was the entertainment for the night. It was a great evening and a good way to talk with members from other governments in the county. My lovely daughter Cara attended the event with me.
Tuesday
Tuesday Mayor Pro-Tem Adcock and I met for our quarterly meeting. Since I have been mayor I have met with the Mayor Pro-Tem each quarter to have in-depth discussions on issues and to catch up on information and concerns. While frequent communication is extremely important with all council and staff, in depth communication is essential with the Mayor Pro-Tem so that they will be prepared to take my place at a moment's notice. At this meeting we discussed council-staff communications, technology, and council relationships. Ms. Adcock has tremendous talent and knowledge and is a great asset to Cary. We are blessed to have her as our Mayor Pro-Tem.
Wednesday
Wednesday started with a phone conversation with the Manager of Governmental Affairs for Wake Med Hospitals. She was tasked to call elected officials to make sure they were aware of the story that was about to break on Wake Med paying the government $8 million for false Medicare billing. She was worried that the media would form an opinion and base the story on that opinion. So she sent me a fact sheet which included the following Q&A.
I provide the link in my blog since there is no link and since the media did not provide it. I think it is important to always here both sides of a story. To see the other side of the story go to http://www.wakemed.org/body.cfm?xyzpdqabc=0&id=247&action=detail&ref=281. In my conversation with the representative from WakeMed it was pointed out that in addition to the monetary penalty WakeMed will be monitored for the next several years. They will also have compliance training for their employees.
Later Wednesday I met at town hall to sign documents related to the Revenue Bonds for the new Wastewater Treatment facilities. Afterwards I had a brief meeting with the town manager to discuss the committee for the Cary Community Plan.
Wednesday night I had the privilege to speak to Cub Scout Pack 244 at Peace Presbyterian Church. I talked about what I do as mayor and some of my experiences as mayor. Then I answered questions for about fifteen minutes. Some of the questions included: How much money did I make? Did I have a security detail? Did I live in a normal house? Is it the town's fault for wrecks on roads? Etc. It was a great time and I thoroughly enjoyed it. As parting gifts they gave me a very nice certificate and a bag of caramel popcorn. Yum!
Friday
Friday I had the honor of giving remarks at the opening of Cary's first solar farm. It is the largest public-private solar system in Wake County. Here is an excerpt from my remarks:
"…One of this Council's – and I believe this community's – goals is to be and stay green, which goes beyond litter reduction and beautification. It means being sustainable. This year, our Town government continued to increase its focus on a number of sustainability initiatives with emphasis on cost effectiveness, environmental benefits, and quality of life benefits. Here we stand in the product of our work.

Thanks to state legislative authority, we have spent about a year ensuring that Cary is doing its part in terms of renewable energy. At just over seven acres, this site will harness enough energy to power one of about a dozen smaller neighborhoods in Cary, including Jamison Park which many of you may have passed on your way to today's event. And in being green, our taxpayers are fortunate to be making green. Due to our land lease agreement with FLS Energy, the Town will enjoy a reliable, steady stream of revenue.

Now, as we celebrate a major step in our green initiatives, we also need to celebrate a new day for this site. We've given purpose to this land that otherwise would sit unproductive. …"
The seven acre solar farm will produce 1.8 megawatts compared to 2.3 megawatts which is produce from the solar farm at SAS. The power produced will go on the grid and supply power to what is closest which would be the wastewater treatment plant and nearby neighborhoods. And Cary taxpayers did not pay a dime for construction of this facility and this facility will produce a steady revenue stream for the town.
The town also had many of its other green initiatives on display including electric cars, hybrid cars, and our hybrid trash truck. A point of interest with the hybrid trash truck is that normal trash trucks get about 1 mile to the gallon. The hybrids get about 4.
One new item on display was a solar trash compacter which is installed at the facility. This trashcan/compactor is called the "BigBelly". These trashcans not only hold five times the amount as typical trashcans but can signal a monitoring station when it needs to be emptied. I believe we will see more of these in the future.
Saturday
Saturday I had the honor of participating in the Eagle Scout Court of Honor for Colin Thomas Surra. For Colin's Eagle project he built a much needed shelving and storage system for InterAct of Wake County. Colin was a very kind young gentleman and had a full crowd who loved and respected him including his brother who is also an Eagle Scout.
Emails from Town Staff
In emails from staff it was announced that Cary is one of six American communities that will receive a grant from the Environmental Protection Agency's (EPA) Building Blocks for Sustainable Communities Program. Over the next ten months, four sustainability experts will conduct three-day visits to communities and provide comprehensive recommendations for infrastructure and policy changes aimed at helping the communities build a future that is more resource-efficient, livable, healthy, and environmentally responsible.
Staff also notified council that contracts are being executed for the construction of roundabouts in Cary. Construction should begin in early February. 1200 construction notification letters are being prepared and will go out the first week of January. The groundbreaking ceremony is being planned for January 23rd. More information about the roundabout project can be found at http://www.townofcary.org/Departments/Engineering/Streets_and_Sidewalks/Streets_Projects/roundabouts.htm. The local newspaper ran a story last weekend (http://www.newsobserver.com/2012/12/16/2546307/cary-roundabouts-get-green-light.html). Of course they didn't spend as much time on the fact we were well under budget as they did on the story where we were over budget on the theater.
Emails from Citizens
Emails from citizens included several that wanted me to join other mayors in taking a stance on guns. I did sign a letter to the President and Congress from the US Mayors. It reads as follows:
Dear Mr. President and Members of the U.S. House of Representatives and U.S. Senate,

Again and again and again, Americans are stunned by senseless acts of violence involving guns. Friday's tragedy targeting young children in Newtown is incomprehensible. Too many times this year, mayors have expressed shock at a mass shooting. Even more frequently, many of us must cope with the gun violence that occurs on the streets of our cities.

Through The U.S. Conference of Mayors we have sent our condolences to the victims, their families, and their community. We know that Newtown First Selectman Patricia Llodra and Connecticut Governor Dannel Malloy continue to do everything possible to help the families of those killed and the entire community cope with so much loss and pain.

The Conference has been calling for sensible gun laws to protect the public for more than 40 years. Mayors and police chiefs from cities of all sizes have worked together in this effort over the years.

We urge you to take immediate action: the President to exercise his powers though Executive Order and Congress to introduce and pass legislation to make reasonable changes in our gun laws and regulations. Specifically we call on you to:

Enact legislation to ban assault weapons and other high-capacity magazines being prepared by Senator Dianne Feinstein and others;
Strengthen the national background check system and eliminate loopholes in it; and
Strengthen the penalties for straw purchases of guns.
We know that preventing gun violence – whether it is a mass shooting in a school or a murder on a street corner – will take much more than strengthening our gun laws. We need to reverse the culture of violence in our nation so that a violent act isn't the first response to settling a difference or compensating for a wrong. We support the idea of a establishing a bi-partisan Commission that looks at the broader issues of violence in our country. We need to strengthen and more adequately fund our mental health system so that we can identify troubled individuals earlier and get them the help they need. But strengthening our gun laws should not have to wait for these other actions to occur. The time for action is now!

We believe that with this latest national tragedy and the high incidence of gun violence that continues to plague our streets, we have reached a tipping point. The nation's mayors pledge to work with you to build a safer America for our children and all of our citizens.
There are MANY national initiatives in opposition to guns. I usually do not get involved in national issues unless the issue has an impact on Cary. I believe guns do have an impact on Cary but I also believe mayors should be careful to only take a position and not take a political position. Regarding guns, I do not own a gun but respect a person's right to own a gun. However, I think gun laws should be strictly enforced. In addition, I believe assault weapons should be banned.
Other emails from citizens included a complaint that the teenagers arrested for vandalism should not have their mug shots posted, a complaint about the Carpenter Park staff report, a complaint about the potential for too much development in the town park site, a complaint about construction noise at Davis and High House, and a long complaint that town staff should not be trusted to recommend a committee for the Community Plan.
Unfortunately, this time of year also brings many nasty emails from the same cast of characters around town. Fortunately, this week there were many more emails of best wishes during the holiday season. God bless them all – good and bad!
Get in Touch
Well that is all for this week. My next post will be on Sunday December 30th. Please feel free to email me with a comment. Email all Town of Cary questions or comments to Harold.Weinbrecht@townofcary.org. Email personal comments to augustanat@mindspring.com.
https://carycitizenarchive.com/wp-content/uploads/2013/01/cary-mayor-harold-weinbrecht-1223.jpg
350
600
Harold Weinbrecht
https://carycitizenarchive.com/wp-content/uploads/2020/03/cc-archive-logo-450-v3.png
Harold Weinbrecht
2013-01-01 11:38:49
2016-01-09 11:58:34
Harold's Blog: December 23, 2012