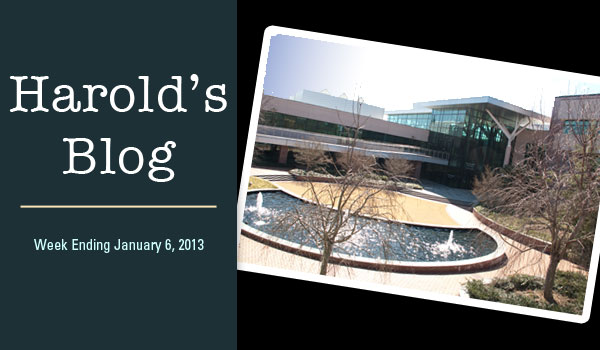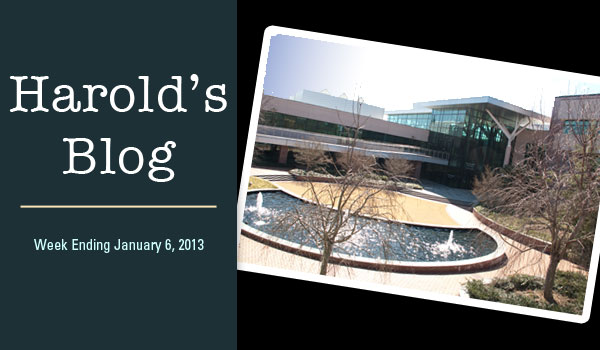 From the blog of Cary Mayor Harold Weinbrecht.
Cary, NC – This week was another holiday week with one meeting and the first live presentation of the State of the Town.
State of the Town
After spending a quiet New Year 's Eve with my wife I spent New Year's Day finishing slides for Saturday's presentation of the State of the Town. I wrote the original State of the Town last November and taped it for Cary TV in December (it will show throughout the month of January). I try and make each live presentation unique so I created a power point for Glenaire and updated the original content.
Confidential Issues
On Wednesday I met with the town manager for our weekly meeting. We talked about several confidential issues which I will talk about at a later date. Some of the issues include the downtown theater, lawyers, downtown marketing, and the Metropolitan Planning Organization.
Glenaire
Saturday I gave the State of the Town address live for the first time. This presentation was at Glenaire and fifty people were in attendance. It was also broadcast throughout Glenaire on their closed circuit TV. The presentation went very well except for a couple of typos on my slides that were pointed out to me by the audience and by a retired teacher (how embarrassing). I very much enjoy visiting with the folks at Glenaire. They are always very kind and very interested in what is going on in Cary.
Emails from Staff
Emails from staff this week included the current plans under review. December included the submittal of the following plans:
128 retirement units next to Cary Town Center
A BBQ restaurant on Kildaire Farm Road
14 single family lots in the Greystone subdivision
38 single family lots in the Lynch subdivision
A baseball field house at Middle Creek High School
59 apartments, retail, and office at Old Apex and Chatham Street
A restaurant at Walnut Street and US1
Security & Schools
Staff emails also included the answer to questions about security and School Resource Officers in Cary schools. Here is the history of our program as explained by staff:
"… The TOC Police Department was a pilot for the DARE Program for Wake County in 1988. The State Bureau of Investigation had oversight for the program and we had two officers assigned to the schools – one full time and one part time. After years of teaching the DARE program a study was conducted of the program and the results of the study caused agencies throughout the state to re-evaluate assignment of their resources. The study basically concluded the DARE program had no impact on children that would likely have never used illegal drugs. The data found that the behavior and choices of high risk students participating in the program were not influenced by the teachings of DARE. After careful review, the Cary Police Department made the decision to reallocate the funds from our full time DARE Officer to a full time School Resources Officer at Cary High School. The DARE Program is now DARE America and the SBI is not involved in the program.

A decision was made by Council in 2003 to add elementary school resource officers to our staffing. Four officers were funded for the program. The officers spent one day a week at each school. After two years in the program there was no data to support the supposition that having SRO's in the elementary schools had an impact on crime in the schools or an impact on the children identified as "at risk youth."  In 2005 the Police Department requested to have the resources for the elementary school SRO's be reallocated to allow for additional resources in our Criminal Investigations Division and in Field Operations. The changes were approved.

We currently have 20 elementary schools that do not have dedicated SRO support.  We have six middle schools and four high schools that are staffed with full time SRO's assigned to each school.  The six middle schools and four high schools in Cary are served by a School Resource Team including ten officers and one lieutenant.  The lieutenant typically ends up rotating to different school assignments as an SRO to fill in for officers that have to be out (e.g. maternity leave, vacation, sick).  Each SRO is assigned a set of elementary schools that they contact at least once each month to check in with them and to see if they would like a site visit or a presentation of some type.  In addition, SROs assist all schools with crisis planning as needed. …"
A Bad Smell
Emails from citizens this week included a smell complaint from a person living across the street from dump. This person wants the town to move the dump or build a big wall around it. Unfortunately this person is a frequent supplier of nasty-grams and in their multiple emails this week they said "Stop washing your hands and blaming lack of money. I know someone else in history that wash his hands when he could avoid a lot of suffering." (Verbatim quote with incorrect English included comparing me to Pontius Pilate)
Other emails included a complaint about Christmas decoration on Kilarney Roads that was creating a safety hazard, a complaint about Cary requiring a fee to go to a park (I asked for clarification as staff and I don't know what park they are talking about), and a complaint about staff's recommendation to extend Cary Parkway past Holly Springs Road.
I received a couple of kind emails this week. One email gave thanks for Officer Budo who helped them when they were lost. Another thanked me for all the town was doing.
This Week
This week I will be back to a typical busy schedule. It will include a work session, a council meeting, staff meetings, events, and the public inauguration ceremony for the governor.
Get in Touch
Well that is all for this week and this year. My next post will be on Sunday January 13th. Please feel free to email me with a comment. Email all Town of Cary questions or comments to Harold.Weinbrecht@townofcary.org. Email personal comments to augustanat@mindspring.com.
https://carycitizenarchive.com/wp-content/uploads/2013/01/cary-mayor-harold-weinbrecht-0106.jpg
350
600
Harold Weinbrecht
https://carycitizenarchive.com/wp-content/uploads/2020/03/cc-archive-logo-450-v3.png
Harold Weinbrecht
2013-01-07 16:15:38
2016-01-09 11:58:34
Harold's Blog: January 6, 2013