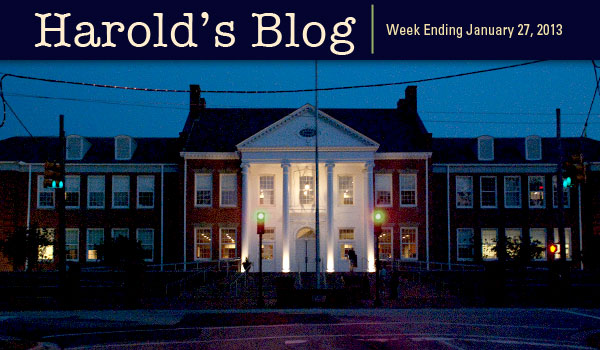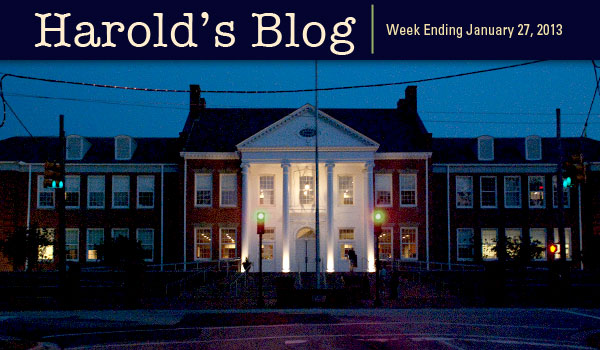 From the blog of Cary Mayor Harold Weinbrecht. Photo by Hal Goodtree.
Cary, NC – This week was busy as predicted with inter-governmental events, the State of the Town address, and a council meeting.
Mayors of Wake County
The mayors of Wake County met for approximately two hours on Monday. Ten of twelve mayors were in attendance. The Mayor of Knightdale and Zebulon had other events and could not attend.
In the meeting the mayors decided to try and schedule a breakfast meeting with the Wake County legislative delegation. It was also decided that municipalities with legislative agendas should bring these items to the next meeting to share.
I introduced the idea of a youth award from each municipality to be endorsed by the Mayors Association. They asked me to flesh out this request and bring it back.
As was the normal, there was a lot of discussion about various items. This meeting had a spirited discussion mostly focused on guns and mental illness. Based on my observation most of the mayors are not in favor of any type of gun control.
The next Mayor's Association meeting will be held in Apex on February 18th.
Signing the Bonds
Tuesday started with signing bonds. In this process the attorneys, financial staff, and the town clerk are involved in the authorization, signing, and notarizing all documents.
I was involved because I am required to sign official documents for the town. In all, I signed about two dozen documents and the entire process took about fifteen minutes.
Setting the Agenda
Later Tuesday I met with town management, directors, legal and administrative staff to review the agenda for Thursday night's council meeting.
Earlier in the day I called council members for concerns or questions they had about the agenda for staff. Since there were no concerns expressed and since staff had no big issues our meeting went fairly quickly.
It was my estimation that our council meeting would be relatively quick as well. I estimated Thursday's meeting would finish by 8:30.
Delegation of State Legislators
Tuesday night the council hosted the Cary delegation of legislators. Attending were Senators Stein and Barringer, Representatives Dollar, Murry, and Hall.
Seated at my table were the newest members of the delegation Hall and Barringer. They both expressed interest in doing all they could to help Cary.
The meeting started with a presentation of Western Wake Regional Wastewater Management Facilities. I followed that up by going over the town's advocacy principles and our legislative agenda. Our position is summarized with the following points:
Tax reform that may be undertaken to make North Carolina's system more equitable, efficient, consistent, understandable, business-friendly and appropriate for a 21st century economy while not negatively impacting the Town of Cary in the short or long-term
Reforming transportation funding formulas to direct highway funds to areas with greatest needs and the most congestion and providing municipal input into state transportation prioritization
Preservation of local land use interest and decision-making in the creation and adoption of a regulatory framework for shale gas development
Changes to ETJ rules that maintain the ability of the Town to plan for orderly, cost-effective infrastructure as development occurs
After my comments each of the legislators made a few comments. It was clear from Representatives Dollar and Murray that there would be significant cuts in certain areas. As a town we hope they will give us a voice in the process and minimize the impact to our citizens.
State of the Town Address
Wednesday morning I gave the annual State of the Town address at the Chamber of Commerce Breakfast. There were about 150 people in attendance.
I had prepared a PowerPoint as a visual aid while I spoke but due to a power outage and a subsequent related audio-visual issue I was not able to use it. So I gave the address as I had in the past. The Chamber did put the power point on their web site and it can be viewed a thttp://www.carychamber.com/carychamber/files/33/33576486-e816-47e4-b668-fb67ffe5d441.pdf.
I give the address several times each year. Every time I give the address I update my comments to provide the latest information. Since the council's retreat last week I had a lot of new information.
My presentation seemed to go well until the battery in the microphone went out about halfway through. I then waited a few minutes and decided to proceed (speaking much louder). The microphone was replaced in a matter of minutes and the rest of the presentation went without a hitch.
I am grateful that the Chamber allows me the opportunity to speak to our business leaders about past events and future goals for Cary. They are one of the key components in making our town great.
Boy Scouts
On Thursday evening before the regularly scheduled council meeting I met with boy scouts from Genesis United Methodist Church who were working on the Community Service Merit badges. I explained my duties, went over the upcoming agenda, and answered questions.
Town Council Meeting
Afterwards the council held our regularly scheduled meeting which had three main issues on the agenda.
The first issue was the repeal of the APFs (Adequate Public Facilities Ordinance) which was postponed until our first meeting in February.
The second issue was a rezoning on Old Apex Road from residential to multi-family. This rezoning had a valid protest petition which would have required six out of seven council members to approve. My guess was that it would have failed miserably if it came to a council vote. So the applicant wisely withdrew the rezoning before the meeting. Because they withdrew the application they will have to start the entire process over (which could take six months). Since the rezoning was withdrawn it was removed it from the agenda.
Our third issue was the Howell rezoning at Davis Drive and Farm Pond Road. There were good points made on both sides but in the end the council felt it was not a transitional zoning and was out of character with adjacent properties. Because that rezoning failed they will have to wait a year to reapply.
The remainder of our council meeting went smoothly and we adjourned at 8:21 which was close to the 8:30 I predicted.
The Bowden Case
In emails this week the town received notification on the Bowden Case.
This is the case where the individual used the side of his house to display a message which violated the town's sign ordinance. Then the ACLU sued and won at a district court.
If this decision stood the town would have to eliminate all regulations on signs OR regulate all Christmas decorations. Of course that was an absolutely ridiculous ruling and the town appealed to the Federal Court of Appeals.
Fortunately, common sense prevailed. The Court noted that our ordinance "places reasonable time, place, and manner restrictions only on the physical characteristics of messages," and that it "'leaves open ample alternative channels of communication' by generally permitting residential signs subject to reasonable restrictions."
As to whether Mr. Bowden's sign was "public art" or a holiday decoration exempt from the ordinance, the Court stated that such an argument "defies common sense," and that "Bowden cannot reasonably contend that his sign was 'intended to beautify' or was an 'observance' of a holiday."
[Begin editorial about newspaper coverage of this case…]
I am very glad that this case is over. I am very disappointed with the local newspaper for printing half-truths and misleading information during this case. They also ran the story several times giving the impression that we lost it more than once. Unfortunately for the citizens they serve, they never printed all the relevant information.

Here is a summary of what happened the way I understand it. The individual bought the house with existing water damage, trees growing out of the gutters, and a sump pump under the house that was not functioning. The town widened the road in front of his house. He claimed the town caused water damage. The town offered to fix any issues even though they were preexisting. The homeowner said no and insisted the town buy his house. The town refused so he painted "Screwed by the Town of Cary" on the side of his house. The town's sign ordinance will not allow you to use your house as a billboard. The town asked him to put his message on a sign in his yard. He refused. The town notified him he was in violation of the sign ordinance and could be fined even though he was not fined. He along with the ALCU sued the town for first amendment freedom violation. A district court agreed because the town treated Christmas decorations differently. If the town did not appeal then the town would have to abandon its sign ordinance which would allow anyone to use their house as a billboard (including lights shining in your bedroom) and the town would have no recourse. OR the town could regulate Christmas decorations which is absurd. So the town sued in a Federal appeals court and won. In my mind common sense prevailed.

I think it is sad that the media (for the most part – excluding Cary Citizen) would not print all valid information, would not investigate allegations, and formed an opinion right from the start that Cary was in the wrong. I commend the town staff for all they did to protect our citizens and the highest quality of life in the state.
[…End editorial about newspaper coverage of this case.]
The Town is pleased with this ruling, which overturns the district court's ruling against the Town and also overturns the award of attorney fees.  Mr. Bowden's estate may choose to petition the United States Supreme Court to hear this case; however, the Supreme Court only accepts a small number of cases for review.
Staff Emails
Emails this week included information from council member Robinson on the NC League of Municipalities Advocacy Goals which the town voted on. Here are the items that the town supported:
Support legislation to develop a holistic approach to water supply that offsets potable water supply demands and includes: opportunities for increased water storage options, reclassification of reclaimed water as a resource, and expanded uses of reclaimed water such as for recycling to surface water supplies
Seek legislation to include municipalities and utility authorities and commissions in the permit approval process of package wastewater treatment plants to be constructed within town boundaries or within the periphery that will negatively affect the town's infrastructure, and authorize municipalities to veto an application for a package wastewater treatment plant to be located within the municipality, upon a showing that a municipal service is available to the area or will be within five years.
Seek legislation allowing people to vote on an amendment to the North Carolina Constitution establishing Home Rule authority for municipal governments.
Seek legislation to give municipalities the option to use electronic legal public notices in lieu of publication in a newspaper.
Support legislation, if internet sweepstakes operations are legalized, that would expressly protect the land use decision-making and tax-levying authority of municipalities over said operations.
Support legislation which defends the fiscal integrity of the Local Government Employees' Retirement System and its defined benefit structure, promotes reasonable pension reforms that are prospective in nature, and meets the needs of local employees, employers, and retirees.
Protect local authority and localities' powers to regulate hydraulic fracturing and related infrastructure in their communities.
Seek legislation to provide adequate representation for extra-territorial jurisdiction (ETJ) residents on advisory boards for land use decisions affecting ETJ areas, place reasonable limitations on the creation of new ETJ boundaries, and retain existing ETJ areas to help protect orderly development and building improvements, while facilitating economic development and protecting individual property values.
Seek legislation to strengthen the law regarding municipal decision-making authority of water and sewer provisions beyond municipal limits and ensure the existing water and sewer system is given deference in order to support orderly growth.
Oppose legislation that weakens or removes local control over public utility systems, specifically including municipal water and/or sewer systems.
Seek legislation to modernize the local tax system by:

giving municipalities the authority to levy a sales tax that applies within their corporate limits and is solely a municipal revenue;
expanding the sales tax base to include more services, provided that any accompanying change in the local sales tax rate includes a perpetual hold harmless provision for individual cities and towns;
reducing the complexity and inequity of the privilege license tax while maintaining the tax as a locally controlled source of revenue that supports services to businesses and consumers;
allowing all municipalities to adopt occupancy taxes that are available to fund municipal service and infrastructure costs in order to support travel and tourism;
providing all municipalities with additional local option tax revenue sources;
Requiring a one-year delay in implementation when a county changes its method of distributing sales tax revenue.
All of these will be in the League's agenda except the goal dealing with local governments maintaining their ability to regulate site design guidelines which did not make it to the final agenda.
Mailbag
Emails from citizens this week included complaints about rezonings being proposed, a suggestion for the Hometown Spirit Award, a complaint about the town defending its sign ordinance, and a complaint that we are growing too fast.
This Week
This week will be a relatively light week consisting mostly of private meetings.
Get in Touch
Well that is all for this week. My next post will be on Sunday February 3rd. Please feel free to email me with a comment. Email all Town of Cary questions or comments to Harold.Weinbrecht@townofcary.org. Email personal comments to augustanat@mindspring.com.
https://carycitizenarchive.com/wp-content/uploads/2013/01/cary-mayor-harold-weinbrecht-0127.jpg
350
600
Harold Weinbrecht
https://carycitizenarchive.com/wp-content/uploads/2020/03/cc-archive-logo-450-v3.png
Harold Weinbrecht
2013-01-28 16:01:35
2016-01-09 11:58:34
Harold's Blog: January 27, 2013