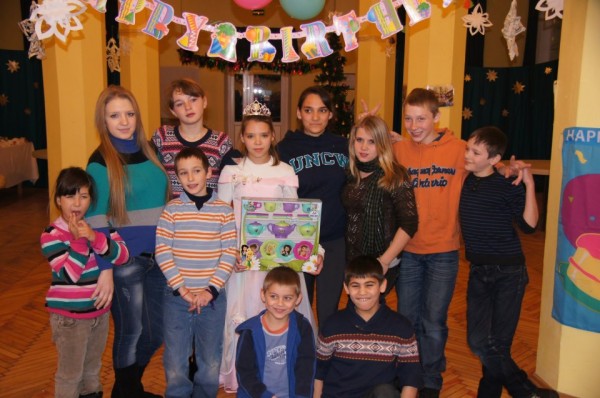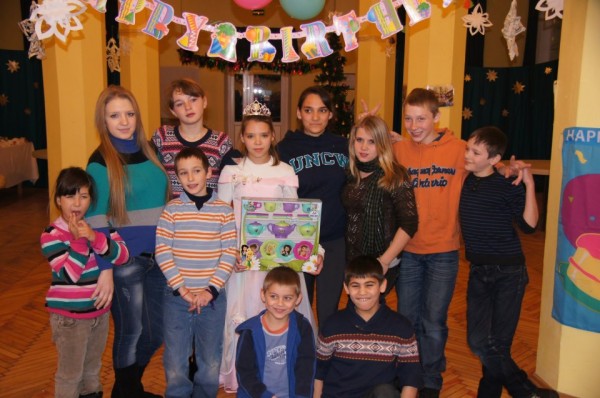 Story and photos by Emilie Mathura, 2012 graduate of Green Hope High School, who is currently working 9 months in the Ukraine at an orphanage called The Ark.

From Cary, NC to Kiev, in the Ukraine – Kiev, the bustling capital of Ukraine, is home to 2.6 million people and thousands of homeless children. Marshrutkas (large vans), trams, and buses teem with people on their way to work, while babushkas (old ladies) fill every street corner selling anything they can to make ends meet. The heavy sounds of Russian filled the air as I struggled through the airport searching my bag for my passport and making my way to customs after landing in the Ukraine.
The Ark
I had finally arrived in Kiev, my home for the next nine months, and what was planned to be a great adventure started with days of sleep and nights without. After visiting Ukraine for a week in the summer of 2010, and again in 2011, I found myself back in this country that seemed to be forgotten by America.
I would be working and living with the children of The Ark following a call from God and the incessant need to give back to these children. They had so little, while I lived in a paradise we call Cary, NC.
The Ark is similar to what we call a group home in America.  Some of the children are orphaned while some have families who can't manage to provide for them. Many of these children received verbal, physical, and even sexual abuse from their families.  A story I will never forget is one of a little boy who had just arrived at The Ark after officials found bruises in the shape of a clip from a dog leash on his frail body. When he was receiving his orientation, his only question was, "Is anyone going to hit me here?"
The Ark takes its name from the story in the Bible about Noah and his Ark. The Ark was named to be a place of refuge from the dangerous world that these children faced in their own homes.
Loneliness With a Purpose
In a place where I couldn't understand myself and neither could anyone around me, I wasn't alone.  Joy came not from seeing happy children all the time, but from being the one who could wipe their tears and make them smile. It was because of this valley in my life that I could understand the way the children felt. The depression and feelings of being purposeless were absolutely crucial to my work here. Away from my family and feeling as though I was worthless, was exactly what I needed to begin to empathize with them. It was a painful blink into their lives and their hearts and it was a time that, today, I am so thankful for.  The comparison between their situation and my own helped me understand that when they said they wanted their mommies I could truthfully reply, with the same longing in my voice, "me too."
The change came on one cold snowy night where one of our younger girls caught sight of me from across the property and started toward me. She ran as fast as she could, tripping twice along the way, and screaming my name in her heavy Russian accent, "EMILYA, EMILYA, SHASS [wait], EMILYA." When she finally got to me she jumped into my arms and didn't say a word. She didn't have to. The bond we shared brought tears to my eyes and was the simple solution to my frustration and fear. I would be lying to say that I didn't face trouble and sadness after that but she was the perfect reminder of why I had come to Ukraine in the first place. She was the shift I needed to forget about my needs and for a moment let my only purpose be to provide for her, to keep her feet from touching the ground and her heart from knowing anything but love.
Prevent Language From Being a Barrier
As the days crept by, I made it my personal mission not to let the language barrier define my limits here. I knew I had many things to offer including years of gymnastics training. Oddly enough, I chose to teach dance. The kids loved hip hop and wanted me to teach them.  I'm not a choreographer, or the world's best teacher. I choreographed a few eight counts only to be completely lost because I couldn't count fast enough in Russian. Nevertheless, dance classes became a fun game of "monkey-see monkey-do" and the kids' talent covered my weakness as we finally learned the whole dance. It reminded me that I didn't need Russian to love the kids.
Home For Christmas
Just as I began to get the hang of Russian it was time to go home to Cary for the Holidays. A missionary's nightmare, the holidays can be a time of greed and frustration. After leaving a place where some children were happy to get three square meals (three children had just arrived after being carried unconscious from their home because their mother decided not to feed them for over 2 weeks). It was almost unthinkable to spend money to give something meaningless to others when you have seen the impact that comes from simply spending time with a person.
During my time at home I remembered my lonely months. I soaked up every second I spent with my friends and family and would have traded every gift for just a little more time with everyone.

New Year's & Christmas at the Ark
I made it back to Ukraine just in time for New Year's Eve, the most largely celebrated holiday in Ukraine.  I had to fight jetlag just to get to midnight with the kids. Playing games and watching movies, we kept ourselves occupied until midnight came. We ate Jell-O with Poprocks on top and when the clock finally struck twelve we ran out onto the front step and yelled at the top of our lungs, "SNO-VI GODE-OM, SNO-VI GODE-OM! [Happy new year! Happy new year!]" I can't explain to you why I felt this way, but that was one of the best moments of my life.
Christmas was up next on January the seventh. Since Ukraine celebrates according to the Julian calendar (they celebrate Russian Orthodox holidays), I had a never ending holiday. All of the gifts were donated by a church in North Carolina and we took our time to divide up the gifts as evenly as possible, we packed up the stockings with each containing about $25-30 worth of gifts.
On top of that, I put together a prayer buddy program where each child had two people praying for them in America and they each received pictures of their buddies. They were astounded by the friends in America that cared about them.
I started to wonder about the Christmases that were behind them and I wondered how many of them had toys to call their own.  I was thrilled to watch the miracle of children who had nothing look like they owned the world. At the end, one of the children who was starved at home came up to one of our directors and said, "That was the best Christmas ever. I love you." I couldn't agree more. After all of the children went to sleep we looked at each other with tears in our eyes and agreed, "nothing beats that."
Good Good-byes
Even though it has only been a few months here, I have seen children come and go. It is always sad to tell them goodbye because they have become like my own. The whole process seems like such a miracle as they quickly make friends and begin to change. Many of our children have grown up so much in the short time. Children have gone from kicking and screaming everyday as they get ready for school to helping others get ready. They start out using The Ark for food and a safe place and end up being a vital part of the family that we have created here.
Where would they end up? Would anyone ever get to know their true personality? The one that comes out when they no longer have to survive and they are given the opportunity to live.
Russia Outlaws American Adoption
Recently, Vladimir Putin (President of Russia) signed into law a bill banning all Russian adoptions to U.S. parents. There are many explanations as to why he might have done this such as in retaliation to the Magnitsky Act that was signed in 2012 to call Russia on violating human rights. Putin claims that the ban will give Russia a chance to reform its adoption system as well as promote domestic adoptions.
I can only hope and pray, in protection of my children here, that Ukraine does not follow suit. No matter why he did it, after seeing so many successful U.S. adoptions from the Ark, it breaks my heart. The children who once had no future and no one to call their own are now going to college and getting jobs. Every day the children here ask me if I know anyone at home who might want to adopt them and they even fight over calling spots in my suitcase. Their longing for a family, no matter the nationality, is overwhelming. While society and the families they were born to have already robbed these children of a future, this new law would take away the source of one-third of Russian adoptions.
This law further illuminates the fact that politics is a game played by the rich with the poor as their pawns. I can't imagine the devastation of the fifty plus adoptions that were in progress when the law was signed.  These parents and children have already become a family. The law will force at least fifty children to relive the agonizing past that they had once overcome. They will lose their family, all over again, but this time with their family, they lose their future.
Hope and Thanks
Thus far, the time I have spent with the children of Ukraine has revealed the ever-growing flaws of this world. I have seen children that are caught in the loopholes of society. Although these truths can weigh down on your shoulders, these children have also shown me hope. They have become so much when the world expects so little of them. The children have taught me how to love when no one has loved them first and they have taught me to be thankful when they seem to have nothing to be thankful for.
I am especially thankful to everyone who made my time here possible including my parents and my church. I hope that you all will remember the children of Ukraine in your thoughts and prayers; and that the piece of the world that has been placed in your hands, however small it might be, will be left better than you found it. The responsibility of changing the world is no one's but our own and the moment we stop passing the responsibility, will be the moment we will get to participate in the miracles that can surround us.
Find Out More
To find out more about Ukraine and my time here, donate to The Ark, or just get in touch, feel free to email me at emilielauren12@bellsouth.net and to read my blog: emspiringtheworld.blogspot.com
https://carycitizenarchive.com/wp-content/uploads/2013/01/430011_10151353964323058_1786139137_n-e1359224503721.jpg
398
600
Lindsey Chester
https://carycitizenarchive.com/wp-content/uploads/2020/03/cc-archive-logo-450-v3.png
Lindsey Chester
2013-01-29 12:26:11
2016-01-01 18:47:14
From Russia With Love (and Faith)