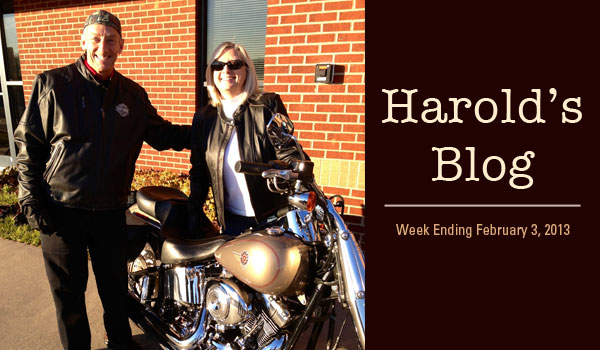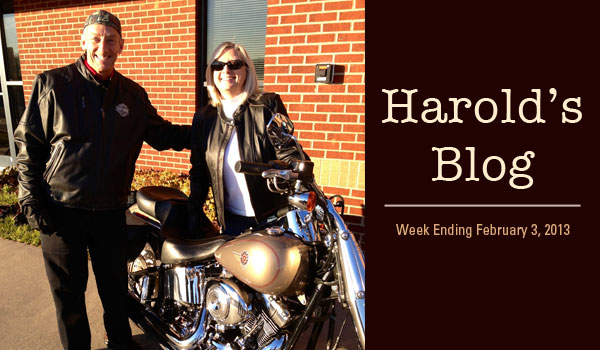 From the blog of Cary Mayor Harold Weinbrecht. Photo courtesy of Harold Weinbrecht.
Cary, NC – This was a slow week for me as mayor. It consisted mostly of staff meetings.
Monday: Town Clerk
Monday I met with the town clerk for our mid-year one-on-one meeting. The purpose of this meeting was to make sure the clerk department is meeting expected needs and to discuss new initiatives. We talked for over two hours and I will soon be bringing ideas from this meeting forward to the council and to the Mayors Association.
Tuesday: MacGregor Downs
Tuesday I had the privilege of meeting with the President and Membership Chairman of MacGregor Downs Country Club. MacGregor Downs is filled with tradition and history and it was great to visit the club and learn more about this great club and neighborhood in Cary.
Wednesday: Technology
Wednesday I met with council member Bush and a close friend to talk about technology. We are excited about the direction the town is moving. We discussed ways to help move ideas forward and how that process is different from the corporate process.
Thursday: Town Manager
Thursday I met with the town manager and assistant to the town manager. In our meeting, which lasted a little over an hour, we discussed legislative issues, the downtown opportunity site, the downtown theater and the surrounding area, and technology.
Friday: Wearing the Leather
Friday I headed over to Life Experiences to do a photo shoot with Mayor Holcombe of Morrisville for their upcoming fundraiser.
Life Experiences, Inc. is a nonprofit organization is a business which provides fulfilling employment for adults with developmental disabilities, allowing them to function as independent, productive citizens of the Triangle. Our photo shoot had the mayor and I dress up as bikers complete with doo-rags and leather jackets. The session lasted about fifteen minutes.
Friday: Talking Politics
Friday night I attended a Mayors Association outing at the Carolina Hurricanes game. In addition to watching the Canes shut out the Senators we talked a lot about local politics. The main topics of discussion were outgoing School Board member Goldman and Morrisville council member Rao.
I had the weekend off and enjoyed spending time with my wife and youngest daughter who was home for the day. My only activity was helping a neighbor cut and remove a large tree that had fallen from the storms earlier in the week.
Emails from Staff
Emails from staff this week included the 2012 4th Quarter report. Here are some highlights from that report:
Aquastar is performing as expected and is saving the town and citizens money. The website for citizens should be finished by March.
Western Wake Wastewater Management Facilities' eight major contracts are under construction and on schedule.
The Cary/Apex Water Treatment Facility placed 2nd in the Annual Best Tasting Water Contest at a State Conference in Raleigh in November.
During 2012, annual average water demand was 16.6 million gallons per day, which is 0.6 million gallons per day lower than annual average demand in 2011.
The design for our water plant expansion is about 90% complete.
The north and south Cary wastewater plants continued performing exceptionally well in treating wastewater to high levels of nitrogen and phosphorus removal. During the fourth quarter of 2012 total nitrogen was reduced by 96% and total phosphorus was reduced by approximately 95%, much better than required by State permits.
During the 2012 calendar year, the south Cary wastewater plant thermal biosolids dryer produced a total of 3,350 dry tons of pellets to be sold and reused in the environment as a fertilizer product.
In 2012 the town collected 1,576 gallons of oil in 640 curbside collections that were recycled into biofuel allowing the town to receive $1.50 per gallon for the waste cooking oils.
In December the Town held a ribbon cutting to celebrate the commissioning of a 1.8 megawatt solar photovoltaic system on town property. The seven-acre site, located on Town property adjacent to the south Cary wastewater plan, can provide energy for close to 200 homes.
As of January 1, 2013, the Town of Cary's population was estimated at 143,728, an increase of 2,596 people or 1.84% in the last year.
During the 4th quarter 227 new single-family dwelling permits were issued, up 13.5 % over the same period last year.
Over the past 12 months the average home size and value continue to trend downward. However the square footage is showing signs of leveling-off.
Cary issued 20 % of all single family permits in Wake County in 2012.
Utility consumption for the first half of the fiscal year was 3% less than the same period last year.
The WakeMed Soccer Park Expansion Project is complete. This project consists of a new team facility located on the east side of the stadium and 3,000 new seats bringing the total seating capacity to 10,000.
The total economic impact from the WakeMed Soccer Park was $2,100,000 in 2012.
The total economic impact from USA Baseball was $2,480,000 in 2012.
The total economic impact from the Cary Tennis Park was $1,800,000 in 2012.
Cary Teen Council membership reached 739 participants and provided 1,775 volunteer hours generating a potential labor cost savings of over $35,000.
Chickens became an allowed use in 2012. So far animal control has received 8 calls.
The Town of Cary was named a 2012 North Carolina Outstanding Traffic Safe Community by AAA Carolinas Foundation for Traffic Safety.
The report had over 30 pages of information.
Mailbag
Emails from citizens this week included one from an individual who, for years, has complained about the town's automated meter system, how it will lose money, and will cause cancer. Of course, those claims were false and ridiculous. In fact the town is projected to save $10 million with automated meters and eliminate thousands of leaks. Now this individual is fixated on the downtown Cary Theater and has started another Letter to the Editor campaign. And of course the local newspaper, not wanting to miss another negative opportunity, prints his letters. I just hope on day they will print positive letters about the town OR even acknowledge they were wrong about things they print (e.g. the Bowden case). Whatever happened to fair and balanced?
In other emails a citizen complained that we are growing too fast (1.84% last year). Another email complained about the fire sculpture downtown. The rest of emails from citizens were invitations to various events and thanks for attending other events.
Next Week
Next week will be another slow week and will include an event and an Eagle Scout ceremony.
Get in Touch
Well that is all for this week. My next post will be on Sunday February 10th. Please feel free to email me with a comment. Email all Town of Cary questions or comments to Harold.Weinbrecht@townofcary.org. Email personal comments to augustanat@mindspring.com.
https://carycitizenarchive.com/wp-content/uploads/2013/02/cary-mayor-harold-weinbrecht-0204.jpg
350
600
Harold Weinbrecht
https://carycitizenarchive.com/wp-content/uploads/2020/03/cc-archive-logo-450-v3.png
Harold Weinbrecht
2013-02-04 16:15:42
2016-01-09 11:58:34
Harold's Blog: February 3, 2013