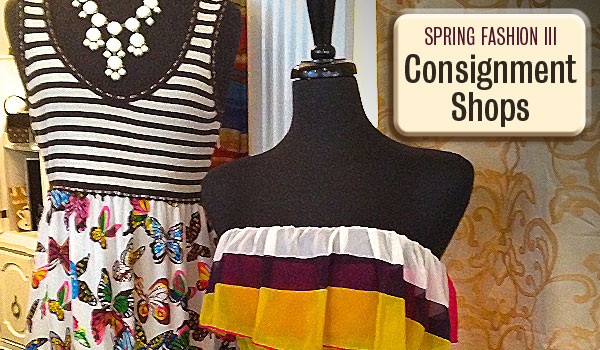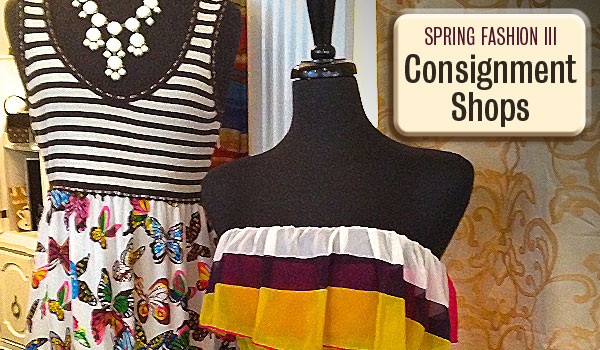 Story and photos by Lindsey Chester, a 15-year veteran designer of women's sportswear
Cary, NC- In my previous Spring 2013 Fashion Reports I have focused first on what the fashionistas were saying was coming, and then I hit the area indy boutiques to see what they were actually selling. In this installment I visited the local consignment stores to see how they interpreted the trends for women who want designer fashion on a budget.
One woman's cast-offs are another's lucky find. When you shop in consignment stores, for the most part, you will be hunting for a one of a kind find. If the store has an item, it is usually just the one piece that has been brought in from a woman who is no longer in love with it. The consignment store makes sure it is a recent style, has no stains, rips, or other problems, steams it, and then prices it (usually at least half off the original retail price or less!).
We are lucky here in the Triangle, three area consignment boutiques focus on upscale designer fashion with names you will recognise and styles you will want to hang in your own closet.
Do They Have This Season's Must Haves?
To recap on what will be big trends this Spring: Lace and Ladylike, Tribal and ethnic prints,  Graphic Black and White in hi tech fabrics. Hottest colors: Blue Mint (or teal) and Coral.
I visited Dress in Raleigh's Ridgewood Shopping Center.  This store also takes in overstocks from area designer boutiques  which didn't sell at full designer prices. Some of these items may be available in a range of sizes.
Dress looks only for certain labels and they must be recent styles. Owner Pam Liebling Mullaney showed me around the boutique which included a large selection of designer handbags, cute accessories, jewelry and shoes along with racks of tops, dresses, skirts, pants organized by color. She even has a section of evening gowns (look for a Prom story coming soon!). Her shop is decorated to look like it would fit right in with SoHo boutiques in lower Manhattan and the styles shown here would too.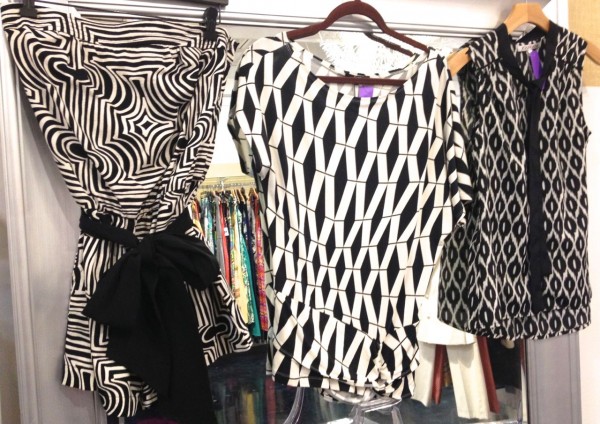 The Trends Found at Dress
I saw plenty of graphic black and white in eye catching tops, a romper and dresses. Tribal prints were looking great in skirts and maxi-dresses. What I did not see, was the lace trend that folks at other retailers have been raving about. There was some lace trim and embroidery, but none of the head-to-toe lace looks I reported on earlier this season. The dress pictured below had just arrived and the sales folks couldn't wait to pair it with a bright chunky necklace and pop it on the store mannequin. These lively colors were evident throughout the store.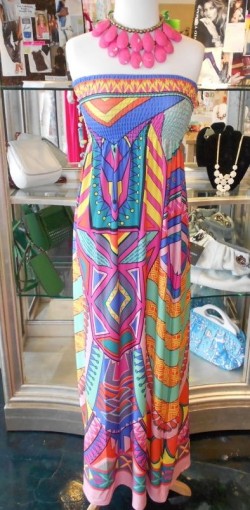 The store was chock full of bright colors with the season's dominant teal blue and coral leading the way. Designers that you will see here include Tory Burch, Marc Jacobs, Lilly Pulitzer, Diane Von Furstenburg, Nanette Lepore and other brands that have a decidedy fresh appeal and all priced considerably less than in department stores or first run designer boutiques. Mind you pricing is not $19.99, but these are designer items, which at Dress will retail anywhere from $70 and up. Check out their facebook page or Instagram feed which are both constantly updated.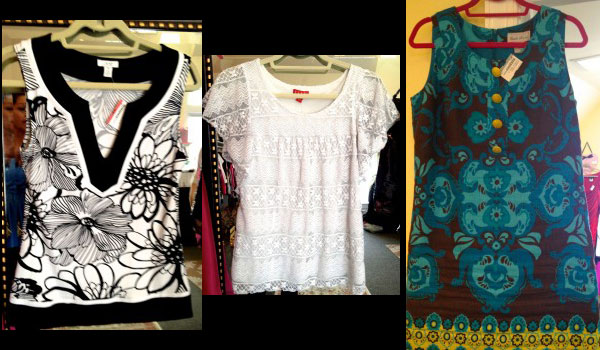 Trends In Downtown
At My Girlfriend's Closet in Downtown Cary, I found the major trends at affordable prices. The Lady-like trend was apparent in several lace tops and a dress. Tribal was still going strong in the shift dress pictured above. Here pricing is more moderate, with most tops retailing for under $50, and there are always ticketed items on sale as the store brings in newer clothing, it marks down the older stock.
Graphic black and white items were strong here and always sell well.  Shop owner, Ashley Hendricks, said her brighter colored pieces surprised her by selling well -which was new for the shop. She added that anything by Lilli Pulitzer she simply can't keep in the store.
This store also carries original fun jewelry as well as belts, handbags and shoes. Major labels include Lilly Pulitzer, Trina Turk, Limited, Nanette Lepore Banana Republic, BCBG, Ralph Lauren, Michael Kors and Loft.
Adore Yourself
Over in Preston, Nancy Alinovi owner of Adore, carries many truly upscale designer brands including, Manolo Blahnik, Hermes, St. John, Armani, Gucci, Chanel, Nanette Lepore, Louis Vuitton, Michael Kors, Marc Jacobs, Pringle of Scotland, Missoni, Burberry, Liquid, Escada and Christian Dior. Nancy has a second location that she opened in North Raleigh.
Adore has been my "go-to" spot for years when I need a summer skirt or a pair of dress pants. I even purchased a wonderful gown last year for the CVA art ball that was a big hit.  Its as if my twin is living somewhere in Cary, who casts off her clothes just as I feel the need for a wardrobe update. Whoever you are out there -Thank you!
This season Nancy says her customers are loving bright- and they started buying early. "Maybe its the economy. Everyone is sick of all the bad news and is ready for something a little happy" Nancy said. Not lace for her ladies, but plenty of pink, and bold stripes in maxi dresses with hi – low hemlines. And several eye-catching black and white prints looked great now but could span the season through summer.
Adore is tucked into Preston Corners, near everyone' favorite La Farm Bakery and the location has been great. The store is chock full of prom gowns and young ladies have been shopping in earnest in March.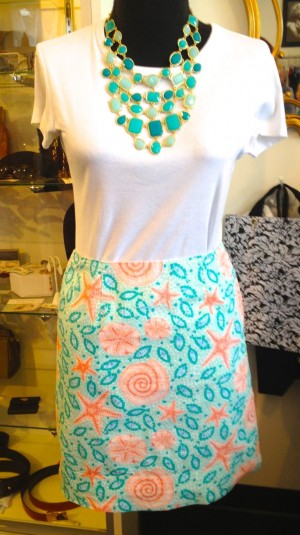 Best brands have been Tory Burch and Lily Pulitzer for the somewhat more conservative  Cary crowd. The little skirt above hits all this season colors and you can buy it for less than $50- for Lilly Pulitzer! Who wouldn't appreciate a deal like that?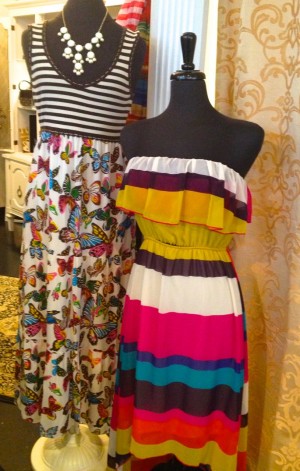 Dresses are winners at Adore.  Skirts do not sell as well – the thinking being that a dress is so much easier than having to coordinate a matching top. Women also come looking cute trendy tops that can dress up a pair of jeans. Adore sells oodles of accessories : chunky necklaces are selling great,  priced around $30. If you aren't ready for a bright dress, a shot of color in an eye-catching coral necklace will update any outfit this Spring.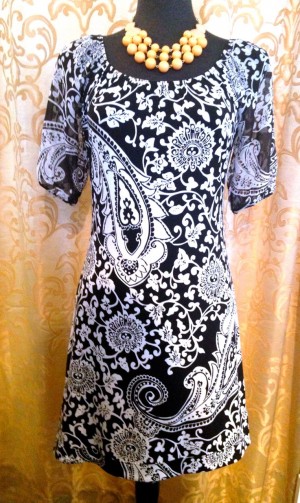 Adore had this cute dress from White House Black Markets and it summed up what really caught my eye in the store. Trendy, but easy care looks that can go from day to dinner. Not too dressy, but also not super casual. This dress was a wonderful knit that could be thrown in the washing machine and worn all summer. For less than $100, you too can find designer looks at very moderate prices.
Shop consignment and enjoy one-of-a-kind looks this season.
——————————————————————————-
Fashion coverage on CaryCitizen is sponsored in part by Adore Designer Resale Boutiques.
https://carycitizenarchive.com/wp-content/uploads/2013/03/spring-fashion-3-cary-nc.jpg
350
600
Lindsey Chester
https://carycitizenarchive.com/wp-content/uploads/2020/03/cc-archive-logo-450-v3.png
Lindsey Chester
2013-03-25 13:19:31
2016-01-01 18:47:18
Spring Fashion III: Consignment Shops