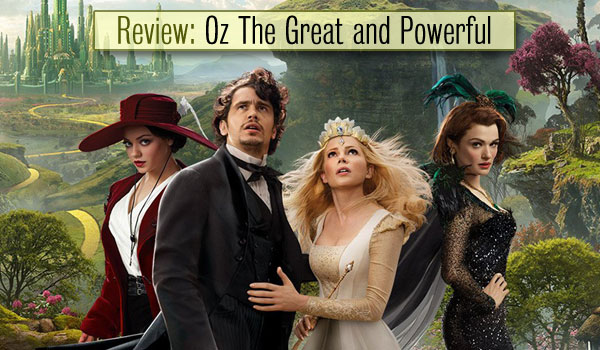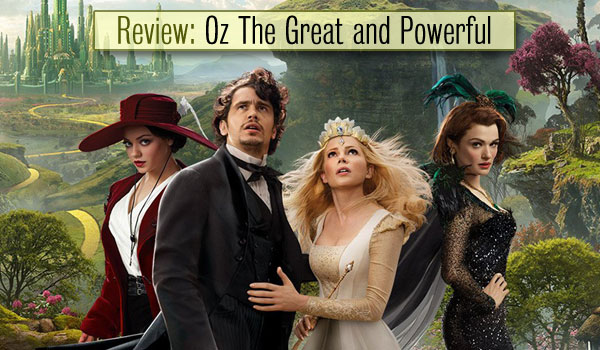 film review by Jordan Hunt for CaryCitizen.
On the surface, Oz: The Great and Powerful looks like another 3D cash grab from the Walt Disney company, who just 3 years ago released another adaptation of a very famous children's book with Alice in Wonderland. That film, like Oz, was also frontlined with a ridiculously famous director/actor combo and went on to gross $1 billion worldwide.
Despite such success, Alice left a bad taste in audiences' mouth, and the studio has struggled in getting a sequel going. And so, with its previews shouting "From the producers of Alice in Wonderland" and closely mirroring the heavy CGI landscape of Alice, I was completely prepared to be bored and disappointed with Oz: The Great and Powerful.
Thankfully, and much to my surprise, I was completely taken aback when Oz turned out to be quite good.
Oz -The Prequel
Acting as a prequel to the classic 1939 film The Wizard of Oz, this new film shows us just how exactly that silly old man behind the curtain became the wonderful wizard of Oz. Played by James Franco, who previously worked with Oz's director Sam Raimi on the enormously successful Spider-Man trilogy, he's  just right here as the title character.
At the beginning of the film, he is performing a magic show with a traveling circus in Kansas. Despite being a pretty decent magician and having his own show, Oz has dreams for bigger and better things as well as hopes for becoming a truly great man.  But he  can't quite seem to find the self confidence to go for those dreams.
Franco does a great job of displaying the kind of showmanship that would be required of a magician back then. He also exhibits the conniving con-man attitude that eventually allows him to convince the good people of the Emerald City that he is indeed the wizard that can defeat the Wicked Witch of the West. It's a role that can make or break a film like this, and Franco delivers a genuinely entertaining performance.
The Witches
And speaking of witches, Rachel Weisz, Mila Kunis and Michelle Williams all do good work as the three sister witches of Oz, with Williams in particular glowing as Glenda the good witch.
Theodora, played by Kunis who is best known for That 70's Show and Family Guy, also has a bit of a fine line to walk and despite a few iffy line readings also turns out to be a lot of fun to watch as the character of Oz causes more and more problems for herself and her sister's current rule over the city.
 3D Land of Oz
Enormous credit goes to the films' director Sam Raimi, who manages to create an Oz that feels new and familiar at the same time, and really brings a sense of wonder that flows throughout the entire film. Raimi particularly has fun with the film's use of 3D, happily throwing anything and everything he can at the audience.
I'm not a huge fan of the 3D format myself, but when a director of this caliber makes it a point to use it, I like to give it a shot.  Here it does little more than add an extra dose of fun to an already fun movie, which is never a bad thing, but also suggests that you'd have just as good a time seeing it without the extra dimension.
Powerful, Yes. Great?
If you were on the fence about Oz: The Great and Powerful, I think you'll be pleasantly surprised by how much the story actually draws you in. As for fans of the original classic, keep in mind that Oz doesn't quite reach the greatness that the original does, but there is still plenty to enjoy.  I for one look forward to another trip to the world that Disney and director Sam Raimi have brought back to life.
https://carycitizenarchive.com/wp-content/uploads/2013/03/oz-the-great.jpg
350
600
Community Contributor
https://carycitizenarchive.com/wp-content/uploads/2020/03/cc-archive-logo-450-v3.png
Community Contributor
2013-04-01 11:32:34
2013-04-01 11:32:34
Movie Review: Oz The Great and Powerful