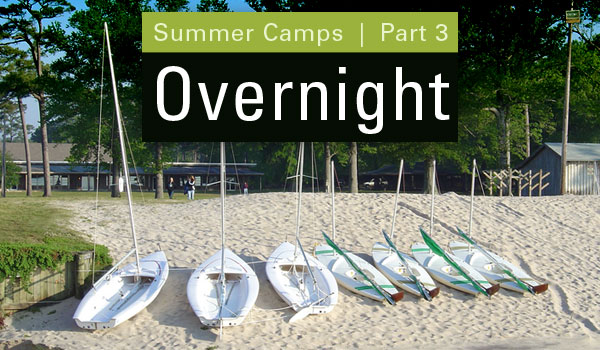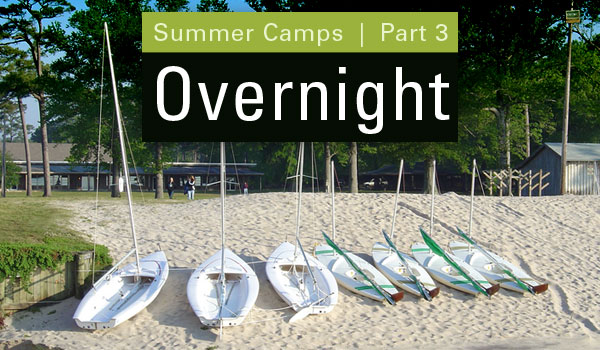 Story by Lindsey Chester. Photo by Seth Youngblood.
Cary, NC – This is the last in our  3-part Camp Series for school age children. This story focuses on overnight camp options in our area.
We are fortunate in the Triangle to be near the beach and the mountains as well as several universities.
Depending on the types of activities your kids prefer will determine what and where provides a good fit. If your child likes camping and hiking, the Y and the Girl Scouts have great options. If they like surfing and marine life, UNC-W has a great location at the beach. Do they enjoy gym sports? Head to NC State where cheerleading, basketball and gymnastics are taught by college team athletes.
College Campuses
NC State University, Raleigh
Gymnastics- one week (5 day) sessions offered where competitive gymnasts can hone their skills pre-season. Run by NC State gymnastics coach Mark Stevenson and his wife Joyce. Athletes stay in University Towers and work out in Carmichael Gymnasium.
$525/ week.
NC State lists all of these sport camps available on their website.
Women's Basketball-  Kelly Harper's Wolfpack Academy. Day and overnight options. Skill levels from 7 years old beginners to Elite 9th grade  and up. $275- $400.
Men's Soccer- Wolfpack soccer, Day and overnight options.Elite, Day and Half-Day Camp: June 17th-21st, Boys Age 5-15.  Elite $250, Day $235, Half-Day $100
Women's Soccer – Elite Player Clinic
Cheerleading- NC state partners with Edge Cheer to offer camps that specialize in stunting and tumbling, while working with NC Sate cheerleaders. Athletes are encouraged to attend with their teams
Women's Volleyball-Run by NC State coach, Bryan Bunn offers volleyball instruction for the serious athlete. Weeks available in June and July. From $175- $375 depending on length and nature of the camp.
UNC -Wilmington – Quest Camp
Children aged third grade and up can stay on campus overnight from a Sunday night til pick-p on Fridays and learn about marine life, marine biologists , and even surfing.  At the end of the week the kids put everything they learned into a power point presentation to show off to parents at the end of the week. This camp requires application and teacher recommendation before attendance is approved. Tuition for overnighters approx $700/week.
The Y Options
Camp Kanata- 13524 Camp Kanata Road, Wake Forest, NC 27587
(919) 556-2661
Contact: Eva Hobson
Camp Kanata offers land and water activities, including archery, kayaking, creative arts, lacrosse, horseback riding and swimming. One-week sessions from June 9 – Aug. 10, for boys and girls ages 6 – 15. Sessions are filling fast!
As teens age out of camping they can be asked back to train as counselors for a reduced fee.
Tuition for overnight is $725 /week
YMCA Camp Sea Gull- 218 Sea Gull Landing, Arapahoe, NC 28510
Contact:  seagullinfo@seagull-seafarer.org
Phone: (252) 249-1111
YMCA Camp Seafarer 2744 Seafarer Road, Arapahoe, NC 28510
Contact: seafarerinfo@seagull-seafarer.org
Phone: (252) 249-1212
Camp Sea Gull for boys & Camp Seafarer for girls are waterfront camps featuring seamanship and traditional camp activities for ages 7 – 16. Camps range from beginners of 1 week, to older campers staying a total of 4 weeks.
Camp Sea Gull for boys & Camp Seafarer for girls are located in Arapahoe, N.C., on a five-mile-wide stretch of open water on the Neuse River. The unique coastal location provides more than 3,000 feet of shoreline to support their comprehensive seamanship program, extensive fleet of boats, and traditional camp activities.
Offers a comprehensive seamanship program where campers develop small boat competency. The camp has a fleet of more than 250 sailboats and powerboats and feature US Sailing and US Powerboating certification courses. Campers work through a progressive rank system starting at beginner level and moving through advanced high-level skills.
Prices start at $983 for one week – $3903.00 for a 4 week session all inclusive. Limited availability for summer 2013. Family camp is available in Aug. and Sept.
In the Mountains
Camp Cheerio
1430 Camp Cheerio Rd  Glade Valley, NC 28627
(336) 363-2604
Located high atop the Blue Ridge Mountains of northwest North Carolina, YMCA Camp Cheerio is the ideal place for persons of all ages to enjoy a camp experience. Cheerio offers many challenging programs, from summer resident camps and wilderness tripping camps, to senior adult camps, conferences and retreats, group adventures, outdoor education and our new Cheerio EXTREME, which is a combination of Traditional Camp and Cheerio Adventures. Founded in 1960 by the YMCA of High Point, N.C., Camp Cheerio seeks to provide campers with a sustained, creative, and educational experience in the out-of-doors. Through the use of natural surroundings, and under the Christian guidance of trained leadership, YMCA camping seeks to help campers achieve their fullest potential in terms of mental development, physical well-being, social growth, and spiritual awareness.
Two camp options available: Traditional and Adventurer. Prices start at $900/ week.
Adventure Camp
Cheerio Adventures offers adventure tripping camp programs for youth, teens, and youth groups. Adventures include rock climbing, whitewater kayaking, canoeing, rafting, backpacking, caving (spelunking), sailing, wind surfing, sea kayaking, and mountain biking. Single and multiple activity summer camp programs are available. Adventure locations include NC, VA, WV, and TN, varying in location from the mountains to the sea
Traditional Camp
Cheerio Traditional Camp is a summer resident camp offering boys and girls 7-15 the chance to participate in over 25 exciting camp activities!
Camp Merri-Mac – Black Mountain, North Carolina
Residential girls' summer camp
Located high up in the Blue Ridge Mountains of North Carolina, Merri-Mac has a long history of offering girls the most memorable summers of their lives with outstanding Christian staff.
Through participation in carefully selected, fun-filled activities, campers experience a series of successes and the exhilaration of accomplishment developing a stronger sense of self-worth and an adventuresome attitude. A highly skilled, mature, and caring staff (ratio of 1 to 3.5) are selected for their ability be strong role models for our campers.
Related
https://carycitizenarchive.com/wp-content/uploads/2013/04/overnight-summer-camps-cary.jpg
350
600
Lindsey Chester
https://carycitizenarchive.com/wp-content/uploads/2020/03/cc-archive-logo-450-v3.png
Lindsey Chester
2013-04-09 14:10:56
2019-12-11 06:21:56
Summer Camps, Part 3: Overnight