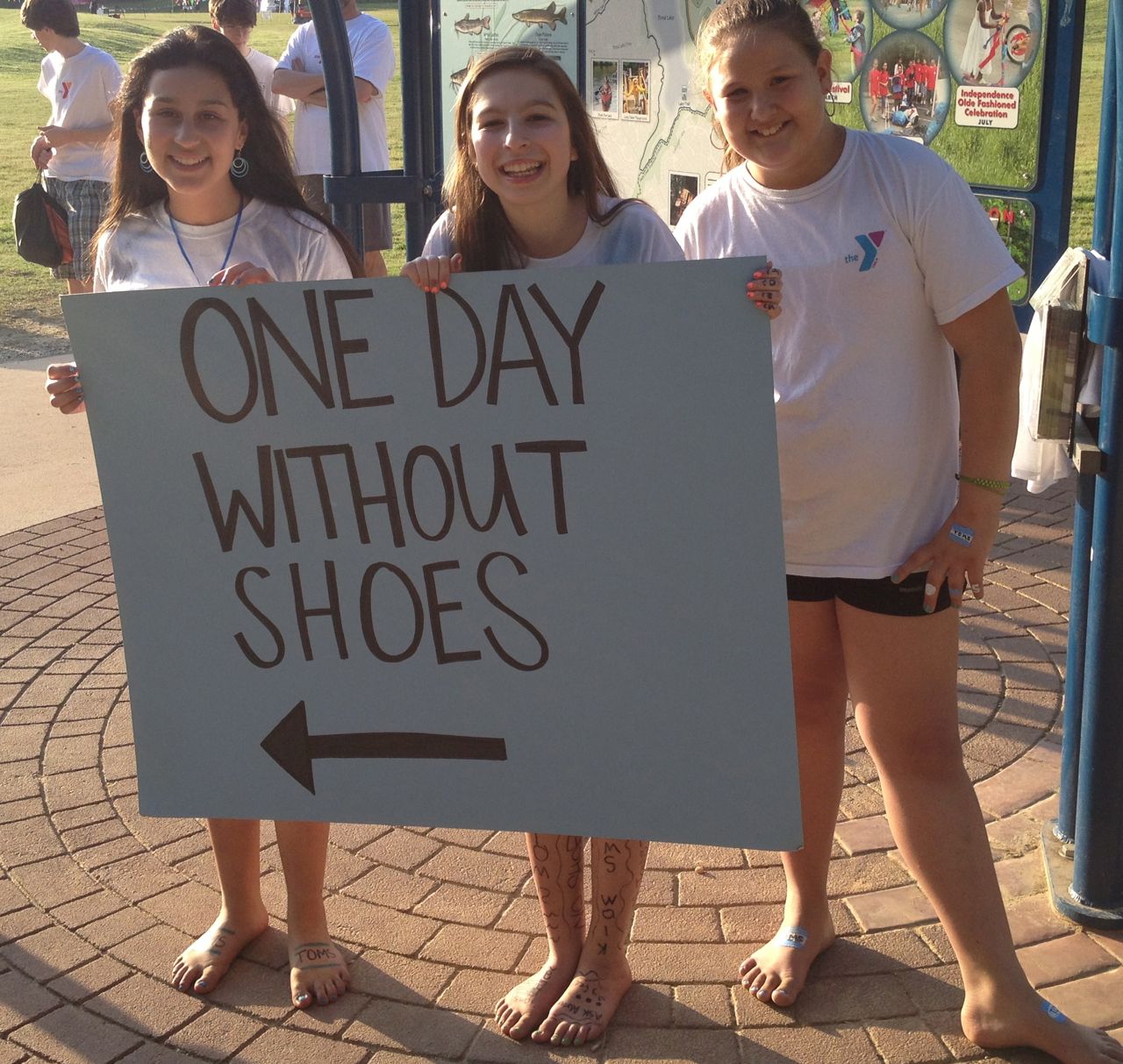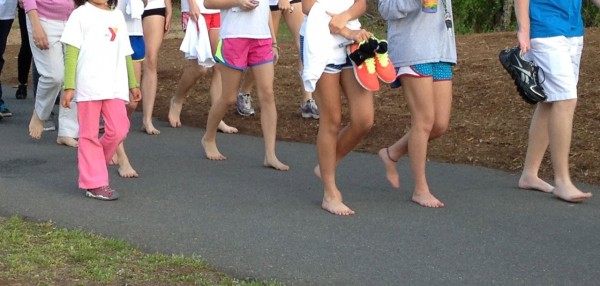 Story and photos by Lindsey Chester.
Cary, NC – The average American owns 10 pairs of shoes, and the average person in a third world country owns none.
One Day Without Shoes
The Cary Y, in conjunction with TOMS shoes, held "One Day Without Shoes" at Bond Park on Tuesday, April 16, at Bond Park to raise awareness about poverty. They encouraged participants in the event to walk a mile without shoes to experience for themselves how hard it is to walk without the benefit of footwear to protect our feet from injury. One Day Without Shoes is about raising awareness for children's global health and education issues.
Cary Y Volunteers expected about 2000 participants to show up for this free event and while I was there over 800 had already been counted. Most carried their shoes (lovely Nikes, TOMS, sandals or other footwear typical of folks living in Cary) as they walked the short distance required to get to the greenway trail.
Many  complained about the stones on the path, or the dirt leading down to the Sertima Amphitheatre where the crowds watched a short video about what can happen to children that don't wear shoes- they play in the dirt, get chiggers that bore into their skin, then these cause serious infections making the feet swollen and painful.
Shoes-optional Stroll
The walk was a one-mile, shoes-optional stroll through Bond Park for people of all ages. More than 200 staff and volunteers, led by teen directors Hannah Wait and Sarah Johnston and director of volunteer relations, Angie Field, helped organize and run the event. This is the third year that the Cary Y has held a local event for this national day of awareness.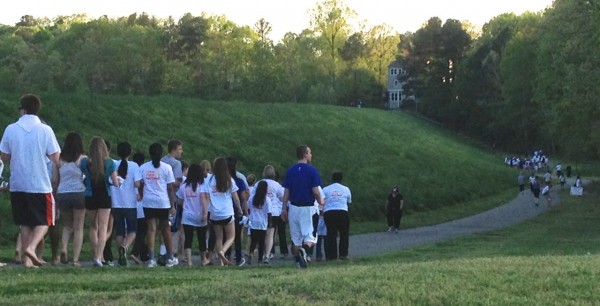 Education About World Poverty
As the walkers began their walks, they were led by teams of YMCA volunteers and everyone had a pretty cheery attitude. It was a lovely Spring evening and many walked with school friends, or work out buddies form the Y. At the end of the mile circuit was area set up for education about the effects of poverty.
Two shacks were built to simulate the type of housing many people in the third world live in. Another demonstrated how folks carry water in a jerry can that often weights at least 40 pounds.
Did you know that in a 5 minute shower, we use more water than the average African consumes in an entire day? And that the average American consume 185 gallon of water per day and the average African uses 8 gallons.
Did you know that more than 400 million young people throughout the world don't have shoes? This puts them at great risk for injury and disease.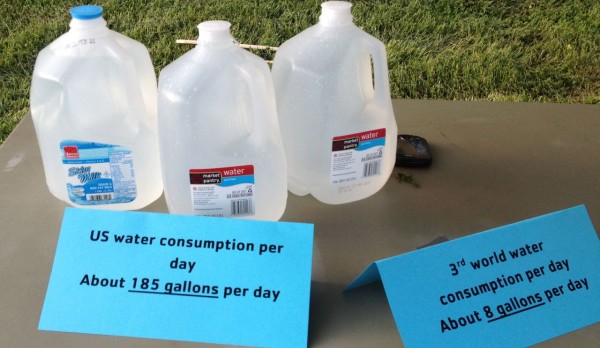 Many of the volunteers I spoke with have traveled to Kenya and Haiti to help in relief efforts and had poignant stories to tell of their experiences.
"We are so excited to see so many people come out and walk without their shoes," Wait said. "I've seen first-hand the impact that a single-pair of shoes can have on a child in a third world country on mission trips and this event is a special reminder for us all."
Learn more about the TOMS' One Day Without Shoes initiative and the lives impacted by this annual event.
TOMS and Free Shoes
TOMS is a favorite brand of many young people because of the good works they do raising funds to buy shoes for third world countries. With the purchase of their own products here in the US, shoes are bought and given to folks in third world countries. TOMS Shoes are given through a network of humanitarian organizations – called Giving Partners – that serve impoverished communities worldwide. Each organization provides TOMS Shoes to children in need along with their pre-existing health, education and community development programs.
As of January 2013, TOMS works with over 75 Shoe Giving Partners in over 50 countries worldwide!You can purchase shoes at TOMS.com and save $5 with the code "YMCATRIANGLE13" and TOMS will donate a pair of shoes for every pair that is purchased.
If you wish to donate shoes, Soles 4 Souls is a local organization that would gladly take your donation.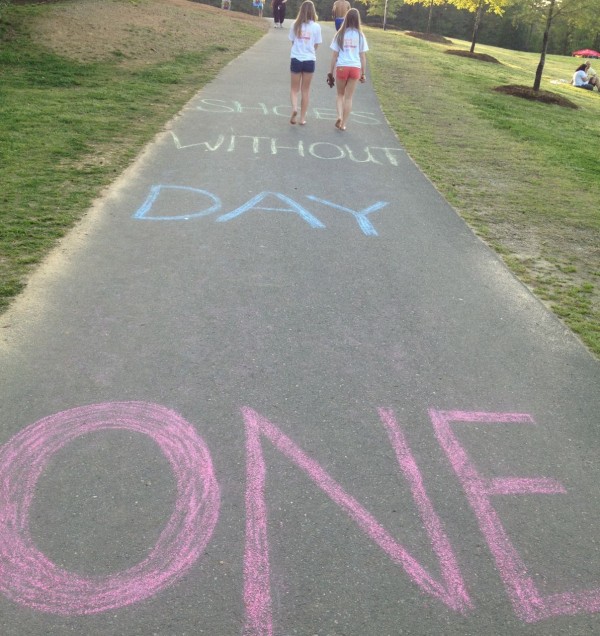 https://carycitizenarchive.com/wp-content/uploads/2013/04/girls.jpg
1213
1280
Lindsey Chester
https://carycitizenarchive.com/wp-content/uploads/2020/03/cc-archive-logo-450-v3.png
Lindsey Chester
2013-04-18 15:33:43
2020-02-24 19:02:42
1000 Attend Cary Y's One Day Without Shoes