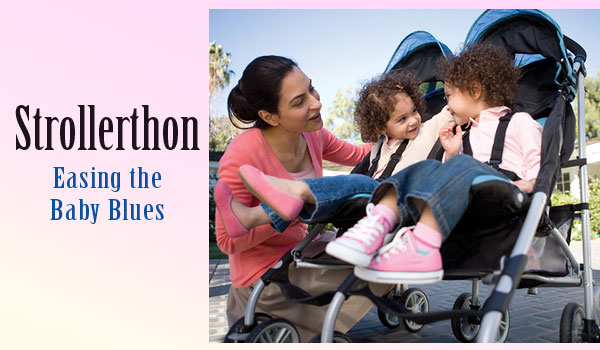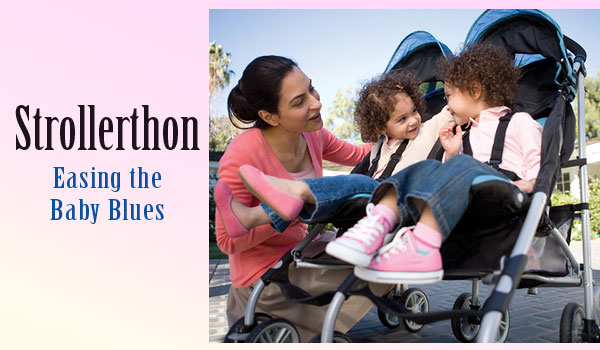 Story by Lindsey Chester. Photo by gracobaby.
Cary, NC – Many new moms experience a feeling of being overwhelmed or depressed after the birth of a child. When that feeling goes deeper into constant anxiety and sleeplessness, it may be a sign of Postpartum Depression. A group here in the Triangle, Postpartum Education and Support, is here to help.
PESNC is part of a national support group ( to get the word out that there is nothing wrong with admitting a new mom has postpartum depression. In fact, unlike many mental illnesses, this disorder is curable. Most mothers will recover in as little as 6 months, to go on and enjoy their baby and have their lives return to normal.
But diagnosis is key. When a new mom's feelings of sadness vear off into constant anxiety and having no desire to enjoy her newborn, an overall felling of hopelessness and worry, it may be time to seek professional help.
I spoke with Caroline Pence, the Executive Director for PESNC,  and asked her what is the difference between a mild case of the "Baby Blues" and true Postpartum Depression.
What To Look For
The disorder is more common than most people think- as many as 1 in 7 new mothers will experience some form of postpartum depression.You may have these feelings yourself, or know a new mom who is struggling with postpartum depression. Here's what to look for:
Lack of interest in the new baby
Anxiety- worry that something is going to happen to the baby
Feeling that having the baby was a mistake
Outward symptoms may include any or all of the following:
Low appetite
Sleeplessness, or inability to sleep
Crying all the time, for no apparent reason
Feelings of failure- or that they are a terrible mother
Erin Kala, suffered with postpartum depression after the birth of her first child. She admits she waited too long (8weeks) to seek help and only after being prescribed medication did her symptoms start to diminish. Erin wasn't sleeping and was increasingly anxious about the baby. She thought having her daughter was a huge mistake. Her husband couldn't understand what had come over her.
She realized she had the illness when she was in a Target one day and spoke to a stranger who suggested she seek help. She went home and searched the internet for all the information she could find about the disorder.
What she turned up was the Postpartum Education group. Attending their support group meetings helped her realize she would get better. Now Erin is a facilitator for the group (Moms Supporting Moms), helping others recover. She recently had a second child. She was a little nervous when she was pregnant with this one, but being educated about what to look for helped. She was fine this time around.
Many people may have some of these feelings, but they are usually fleeting, but if the feelings are persistent, with no end in sight, it is time to seek help. Women should talk to their pediatrician or OB-GYN because these offices may be able to refer the mom to a qualified psychiatrist or mental health expert. Women can also seek help and referrals with The Postpartum Education and Support Group.
Phone and Group Support
The group also has a phone support line, manned by volunteers that can help women find the help they need. Postpartum Education support group phone support: 919-454-6946
PES hosts a weekly support group called Moms Supporting Moms which meets at Rex's  Medical Plaza Building. Its suggested that women call first so that the hotline can determine the level of need for the mother, and if she needs more immediate acivie help before simply showing up to a meeting. At the meetings, mothers who are recovered offer their experience and help to women still suffering from the condition. The recovered facilitators, it reinforce the fact that this is a temporary condition, and that the moms will get better and back to a normal life with their families.
PES has built a close relationship with UNC's Center for Women's Mood Disorders, one of the only locations of its kind in the country. The center does research on the disorder and can house as many as 5 women at a time overnight at their location.
Building Awareness, Eliminate Stigma
The organization is looking to build awareness and reduce the stigma often associated with being diagnosed with postpartum depression. Without help, women can sink down into full blown psychosis and depression and require much more help to recover. The time to seek help is early, by the time the newborn is 6 weeks old, it will be evident that the new mom is not well. This illness effects the whole family. If Mom is unwell and not taking care of the baby, Dad is probably effected with the burden of meals and taking care of that baby and the house.
StrollerThon Event- May 18
PESNC has organized their third annual event, called Strollerthon, at Bond Park on May 18th to raise money and awareness for their education program. Families are encouraged to come out and walk (with or without a stroller) to raise funds for additional counceling and expansion of the organization. Caroline Pence hopes to raise as much as $10,000 this year. There will be a raffle for a Bumbleride Indy stroller and  plenty of activities to keep young children busy.
The money goes towards outreach to hospitals, doctor's offices to educate these caregivers on how to recognize the illness- and what to do when they realise their patient has postpartum depression.
Event Info
2013 StrollerThon
Saturday May 18, 2013
starts at 9:00am
Fred G Bond Metro Park
Cary, NC
2 mile walk and activities for the kids, raffle prizes and cornhole
https://carycitizenarchive.com/wp-content/uploads/2013/05/strollerthon-2013.jpg
350
600
Lindsey Chester
https://carycitizenarchive.com/wp-content/uploads/2020/03/cc-archive-logo-450-v3.png
Lindsey Chester
2013-05-13 14:22:29
2013-05-13 14:02:47
Strollerthon - Easing the Baby Blues