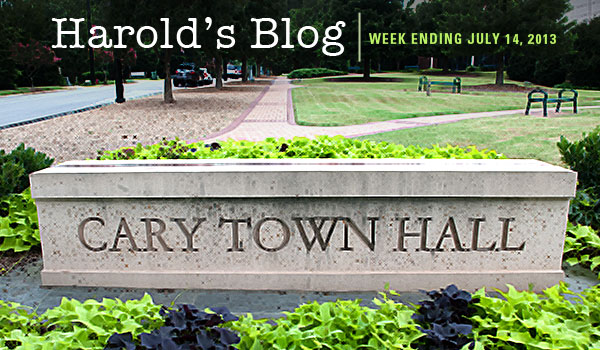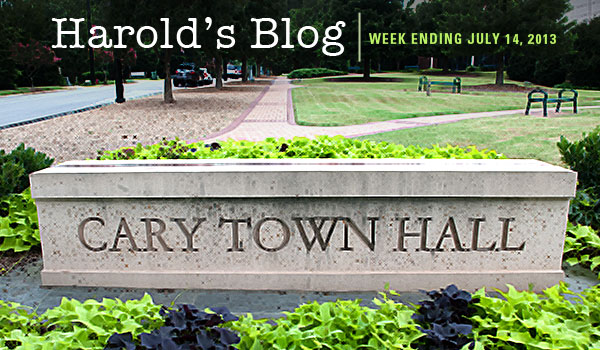 Cary, NC – This week was a typical mid-summer week with a few meetings and a work session.
Monday – Calendar Fail
Monday I was supposed to take a tour of a business in Regency that is expanding. Unfortunately, the company President's calendar and my calendar were out of sync. So I showed up and no one was there except the receptionist.
Hopefully I will get invited back in the future.
Tuesday – Transportation Funding for Cary
Tuesday started with signing the Powell Bill for Cary. What is the Powell Bill? Well, Powell Bill allocations are made annually by NCDOT to incorporated municipalities which establish their eligibility.
The NC general statutes require that a sum distributed in two allocations to the qualifying municipalities equal to the amount produced during the fiscal year by 1 ¾ cents on each taxed gallon of motor fuel. The statutes also provide that funds be disbursed to the qualified municipalities on or before October 1st and January 1st thereby allowing sufficient time after the end of the fiscal year for verification of information and to determine the proper allocations and preparation of disbursements.
Powell Bill funds shall be expended only for the purposes of maintaining, repairing, constructing, reconstructing or widening of local streets that are the responsibility of the municipalities or for planning, construction, and maintenance of bikeways or sidewalks along public streets and highways.
Tuesday – Town Manager
Tuesday evening I had my weekly meeting with the town manager. We spent a great deal of our time talking about a potentially huge economic development opportunity.
We also talked about issues related to the downtown theater project and other minor issues in town. Our meeting lasted about an hour and fifteen minutes.
Wednesday – New Bank in Town
Wednesday I met with two representatives from Vantage South Bank which merged with Crescent Bank last year. In our meeting the representatives stressed that they were a community bank and want to continue to be involved in the community. They not only sponsor events but give free informational seminars.
Vantage South is a good corporate citizen and I wish them much success.
Thursday – Busy Day
Wake Tech
My first appointment Thursday was to attend the Wake Tech Open House and 50th anniversary celebration held at the Western Wake Campus in Cary at Mill Pond Village. I met with a few administrators and was only there a short time.
Downtown Farmer's Market
My next meeting on Thursday was with the Market Manager of the Downtown Cary Farmer's Market. They currently have the market on Saturday's at the corner of Dry and Academy which will be the future location of the Mayton Inn. Their interest is in a permanent home downtown. I, along with staff members, promised to continue working with them to find a permanent location.
Imagine Cary
Thursday evening the council held a work session on the Imagine Cary process.
Staff and consultants gave a summary of recent public input which included area conversations, a business survey, an online survey, the Mayor's CEO roundtable, and other special meetings.
That information will now be presented to the Citizens group named The Committee for the Future. They will be tasked to identify key community choices. This will be presented back in public meetings scheduled in early November to test and see if we captured community choices correctly. The "did we get it right" phase is the second out of four in the process.
For more information on imagine Cary and answers to frequently asked questions go to http://www.imaginecary.org/get-the-facts/
Emails – Balanced Growth
In emails from citizens this week I received a criticism that Cary was growing too fast and asked if we were going to continue to grow at a rapid rate. Data provided by staff shows that Cary's growth rate has actually been slowing:
April 1, 2008: 125,669   5.9%
April 1, 2009: 131,173   4.4%
April 1, 2010: 135,264   3.1%
April 1, 2011: 138,819   2.6%
April 1, 2012: 141,613   2.0%
April 1, 2013: 144,316   1.9%
My philosophy is that growth should be balanced with infrastructure. While there will always be a need for more infrastructure Cary has done a good job matching growth with infrastructure especially fire, police, water, and sewer.
In another email a citizen was critical of the town's sustainability efforts and cited the United Nations Agenda 21 as influencing our decisions.
There were also various other emails that included a criticism of parking in downtown, criticism of staff not enforcing erosion control on someone's property, requests not to approve a rezoning, a question about the Imagine Cary process, and a concern about a safety issue.
Get in Touch
This week includes meetings, events, and the Chamber conference.
Well that is all for this week. My next post will be on Sunday July 21st. Although I have Facebook and Twitter accounts those are not the best means of communications with me. Please send all Town of Cary questions or comments to Harold.Weinbrecht@townofcary.org and email personal comments to augustanat@mindspring.com.
———————————————————————————————-
From the blog of Cary Mayor Harold Weinbrecht. Photo by Hal Goodtree.
https://carycitizenarchive.com/wp-content/uploads/2013/07/cary-mayors-blog-0714.jpg
350
600
Harold Weinbrecht
https://carycitizenarchive.com/wp-content/uploads/2020/03/cc-archive-logo-450-v3.png
Harold Weinbrecht
2013-07-15 16:15:25
2019-12-08 10:10:18
Blog of Cary Mayor Harold Weinbrecht: July 14, 2013