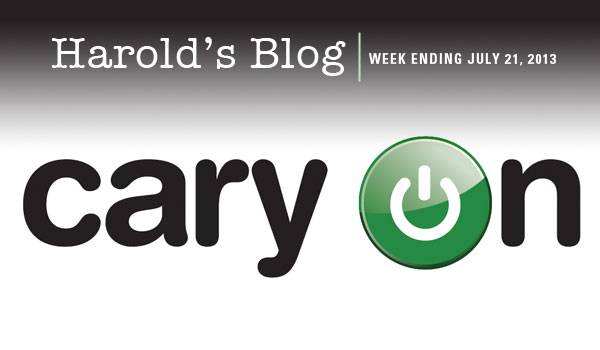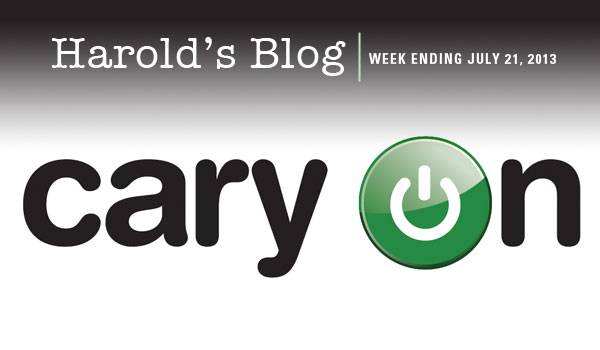 Cary, NC – This was a light week for me and only included a meeting and a few events.
Monday – Wags4Tags
On Monday I met with the President of Wags4Tags. This organization's goals include rescuing dogs from kill shelters and help veterans suffering from psychological and emotional injuries by pairing them with trained dogs. Their organization has been in operation less than a year and has already trained several dogs and paired them with needy veterans. In our meeting he talked about several veterans on the waiting list and the need for help. If you would like to get involved with this organization or help in any way please visit their web site at www.wags4tags.org.
Wednesday – Chamber Retreat
Wednesday I went to Pinehurst to give remarks at the Chamber's annual planning retreat. My remarks included the following points:
A year ago, we moved to establish a downtown Business Improvement District, offering businesses the best opportunity to lead a downtown renaissance in Wake County. We've seen several businesses take advantage of our B.I.D, and we're pleased to be able to continue the program, paying impact fees for this defined area for another two years.
We've listened and worked with staff to continue to create a smoother, more convenient inspections and permitting process, including expanding our online permit process.
In the last quarter of 2012, online permits accounted for nearly half of all permits issued, saving us all time and money. Last year, we established an online Inspections & Permits customer satisfaction survey. We're pleased to see the latest results rating the department's service level as 8 out of 9. If you've interacted with our Inspections & Permits Department as an individual or on behalf of your business and have yet to share your experience, please consider taking the survey. It can be found in the Inspections & Permits section of our website, and your feedback will assist us in continuing to provide exemplary customer service
For the eighth year, Cary was named a 2012 North Carolina Outstanding Traffic Safe Community by AAA Carolinas- a recognition given to only 16 communities in the state and a true testament to our efforts to make our roads safer.
With assistance from Triangle Transit, public transit riders now have access to an app that showcases real-time C-Tran bus locater information, as well as the locations and routes of other Triangle Transit buses.
This past spring, we completed the Town's longest greenway. The Black Creek Greenway connects the Lake Crabtree and Umstead Park areas of Cary to Bond Park, the hub of our greenway system. The seven-mile stretch increases our walkability, something we know to be key to our community's future
Before giving remarks I met with county officials about a potential economic development opportunity.
Cary On!
A new branding campaign [called Cary On] was introduced by council member Robinson at the Chamber Planning conference. It's a Chamber initiative created to give Cary residents an opportunity to express their connection to Cary.  It will also be used to market Cary for economic development.  It has a few implied meanings:
Cary is going strong in spite of the slow economic recovery (carry on)
Cary is a great place for technology companies (the on button)
Cary is a great place (Cary ON!)
The idea to have a campaign came out of the Economic Development Commission.  Chuck Norman created the theme with assistance from various Chamber members and input from Public Information Officer Susan Moran and Council member Jennifer Robinson.
Saturday – VFW and Scoops for Troops
Saturday I attended the Cary VFW 4th Annual Vendor Fair and Custom Cary Show. They started with a flag retirement ceremony that included burning of retired flags that would later be buried. Afterwards I walked around and looked at the crafts and the many cars on display. Everyone seemed to be having a great time. The funds raised at this event are going to needy veterans and their families.
Next I headed over to downtown for the Scoops for Troops. This event also had a lot of vendors and corvettes on display. In addition, they had a stage for entertainment. While I was there a band was doing a great imitation of Johnny Cash. Guests participated in the Donation Station for the USO, created postcards for service members overseas, joined in the Ice Cream Eating Contest, and submitted ice cream recipes to be featured at Lumpy's Ice Cream for a month. Some of the other vendors participating included: US Army, US Navy, USO of North Carolina, Wags 4 Tags, and Military Missions in Action, plus many more.
Emails from Citizens
Emails from citizens this week included complaints about the lack of Pickleball courts, a complaint about a proposed rezoning off Highway 55 near Chesney Glen, a complaint about legislative action regarding the Jordan Lake rules, a complaint about street paving in Prestonwood, and a request to ban the use of plastic bags.
This Week
This week will be much busier than this week and will include a work session, a council meeting, a taping of Cary Matters, and a 5K run around the new downtown roundabouts. I hope you all come and join me for the 5K run/walk on Saturday.
Get in Touch
Well that is all for this week. My next post will be on Sunday July 28th. Although I have Facebook and Twitter accounts those are not the best means of communications with me. Please send all Town of Cary questions or comments to Harold.Weinbrecht@townofcary.org and email personal comments to augustanat@mindspring.com.
———————————————————————————————-
From the blog of Cary Mayor Harold Weinbrecht. CaryCitizen will be on vacation next week. Harold's Blog will return on August 5.
https://carycitizenarchive.com/wp-content/uploads/2013/07/harolds-blog-cary-on.jpg
350
600
Harold Weinbrecht
https://carycitizenarchive.com/wp-content/uploads/2020/03/cc-archive-logo-450-v3.png
Harold Weinbrecht
2013-07-22 16:15:24
2016-01-09 11:58:36
Harold's Blog: Cary On!