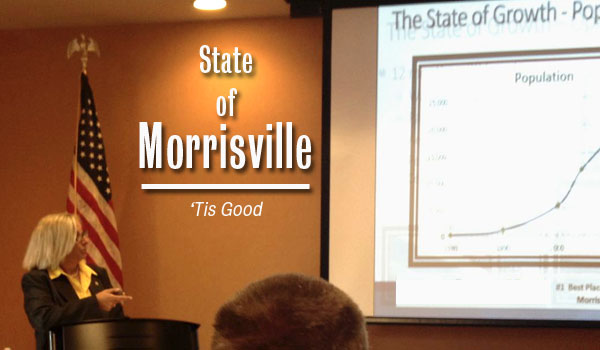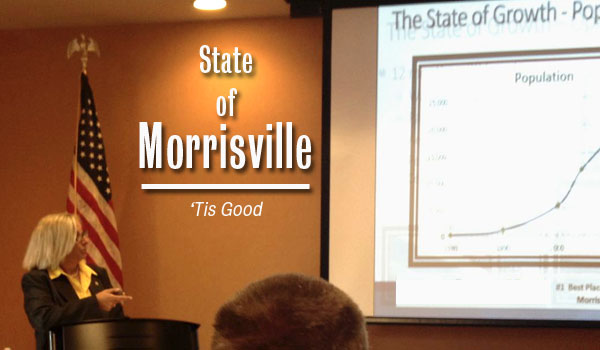 Morrisville, NC – The Morrisville Chamber held its annual State of Morrisville breakfast last Thursday, July 18, 2013. As Mayor Jackie Holcombe pointed out "It's good to be Morrisville."
State of Morrisville: Stats
With eye-popping statistics the audience learned that Morrisville has the youngest population in Wake County, has the highest median income at $46,264 and a family income of $103,000 and the highest level of residents possessing a college degree, at 74%.
Despite the recession the town managed to grow from a sleepy town of 250 residents in 1980, to just over 21,000 today.
In recent years the town has added substantially to their housing mix which now makes up 60% of their development, and the 40% commercial offsets their tax base which is currently set at 39 cents per $100 of valuation.
Triple A Bond Rating
One piece of news that will help Morrisville as it moves forward with some major capital projects is their newly attained Triple A bond rating. The rating from Standard and Poor allows the town to borrow money at 2.5% allowing for substantial savings.
Fixing NC 54
The Town has several key  priorities, chef among them i s clearing the traffic and road problems that have become synonymous with a daily RTP commute through the town. If you have ever driven on NC54 (at almost ANY time of time) you have experienced backups on its inadequate two lanes. As a state DOT maintained road, the town has been hamstrung by the lack of state funding for improvements.
The NC54 Bypass Project is the town's number 1 priority. These improvements are critical to quality of life for the town. But it won't be free, and a resulting 2 cent increase in taxes will cover the Bypass while another .35 cents will be needed to add to other much needed road maintenance.
Morrisville Parkway Project
Mayor Holcombe spoke of another much needed road improvement but one she added, "that will take a lot of patience" and that is the Morrisville Parkway Grade Separation". Here's another road that has languished in need of a serious fix for years. Morrisville Parkway has a Railroad crossing on a hill , that forces cars to slow to 10 mph to cross safely. The improvement is slated to begin as early as October 1st, but may take at least 3 years to complete, requiring some lane closings and inconvenience. But it will be worth it with all the residential and commercial development happening on this important thoroughfare.
Crabtree Creek Greenway
Greenways are coming to Morrisville and the biggest one will be an important regional connector called the Crabtree Creek Greenway which will serve to connect Raleigh, Cary, Morrisville and RTP. The town and its partners anticipate a 100 miles of walkable/ bikeable trail to connect this part of Wake County.
Maturing Town
Holcombe reflected on the fact that the town is a maturing community that is in need of a vibrant town center. and that as Morrisville approached build out, planners need to think about a mature community that is land locked. "Holcombe said they needed to focus on "Preserving our past while protecting our future". The future is looking pretty bright in Morrisville. You might want to wear shades!
 
Commissioner Joe Bryan
Wake County Commission chair Joe Bryan also spoke, and Holcombe directed her request for  a Morrisville library directly to him (several times). She feels as the Town Center plans mature, the need for the town to have its own library is very important. Bryan responded that he gets requests from all over the county and must weigh each one for their overall impact and bang for the buck.
Holcombe and her glowing statistics were a tough act for Commissioner Joe Bryan to follow. He stated that he was shocked by the numbers and praised the actively engaged town council and chamber, who he stated come out and participate in regional issues. Morrisville is "fortunate to have great leadership and a great chamber" and he mentioned he had just visited Cary's Planning Conference and a Raleigh Chamber event. He added that "without a doubt, Morrisville was the youngest" of the those towns.
Wake Co: Almost 1 Million People
Facts that Bryan highlighted included that Wake County is just under one million residents (960,000) as we continue to add 25,000 -30,000 new residents (through moves and births) every year. In 2013 residential permits numbered 2,077 which places them almost up to the go-go years of 2008.
That growth was a perfect segue for Bryan's real message which was the importance of the upcoming School Bond Referendum coming up for Wake County voters in October. Bryan says his number one focus as a commissioner is Education. "Education is always going to trump transit for Joe Bryan" . Sixteen schools are planned to be built with the bond money as well as renovations to older buildings. These include 11 elementary schools, 3 middle schools and 2 High Schools (one here in Cary). Renovations will include upgrades in technology and security.  These bonds will impact our taxes with an increase of 5.4 cents per $100 valuation. (or roughly $145 / year for the average Wake County home valued at $263,000).
Importance of The School Bond
Bryan emphasized the unanimous passing by not only the County Commissioners but also the school board for the $896,000,000 bond. Which was whittled down from the original 2.1 billion wish list to what passed this week. Now its up to the voters. He added we must have one of the best education systems that we can as we are the 16th largest district in the Nation. The country's Triple A bond rating will make selling the bonds easier and the county will get a better interest rate on the money it borrows. Bryan's closing remarks emphasized the need for both sides of the aisle to work to get the bond passed. Education continues to drive companies to locate here. Without a good school system, why would companies choose to locate here for their workers. Maintaining our reputation is paramount and working together is the key.
The future does indeed look bright if we can do that.
———————————————————————————————————–
News of Morrisville on CaryCitizen is sponsored in part by Thai Spices & Sushi, at the corner of Cary Parkway and High House Rd.
https://carycitizenarchive.com/wp-content/uploads/2013/07/state-of-morrisville.jpg
350
600
Lindsey Chester
https://carycitizenarchive.com/wp-content/uploads/2020/03/cc-archive-logo-450-v3.png
Lindsey Chester
2013-07-23 11:44:22
2013-07-26 09:33:01
State of Morrisville: 'Tis Good