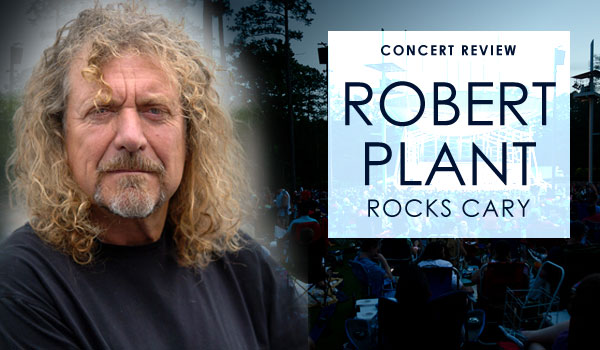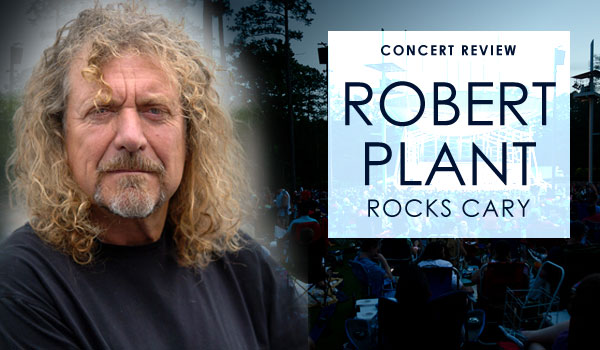 Cary, NC – Rock legend Robert Plant showed Cary's Booth Amphitheatre a Rock N Roll good time. It wasn't Led Zeppelin, but it was as close as most of us have ever gotten to that Hall of Fame band.
Bombino
Although no warm up band was listed,  the surprise was a band called Bombino who rocked out starting at 8pm. Hailing from Niger, the musicians were arrayed in Middle Eastern attire including traditional Keffiyeh headdress and caftans. The clothing contrasted sharply with the heavy funk music the band pounded out.
I think the audience wasn't quite sure what to make of this band, who took the stage without introduction, but after a song or two everyone settled into the groove and enjoyed them.
Robert Plant Rocks Out in Cary
Robert Plant and the Sensational Space Shifters arrived on stage with gusto breaking into Babe I'm Gonna Leave You a song that was originally a B- side of early Led Zeppelin drawing heavily on their blues roots. The tune from the very first Zeppelin album was originally released in 1969 and was not written by the band, but was a cover from the 1950's by Anne Johannsen. Like many early songs by the band, it was appropriated and altered by their signature heavy metal guitars.  Here, the song was updated with the more acoustic sound of a prominent flamenco-style guitar.
Next, Plant mixed it up with I'm In The Mood from a popular solo album (The Principle of Moments, 1983). He veered off the Zep songbook a bit with another solo piece called Tin Pan Valley. As familiar as many in the audience were with Led Zeppelin songs, I had to admit that these others were fresh and funky and got us up and dancing to their funky beats. He followed up with a Howlin' Wolf song, Spoonful about the dangers of heroin which Robert Plant introduced saying it was a "deconstructed" version.
And then it was all "Hey Hey Mama", as a new version of Black Dog began, and we liked the way that moved.  Searing drums and cymbals reminded us of days gone by when we too could Boogie with Stu and party all night long. Even Plant poked fun at the idea of a curfew (after all its Booth Amphitheatre where concerts end by 11). And bad boy Robert Plant couldn't let that go…The African beats added here were awesome. The Enchanter, a song I'd never heard, did just that. Intrigued and made me look it up this morning as "Shazam" failed me during the concert.
Plant asked the audience if they were very hot (boy were we, although it didn't rain, the humidity of that July evening was oppressive) He added" I didn't know Saxons could come to a place like this" and launched into Over the Hills and Far Away originally from "Houses of the Holy". The audience joined him for a sweet sing-along.
With a shift in mood Somebody Knocking took us on a spacey journey,with a psychedelic mandolin. Here, Robert Plant introduced the band who were mostly from Liverpool and Bristol, England. For anyone familiar with music of the 70's the album "Zofo" or Led Zeppelin 4, is synonymous with  Stairway to Heaven. But many may never have paid attention to Four Sticks, the next song that the band played. It is a jazzy abstract, that became somehow a little more mainstream with the funky bass player, Billy Fuller of the Sensational Space Shifters.
"I hear them coming," Robert Plant added and they began my personal favorite Bron-Y-Aur Stomp, a little ditty from Led Zeppelin III. The crowd jumped to their feet and began clapping along. Introducing the next song, Plant dropped the F-bomb saying how music was so bad in England after WWII being a Baby Boomer, he and his bandmates looked to Mississippi and Chicago for a new sound – they found the African American sound of the blues. And they made it their own by electrifying it and making a wall of sound around it like no other. Fixin To Die, originally by Bukka White –  this version had a heavy  bass and chugged along with a rockabilly beat.
Whole Lotta Love
He calmed us down with What is And What Should Never Be rendered very close to the heavy sound found on "Led Zeppelin II". I admit I was a little disappointed it didn't segue into Living Lovin Maid like the original. But the band didn't disappoint when they broke out into Whole Lotta Love, one of the oldest and best loved Zep songs of all time. They even added in a bar of Bo Diddley's Who Do You Love ..And then it was curfew time… well almost, because like any trusted Rock Legend worth their salt, they ran back stage, grabbed a drink and came back for one one tune before 11- and that was the rock anthem Rock N Roll , perhaps the second most popular Zeppelin song of all time, cause this line-up wasn't going to be playing any Stairway to Heaven…
What better way to end a concert event than with one of your all time favorite rock anthems?
https://carycitizenarchive.com/wp-content/uploads/2013/07/robert-plant.jpg
350
600
Lindsey Chester
https://carycitizenarchive.com/wp-content/uploads/2020/03/cc-archive-logo-450-v3.png
Lindsey Chester
2013-07-22 11:52:52
2013-07-22 11:52:52
Robert Plant Rocks Out in Cary