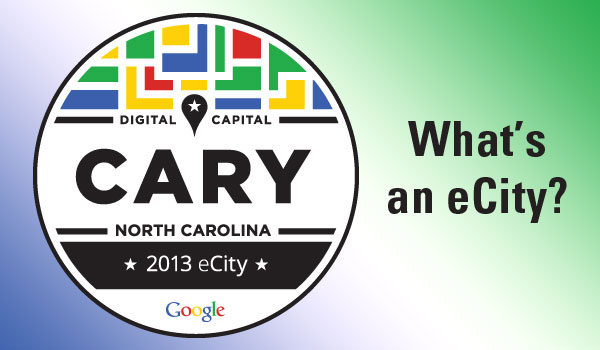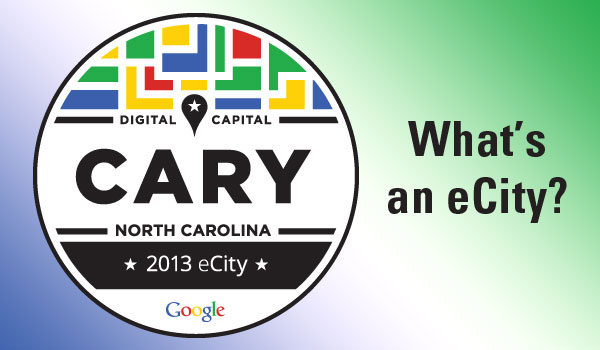 Cary, NC – The Google eCities Award winners for 2013 in the United States were announced yesterday. Cary was named the winner for North Carolina. But what's a Google eCity?
What's a Google eCity?
For years, Google has searched for the best way to highlight the economic impact of its business programs – Google Search and AdWords, Google AdSense and Google Grants.
Using a complex formula, Google has calculated which town or city in each of the 50 states has benefited most from Google business programs.
For 2013, Cary is the winner for North Carolina.
Google produces the eCities Awards in various forms across the globe. In the United States, the program has been in place since 2009.
The Magic eCity Formula
Google does not visit your city to determine an award. This is statistical analysis.
Search & AdWords
The first factor is AdWords volume. Google AdWords is the program where advertisers can place their messages alongside search results.
When you search for something on Google, you notice that the search results are surrounded by ads related to your search term. The "results" of the search are termed "organic." The ads that surround the organic results are called "paid search."
Google AdWords are the single largest driver of revenue for the tech giant.
Here's how Google explains it:
2(spend) + .7 x 5 x 2(spend) – (spend) = 8(spend)

" …we conservatively estimate that for every $1 a business spends on AdWords, they receive $8 in profit through Google Search and AdWords.1Thus, to derive the economic value received by advertisers, we multiply our AdWords revenue on Google.com search results in 2012–what advertisers spent–by 8."
In a nutshell, businesses in Cary spend a lot on AdWords.
No surprise, really. Cary is a big town with a robust economy – lots of real estate agents, medical professionals and hair cutters (three big categories in Google AdWords).
AdSense
AdSense is the money Google pays to website publishers who allow Google ads on their sites. Some businesses allow this, but most shun it. If you're a florist, why would you want ads for other businesses running on your website? The revenue is just not worth it.
Many publishers create websites specifically as a place to run Google ads through AdSense. These publishers may have dozens or hundreds or websites. They incur no costs for content creation because they typically "scrape" content from other websites. Scraping – republishing content from another website – is sometimes legal and sometimes not. If you publish an excerpt and a link, it's considered okay. If you republish the entire story, it's considered a copyright violation.
In any event, Google calculates the amount of AdSense money it sends to each community and factors that into it's Google eCities Awards.
Remember, Google eCities is first and foremost a demonstration of Google's economic impact. In fact, the eCities website is called Google Economic Impact and it's URL is http://www.google.com/economicimpact/.
In a nutshell: Google sends a lot of money (relatively speaking) to AdSense publishers in Cary. For the record, CaryCitizen does not allow Google Adsense ads on its website. The ads are spammy and the payments microscopic.
Google Grants
Google gives out lots of grants. In the case of Google eCities, this refers to Google Grants given to local non-profits in the form of AdWords credits. The credits, up to $10,000 per month, can be used for advertising in paid search.
For the eCities list, Google totals up the amount spent on AdWords through its business grants. From Google:
Similarly, the impact of Google Grants is the total amount spent by grants recipients in 2012 out of the $10,000/month awarded to them.
Total Economic Impact
Google mashes all these numbers together to determine total economic impact. For 2013, Cary apparently came out #1 in North Carolina. Neither individual, state, nor aggregate numbers were released.
Other U.S. Google eCities
Pewaukee won for Wisconsin. The town of Whitefish won in Montana. North Myrtle won in South Carolina and Chantilly took the award in Virginia. Some big cities won as well, including New York, Atlanta and Albuquerque.
See the full list of 2013 Google eCities award winners.
Past NC Winners
Here's a list of past Google eCities designations in North Carolina, followed by Google's calculation of statewide economic impact of Google business programs:
Interesting Data. Not a Validation.
The Google eCities data is indeed interesting. Without a doubt, Google is a powerful force for business. Although we don't run AdSense on our website, CaryCitizen profits from the services of Google everyday.
But it's clear the team behind Google eCities has no knowledge of Cary or North Carolina. It's actually hilarious. Here's their description of North Carolina on eCities:
"Known as the furniture capital of the world… [Google's economic activity is] enough to buy a rocking chair for every resident of the state."
Mouse over the map to see the descriptions for each of the 50 states.
And here's their description of Cary:
"Cary is tucked within North Carolina's Research Triangle of universities. Its small business community uses the web to connect students, faculty, and lifelong residents with its shops, restaurants, and events."
So before we dislocate a shoulder patting ourselves on the back, this is a statistical measurement, not a validation of our technology strategy as a community.
Interesting data, but essentially a marketing exercise.
————————————————————–
Community news on CaryCitizen is sponsored in part by Western Wake Farmers Market.
https://carycitizenarchive.com/wp-content/uploads/2013/08/google-ecities.jpg
350
600
Hal Goodtree
https://carycitizenarchive.com/wp-content/uploads/2020/03/cc-archive-logo-450-v3.png
Hal Goodtree
2013-08-21 11:31:02
2019-12-08 10:10:27
Cary Wins Google eCities Award for North Carolina