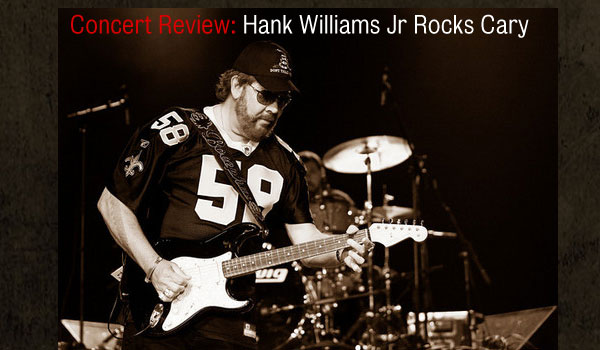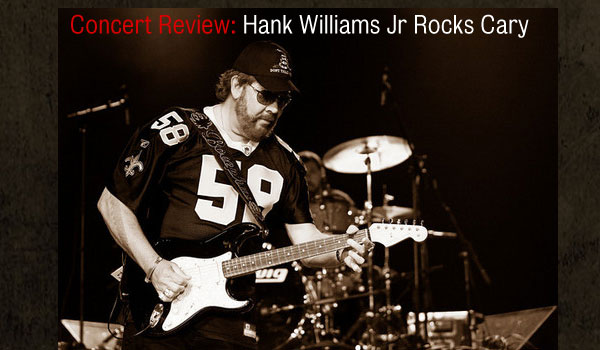 Cary, NC – It was a honky-tonk kind of night at Koka Booth Amphitheater on Friday, as Cary's rowdiest gathered to spend an evening with Hank Williams Junior.
As the sun went down, Haley & Michaels, a Nashville-based country duo, started the night off right with a nice, twangy set. They played the crowd-pleaser, The Proclaimers' "500 Miles," and their newest single, "The Price I Pay."
Haley & Michaels shined with their refreshing vocal harmonies – that's pretty rare in today's music –  and smooth electric guitar playing, all set over a quaint, rhythmic acoustic guitar.
Hank Williams Jr. – Dixie Proud
After the set, the lights went down as the audience milled about, waiting for Hank Williams Junior to take the stage. To fill some time, Koka Booth's emcee urged the roaring audience to purchase the hot product of the night, a big ol' Confederate flag.
Finally, the lights came back up and Hank Williams Junior's eight-piece band opened with a medley of classic country tunes. When they finished, Bocephus himself swaggered onto the stage and they roared into "If Heaven ain't a Lot Like Dixie."
A Little Political Statement
Showcasing his displeasure with the current administration, Junior and his band then played "Keep the Change," an up-tempo country jam, aptly named after President Obama's campaign slogan. The crowd cheered loudly and sang along.
The show rolled on. Junior changed around the words of "Country State of Mind" to "Carolina State of Mind" to hype up the already boisterous crowd. Later, during a proper, country breakdown, he danced around the stage and asked for the audience's help, yelling: "You gotta show us how to get down!"
Intimate Solo Set
After bringing the house down with a masterful fiddle solo on his wooden-Indian love song, "Kaw-Liga," Bocephus's cowboy hat came off and he asked his band to take leave. Junior then started into the intimate acoustic portion of the set.
Staring soulfully into the audience through his dark sunglasses, Hank Williams Jr played a charming version of his father's song "Tear in My Beer," that showed that he was truly his father's son. To top that off, he threw in a nice cover of Johnny Cash's "I Walk the Line."
Getting Down With Junior
When Bocephus was finished wooing the audience with his sentimental side, the band took the stage for the upbeat "My Name is Bocephus," and "Women I've Never Had," complete with a handful of lucky girls called up to dance on the stage. Everybody got down.
The night was coming to an end, so Williams closed the set right with "Family Tradition," one of his most famous songs, a rebuttal to the country music scene calling him out on his potentially reckless life choices. The crowd loved it. Everybody sang along so loudly that Williams stopped singing to listen as his words were echoed back to him in fanatical fashion.
All in all, it was quite an exciting night. Hank Williams Jr has such a legacy in the country music world and it was great to see him grace Koka Booth's stage with his free-spirited presence.
————————————————————————————————————–
Travis Toth, a senior at NC State University, writes about music for CaryCitizen. Photo from HankJr.com.
————————————————————————————————————–
Music coverage on CaryCitizen is sponsored in part by Booth Amphitheatre, home of world-class entertainment.
https://carycitizenarchive.com/wp-content/uploads/2013/09/hank-jr-review.jpg
350
600
Staff
https://carycitizenarchive.com/wp-content/uploads/2020/03/cc-archive-logo-450-v3.png
Staff
2013-09-04 10:55:09
2019-12-08 10:10:31
Concert Review: Hank Williams Jr Rocks Cary