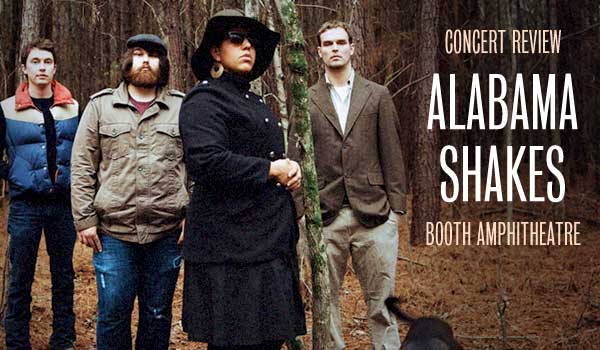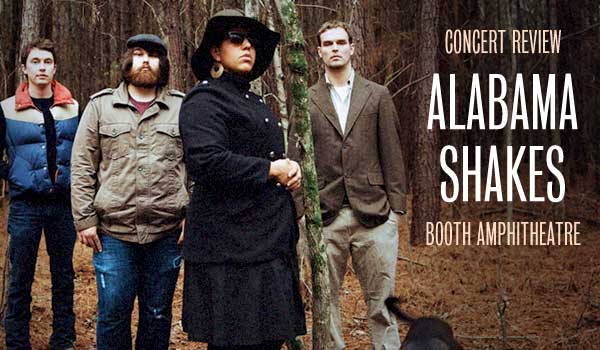 Cary, NC — The Alabama Shakes certainly shook the Koka Booth stage Friday night. Accompanied by Majestico and their fellow Alabamians, The Dexateens, the Shakes drew the largest audience I've seen at Koka Booth this summer.
Warming Up for Alabama Shakes
Majestico kicked the night off with a solid set. Their rowdy sound really set the tone of the night,  although the performance was slightly lacking in energy. Showing their skill at playing fast-paced southern jams, the band played "Belladonna Blues," and some other good tunes.
When the stage was ready, The Dexateens revved up the energy and delivered a blistering performance including the hilarious, and exceptionally catchy, "Shake and Bake Astrovan," aptly named for their friend, who allegedly used to cook illicit substances in the back of his car.
The set was full of screaming guitar solos and high intensity, high volume playing by all, leaving everyone roaring for the Shakes to take the stage.
Howard's Stellar Vocals
The lights went down, and finally the time had come. Alabama Shakes took the stage with a spectacular intro, complete with cascading fog and an awe-inspiring light display that would set the tone for the rest of the evening. Brittany Howard and her merry band simply brought the house down. When the band blasted into their hit "Hang Loose," the crowd went wild. Howard's stellar vocal performance and clear expertise on the guitar made for an amazing performance; even though she was quite humble, always making sure her fantastic band shared in the spotlight.
"This is a song about learning a lesson," Howard said before putting down the guitar and belting out the tragically beautiful "Heartbreaker."
Along with the spectacular "Be Mine" and "Red Blister," Alabama Shakes played a new song, "Pocket Change," that's been featured in the soundtrack of the next season of the hit tv-show, True Blood.
Mind Blowing Light Show
As the band rocked out, the mind-blowing light show, full of bright colors and brilliant spotlights, kept up with the great sound.
After thanking the audience for coming, Howard and the band left the stage. But then, a rarity in Koka Booth concerts occurred; the Alabama Shakes came back up to deliver an encore performance, complete with the masterfully written "I Ain't the Same" and "You Ain't Alone." After a much appreciated extension, the night came to an end.
Overall, the show was incredible. The crowd screamed along and swayed and danced, all crammed into Koka Booth. Thankfully, the rain held off for most of the night. A couple of tears fell towards the very end, perhaps the sky was sad the show was ending.
————————————————————————————————–
Travis Toth, a senior at NC State University, writes about music for CaryCitizen. Photo via TheFunStar.
https://carycitizenarchive.com/wp-content/uploads/2013/09/alabama-shakes.jpg
350
600
Staff
https://carycitizenarchive.com/wp-content/uploads/2020/03/cc-archive-logo-450-v3.png
Staff
2013-09-24 11:43:00
2019-12-08 10:10:35
Booth Amphitheatre Shook Up by Alabama Shakes