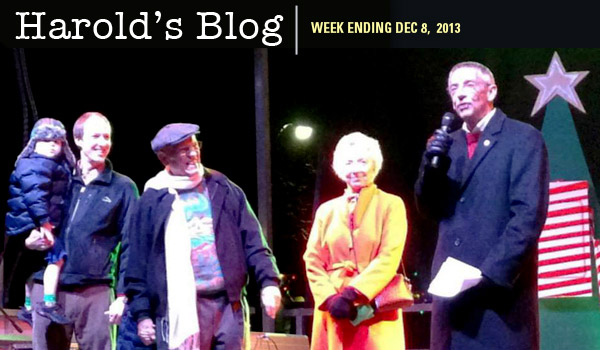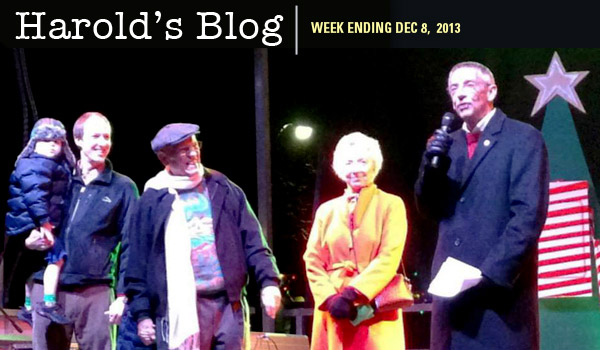 Cary, NC — This week was busy despite a few cancelled meetings.
Dinner at Home
Monday and Tuesday I was supposed to join the town manager and talk with three advisory boards about the new town staff organizational structure. This was postponed until a later date. As a result I was able to have dinner with my family.
Tuesday
Cary High Crosswalk
Tuesday's first meeting was with the new principal of Cary High School about the mid-block crosswalk on Walnut Street. I was joined by the Town Manager, Deputy Town Manager, Assistant Town Manager, Police Chief, the Lieutenant for that area, and the engineer for that area.
We talked about past accidents in the area and options for making it safer. Both parties agreed to do all we can to work toward a solution but since it is a NCDOT road we will be limited.
There are also regulations that come into play. For example, a traffic light is not allowed because of state and federal regulations. Our staff meets with NCDOT representatives once a month and met with them on Friday, December 6 to talk about this issue. They will continue to look for alternatives to propose to NCDOT to make this area safer for pedestrians.
The principal is looking to make proposals to the school board to fund cross guards and other initiatives.
Large Business
Later Tuesday I met with the town manager and staff to discuss new information related to a large economic development opportunity. Cary continues to be an attractive place to relocate a business and that is helping with our recruiting efforts for this business.
Replacing Sandy Jordan
My final meeting Tuesday was with the town manager and the assistant to the town manager as we discussed issues related to the Chamber of Commerce and their efforts to hire a replacement for the Vice President of Economic Development. Cary has been blessed with the work of Sandy Jordan who is retiring.
Wednesday
Economic Development Facts
Wednesday I was joined by council member Robinson, the town manager, staff members, chamber members, and others in a meeting of the Economic Development Committee. There were several interesting points presented in the meeting that included:
From 2000 to 2010 the Wake County metro are saw the largest growth in the nation.
Cary's unemployment was reported to be 5.2% in August and is expected to be lower now.
Cary was ranked as the safest city in the US with populations from 100,000 to 500,000.
Kiplinger recognized Cary as the nation's second best city for early retirement.
MercuryGate International has tripled its size with a 28,000+ expansion.
HCL Technologies will be hiring over 200 people for its delivery center in Cary.
GE located about 60 engineers to the CenterGreen office park. They are expected to hire up to 100 and have invested $1.7 million in the new office.
MetLife held a groundbreaking on November 1st. They are currently filling 270 positions and expect to hire 300 next year. There two seven story buildings should be ready by second quarter 2015.
A lot of major sports events have been and will be held in Cary creating a lot of economic benefit with hotel rooms, meals, etc. Here are some of the events:

Great American Cross Country Challenge with 2200 runners from 147 teams.

NCAA Division I Women's Soccer College Cup national championship at WakeMed Soccer Park. Over 8000 fans expected to attend.

ACC Women's championship at WakeMed Soccer Park

Women's Lacrosse Final Four at WakeMed Soccer Park

Division II Baseball Championship at USA Baseball at Thomas Brooks Park

Division III Tennis Championship at Cary Tennis Park

Nike Cross Country Nationals with 700 runners from 11 states at WakeMed Soccer Park

USA Baseball Irish Classic at USA Baseball at Thomas Brooks Park

The Triangle Business Journal reports that Cary had a Class A Office vacancy rate of 8% which is considered to be low.
The Economic Development meeting concluded after about 45 minutes.
NCAA College Cup
Later Wednesday I gave remarks at a reception held for the 2013 College Cup. In attendance were representatives from Campbell University, which is the host college, Greater Raleigh Sports Alliance, Capital Area Soccer League, NCAA Division I Soccer Committee members, chamber members, business leaders, and members from town staff. In my remarks I pointed out that Cary is hosting the College Cup for the 9th time, that we have bids in to host for the next four years, and that it is a very high priority to host the College Cup now and in the future.
Saturday
Ole Time Winter Festival
Saturday morning I gave remarks at the 10th annual Old Time Winter Festival in downtown. There were plenty of vendors on hand and all Cary downtown businesses were open. The downtown revitalization effort is gaining momentum with a dozen eateries off Academy and Chatham Street. I predict this festival will continue to grow in the coming years.
Tree Lighting
Saturday evening it was my pleasure to give remarks at the 26th annual Cary Christmas Tree lighting. This year we were honored to have Ralph and Daphne Ashworth as the tree lighters. They have shown their love for Cary for over a half a century since moving here in 1957. Before the tree lighting we were blessed with great entertainment especially from Cary High School and Cary Elementary. There was a good crowd in attendance (I am guessing about two hundred) despite the cold temperatures and they helped me countdown the lighting of the tree. Everyone seemed to have a wonderful time.
Emails
In emails this week there was a response by the town attorney to the false accusations from a group who call themselves the CaryWatch. Unfortunately, this group has advocated for such things as shutting down our sports venues and accused the town of spying on customer water usage with the automated meters which is absurd. It is unfortunate that their mission seems to be to confuse Cary citizens by spreading half-truths and misinformation. Their latest accusations are about the Mayton Inn. Here is the town attorney's response to the CaryWatch concerns and recitals:
The Deed. Terms for conveyance of property free and clear of monetary liens are widely accepted means to protect a buyer from the obligation to buy property subject to mortgages and other liens securing a seller's debts. For recent example, the Town had that protection in its contract to purchase the last part of the hotel site. The Town will secure its investment and expectations for the project a driver of economic development by attaching restrictions to the deed that obligate the developer and any future owners to build and operate the hotel for 10 years. The form of deed that we will use is approved by the North Carolina Bar Association.
The Intercreditor Agreement will secure the Town's investment in the Mayton site by giving the Town the contractual right (not the obligation) to prevent foreclosure by the construction lender, which will not lend without a first mortgage on the site. The Town will also retain its statutory rights as the holder of junior mortgages securing the HUD loan and the seller-financing of the developer's purchase from the Town.
Indemnification is a contractual right to compensation for damages, not statutory and almost always an unsecured obligation. Its value to the indemnified party is based mostly on the credit-worthiness of the indemnifier. Even if the Town had a statutory right to indemnification from the developer, the Town would still require these security interests and deed restrictions to protect investment and expectations. The statute for economic development governing the Town's conveyance of the site provides the Town with the right to recapture its investment if the developer defaults on its obligations to the Town. The benefit to the Town is very similar to indemnification.
The NC Constitution. The North Carolina Supreme Court, the final arbiter of the NC Constitution, has upheld the constitutionality of the statute that governs this project. The Town contracted with the developer pursuant to this statute.
If this group wants to be productive and help the town and it should focus on the facts and the truth. To date this group has caused Cary taxpayers tens of thousands of dollars to research and respond to their false claims and accusations.
In emails this week there was a complaint about Cary's "excessive growth" (we are growing by less than 1%), a request for public Wi-Fi, and concerns about Walnut Street median proposals.
This Week
This week will be a busy week with events and meetings. The highlights include the annual Jaycees Christmas parade, and a council meeting full of quasi-judicial hearings.
Well that is all for this week. My next post will be on Sunday December 15th. Although I have Facebook and Twitter accounts those are not the best means of communications with me. Please send all Town of Cary questions or comments to Harold.Weinbrecht@townofcary.org and email personal comments to augustanat@mindspring.com.
———————————————————————————————–
From the blog of Cary Mayor Harold Weinbrecht. Photo by Lindsey Chester.
https://carycitizenarchive.com/wp-content/uploads/2013/12/harold-1208.jpg
350
600
Harold Weinbrecht
https://carycitizenarchive.com/wp-content/uploads/2020/03/cc-archive-logo-450-v3.png
Harold Weinbrecht
2013-12-09 16:15:34
2016-01-09 11:58:36
Harold's Blog: December 8, 2013