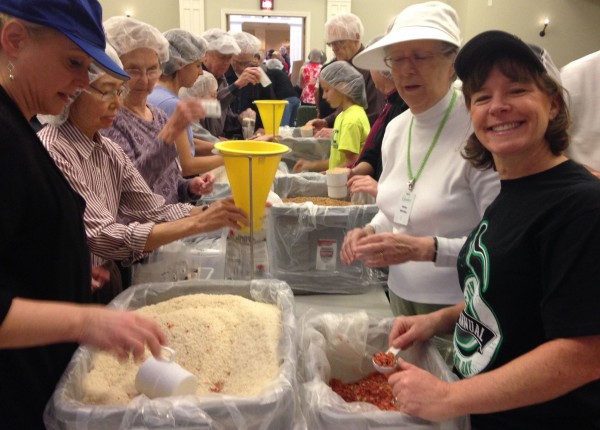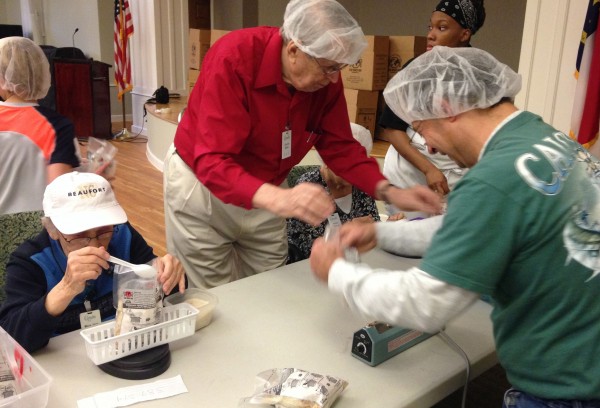 Cary, NC — Glenaire Retirement Community, with the help of approximately 150 volunteers, packaged 20,000 meals as they worked with the Stop Hunger Now organization on Saturday January 11, 2014.
Linking Education and Food
Glenaire's Community Relations Committee creates activities that get the residents involved with community volunteer activities in Cary and beyond. To work with Stop Hunger Now, the committee got sponsorship and donations from residents and the greater community.
Chet Black, chair of the committee and six year resident at Glenaire,  told me that Glenaire residents "want to be part of the Cary Community and the world community. And to do that we have to be willing to reach out."
His committee had heard of the Stop Hunger Now organization, and liked the idea that they link food with education. Chet said "You have to make sure basic food needs are taken care of before children can begin to learn."The group decided to tackle the necessary fundraising to bring one of the Stop Hunger Now events directly into Glenaire.
Making 20,000 Meals
A fundraising goal was set of $2500, to make 10,000 meals. The group needed to raise that $2500 to hold the event.  They found out that the community was very willing to give, and they easily topped that goal and raised over $5000. Now they could pack at least 20,000 meals during their event.
Stop Hunger now sends meals all over the world (and the US) where need is greatest. Helping with disaster relief and hunger relief. From the Stop Hunger Now website:
Stop Hunger Now have the means to deliver to ongoing school feeding programs that sustain lifelong change. Providing a hot meal during school gives parents an incentive to send their children to school. Through receiving a primary school education, the cycle of poverty can begin to be broken by leveraging change in many other issues including education, maternal health, childhood mortality, gender equality and combating HIV/AIDS.
The Glenaire Assembly Line
To hold an event, a goal is set for the number of meals an organization wants to make. Each meal's materials cost $.25. The dollar amount is the money that needs to be raised to hold the event.
About 50 volunteers are needs for 2 hours to make 10,000 meals. The more volunteers, the more meals you can make.
Glenaire had 150 volunteers and $5000 with a goal of 20,000 in 3 hours.
A Stop Hunger Meal Packaging Event is organized with stations of volunteers who help in every process wearing hairnets and hats.  Tables are arranged in rows on two sides of the room. One side pours the meal mixture into plastic pouches. The other side of the room weighs the meals for accuracy, seals the meals using heat setting technology, and piles them to be boxed. The more volunteers, the faster the packaging proceeds. The half hour I was there, 6000 meals had been boxed.
Saturday, Glenaire residents worked two shifts an early shift from 9-10:30 and a second shift from 10:30 to noon. 120 volunteers signed up and over 150 helped during the day. In addition to the residents and Glenaire staff, girls from an Indian Princesses troop and  students from NC State Presbyterian Youth helped the effort.
Old Time music played while a gong periodically broke the pace announcing every 1000 meals packed. I heard that gong chime at least 6 times!
Seniors reaching out and helping others across the globe with such community spirit was really uplifting and fun!
——————————————————————————————————————
Story and photos by Lindsey Chester.
——————————————————————————————————————
Community coverage on CaryCitizen is sponsored in part by Thai Spices & Sushi, located in Preston Corners.
https://carycitizenarchive.com/wp-content/uploads/2014/01/station-w-smile-e1389483010264.jpg
430
600
Lindsey Chester
https://carycitizenarchive.com/wp-content/uploads/2020/03/cc-archive-logo-450-v3.png
Lindsey Chester
2014-01-13 16:44:29
2014-01-14 12:12:20
20,000 Meals Packed at Glenaire