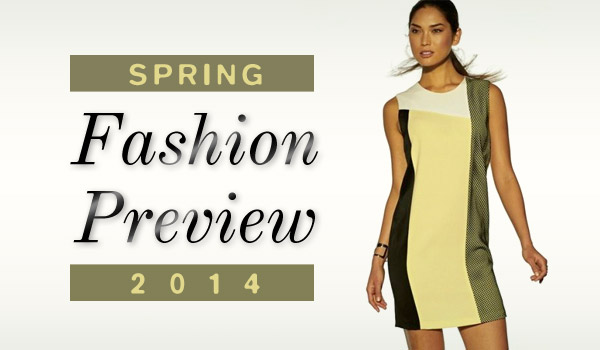 Cary, NC – It may be sleeting outside, but Spring is already hitting stores. Get a jump on the trends in this special Spring Fashion 2014 preview.
Spring Fashion 2014
The fashion world is always months ahead of the rest of us, as they plan what trends will work often a full year in advance. CaryCitizen got a sneak peek at Spring Fashion 2014 in January at Belk's Crabtree fashion office with Arlene Goldstein, VP of Fashion Direction and Trend Merchandising. Here, we share the newness with you.
This Spring its all about personalization. Make your style statement, by adding key pieces as the building blocks of your basic wardrobe. Arlene recommended first to "shop in your closet" to be sure you have the basics covered, and then head out to the stores looking for key new pieces that bring you into 2014 style. Here's what to expect:
Pretty in Pink
One of the biggest trends that has been building for a while is Feminine style, call it "Pretty in Pink." You remember that '80's classic?
Lace will continue as an important fabric and trim for Spring Fashion 2014 as it was last summer. Lace dresses, tops, and accents were adopted across the board from high-end designers , to fast fashion juniors last spring, and that trend just isn't going away.
And the big color? Pink! In all shades, from last season's coral, to pale pastels, you will want to own some pretty pink to update your wardrobe this season.
The Trends:
Feminine Charms
This trend is textile driven with brocades, jacquards and lace leading the way. Lace is newest in laser cut designs, but any open work from faggotting to crochet fits the bill. If you didn't buy a lace dress last spring, now's your chance as this trend is here to stay. In addition to lots of pink, white head to toe looks fresh. And lots of dressmaker details to keep these solids looking interesting.
New silhouettes: Newest length for skirts is mid-calf (not that short is going away for juniors and teens). Dresses and skirts with a "fit & flare" shape look new too.Big motif in prints and accessories: the flower.
In accessories: the quilted bag (a la Chanel) is back, and anything pretty and girl-y. Look for soft pretty colors in accessories as wonderful accents for solid outfits.
The nude shoe is coming on strong as is a return to the single soled shoe (as opposed to all the platforms).
Clean Slate
This trend is a continuation of the modern look we saw happening last Spring. Its a "palette- cleanser" after all the deep rich tones of Fall and the holiday season. Lots of sharp black and white graphics in architectural shapes with pops of bright color. Look for innovative materials and interesting uses of synthetics. Patent leather, lucite trim pop up on clothing and accessories. Shapes move away from the body, look for shift dresses that are comfy with no defined waistlines. There's color blocking, but in new curvilinear ways, that accent the body instead of dissecting it.
In accessories the bags are more structured. In shoes look for the return of the mule, which looks new again after all the chunky platforms the past few seasons. Gladiator sandals and any shoe with some ankle interest will be big. (see photo)
Jetsetter
In past seasons, this trend was dominated by tribal prints and heavy ethnic colorations. Newest for Spring Fashion 2014 is a sense of adventure, where items look like they were picked up in bazaar. The use of exotic material, include wood beads and pleather. Prints are lighter with a mix of bright deeps and pales instead of a heavy feel. Patterns include tribal influences and a whole range of animal prints from the basic cheetah to enlarged zebra.
Accessories add mixes of raffia, straw, wood and twine to add a rustic feel to a traditional shape or material. Tortoiseshell looks great on accessories and buttons. Bangle bracelets continue the bazaar theme.
10 Must Haves for Women
Sleeveless jacket (or a vest), structured
soft pant with a natural waist
New maxi
Boxy top
Updated jacket (whether its a bomber, boyfriend or motorcycle style)
Shift dress (updated with lace or mesh details)
Black & white piece
Layered necklaces
Ladylike handbag
Chunky heeled shoe
Men's 10 Most Wanted
The message for men is that casual gets more dressed up. In a word, the guys are looking Preppy.
Linen
Cool Tees
Spring pant- its slimmer, not khaki, in a washed down color palette
Preppy short- at an above the knee, tennis or Bermuda length
Athletic Inspired knit
Bold Checks in shirts
Something Blue
Whimsical socks
Suspenders
Boat Shoes
—————————————————————————————————
Story by Lindsey Chester, women's wear designer in New York's Garment Center for more than a decade.
https://carycitizenarchive.com/wp-content/uploads/2014/02/spring-fashion-2014.jpg
350
600
Lindsey Chester
https://carycitizenarchive.com/wp-content/uploads/2020/03/cc-archive-logo-450-v3.png
Lindsey Chester
2014-02-11 17:46:15
2014-02-11 17:46:15
Spring Fashion 2014 Preview